U.S. Weekly Jobless Claims Rise to 283,000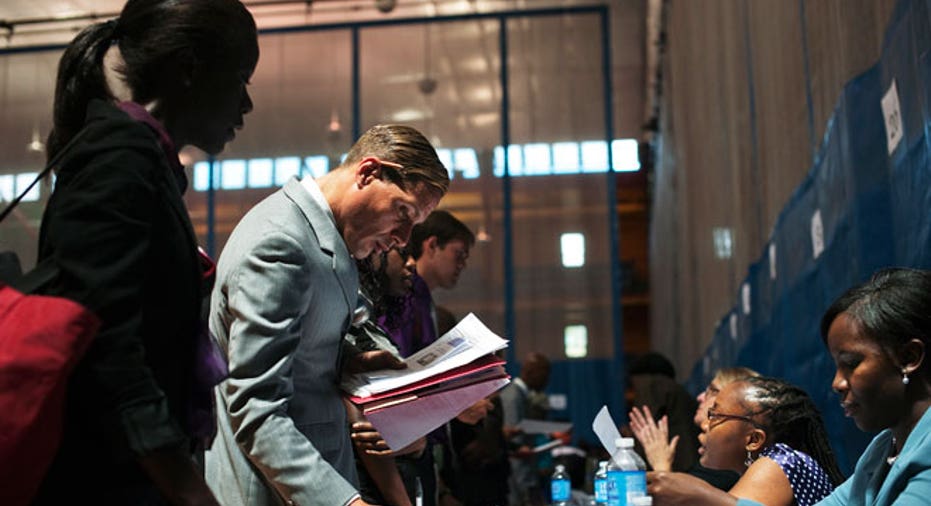 The number of new claims for jobless benefits rose last week but remained near fourteen-year lows, the latest sign of an improving labor market.
Initial claims for unemployment benefits increased by 17,000 to a seasonally adjusted 283,000 in the week ended Oct. 18, the Labor Department said Thursday. That was slightly above the 282,000 claims forecast by economists surveyed by The Wall Street Journal.
Claims for the previous week were revised up by 2,000 to 266,000. That was the lowest level since April 2000. The Labor Department said there were no special factors impacting the data.
The four-week moving average for initial claims, which smooths out week-to-week volatility, fell 3,000 to 281,000, its lowest level since May 2000.
The report also showed the number of people filing continuing claims for unemployment benefits fell 38,000 to 2.35 million for the week ended Oct. 11. Those figures are reported with a one-week lag.
Adjusted for population growth, initial claims are hovering around their lowest level on record. The low level reflects increased optimism on the part of employers as the economic recovery gains traction.
It also reflects a labor market that has become less dynamic over the last few decades. Employers have become less likely to lay off workers, though they have also grown more cautious about hiring new ones.
A sluggish jobs recovery since the recession has picked up this year. Payrolls have expanded an average 227,000 a month through September, putting 2014 on track to be the strongest year of job growth since the late 1990s.
But more than five years into the current expansion, most economists believe the amount of idled labor remains high by historical standards. The nation's unemployment rate is a still-elevated 5.9%, while many of those who do have jobs are stuck in part-time employment.
Federal Reserve officials have pledged to keep interest rates at their current level near zero for a "considerable time" to support a continued recovery in the labor market.
"I would still view the amount of slack in my own personal view as still being elevated," Federal Reserve Bank of San Francisco president John Williams said in a recent interview with The Wall Street Journal. "The unemployment rate is still well above my estimate of the natural rate; and if anything, the unemployment rate understates the amount of slack out there," he said.
The Labor Department report on jobless claims can be accessed at: http://www.dol.gov/ui/data.pdf