U.S. Warily Eyes New Year's Threats in Cities Abroad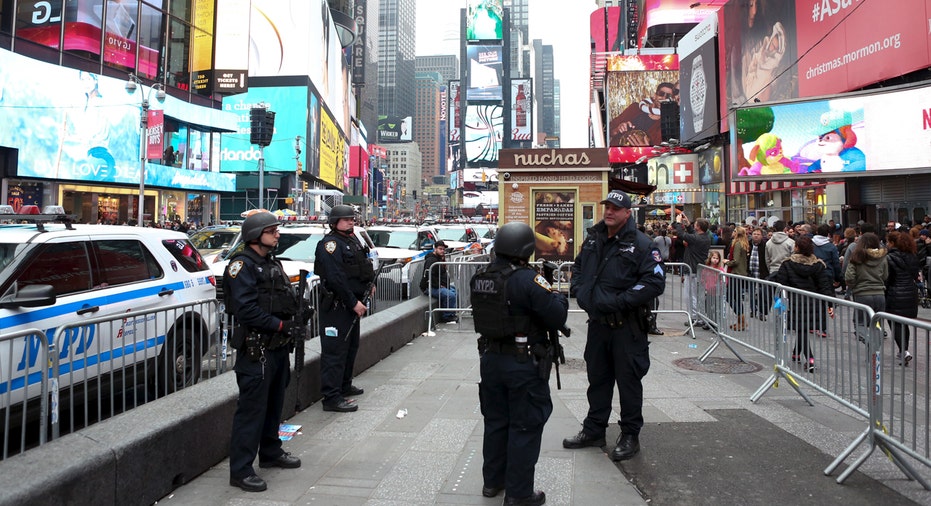 U.S. authorities are monitoring investigations overseas of alleged plots by Islamic State operatives or sympathizers to launch attacks over the New Year's holiday period, U.S. officials said on Wednesday.
Officials at the Department of Homeland Security and other U.S. agencies, however, said they were unaware of any imminent or credible threats by Islamic State or other militants to attack inside the United State or hit American targets overseas.
In New York City, traditionally the site of the nation's largest New Year's Eve celebration, police have seen no credible threat at this time, a New York police spokesman said.
U.S. officials noted arrests overseas by authorities in Turkey, Belgium and Indonesia in connection with alleged plots linked to Islamic State. Brussels, Belgium's capital city, canceled its New Year's fireworks due to a threat, city officials said.
Belgian police arrested two individuals connected to a motorcycle gang last weekend on suspicion that they were plotting an attack against landmarks in Brussels, possibly including the Grand Place, the city's most famous square.
"Security services are rightly worried that Islamic State and al Qaeda will try to direct or inspire an attack early in the new year to follow up the Paris operation. The plan for an attack on Brussels' iconic grand market would be just such a spectacular assault," said Bruce Riedel, a former senior CIA Middle East expert and sometime policy adviser to President Barack Obama.
Authorities in Turkey on Wednesday detained two suspected members of Islamic State who they believed were plotting suicide attacks in Ankara on New Year's Eve, a senior Turkish government official told Reuters.
While U.S. officials said they have detected no serious plots inside the United States, they said suspected militants always engage in "chatter" about possible attacks at this time of year.
The U.S. Federal Bureau of Investigation said it is increasing vigilance and called on the public to be alert. "While the FBI and Department of Homeland Security are not aware of any specific, credible threats to the homeland, we continue to take proactive steps to ensure personnel and resources are in place to ensure the safety and security of our communities," it said in a statement.
Lorenzo Vidino, a counterterrorism expert with George Washington University's Program on Extremism, said both real and false reports of terrorist plotting are common at this time of year, in part because the media is more attuned to them.
"Obviously this year, with all that has happened over the last few months and ISIS' clear and open intention of bringing the war to the home of its enemies, the threat is more severe than ever," Vidino said.
(Reporting by Mark Hosenball; Editing by David Greising and Dan Grebler)