U.S. trade gap widens as exports of soybeans, other goods fall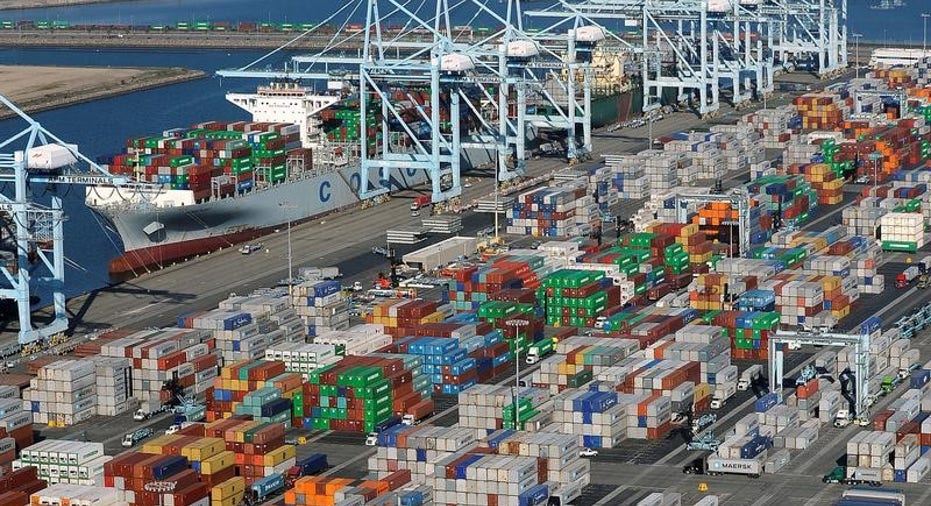 The U.S. trade deficit recorded its biggest increase in more than 1-1/2 years in October as exports of soybeans and other goods dropped, suggesting that trade would be a drag on growth in the fourth quarter.
The Commerce Department said on Tuesday the trade gap widened 17.8 percent to $42.6 billion. That was the largest percentage increase since March 2015.
Economists had forecast the trade gap increasing to $41.8 billion in October after a previously reported $36.4 billion shortfall. When adjusted for inflation, the deficit rose to $60.3 billion from $54.2 billion in September.
"This puts net exports on a weaker footing as the fourth quarter began. We were already penciling in net exports to subtract 0.8 percentage point from GDP growth ahead of today's figure," said Jennifer Lee, a senior economist at BMO Capital Markets in Toronto.
Exports contributed 0.87 percentage point to the third quarter's 3.2 percent annualized rate of increase in gross domestic product. The jump in exports in the last quarter largely reflected a surge in soybean shipments after a poor harvest in Argentina and Brazil.
While the reversal in soybean shipments, which is weighing on exports, suggests trade is likely to subtract from GDP growth in the fourth quarter, consumer spending and a firming housing market are expected to keep supporting the economy.
Rising gas and oil well drilling in response to increasing oil prices is also expected to boost growth this quarter.
Firming oil prices are starting to have an impact on manufacturing. A second report from the Commerce Department on Tuesday showed new orders for manufactured goods rose 2.7 percent in October after increasing 0.6 percent in September.
That was the largest increase since June 2015 and marked four straight months of gains. Unfilled orders at factories increased 0.7 percent, the biggest rise since July 2014, ending four consecutive months of decline.
The report pointed to an upturn in manufacturing, which accounts for about 12 percent of the economy, after a prolonged slump that had helped to erode economic growth.
The Atlanta Federal Reserve is currently forecasting gross domestic product to rise at a 2.9 percent rate in the fourth quarter.
Prices for U.S. government debt were slightly weaker in mid-morning trading, while U.S. stocks were largely unchanged. The dollar rose against a basket of currencies.
DOLLAR DRAG
Exports fell 1.8 percent to $186.4 billion in October. They were held down by declining shipments of food, industrial supplies and materials, automobiles and consumer goods.
Exports of soybeans, which helped power the economy in the third quarter, fell in both October and September. However, exports of capital goods were the highest in October since December 2015.
Some of the drag on exports reflects the residual effects of the dollar's surge against the currencies of the United States' main trading partners between June 2014 and January 2016.
With the dollar resuming its rally in the wake of Donald Trump's victory in the Nov. 8 presidential election, exports could struggle in 2017. The greenback has gained 4.1 percent on a trade-weighted basis since the election.
In October, exports to the European Union fell 1.1 percent, with goods shipped to the United Kingdom tumbling 12.2 percent. But exports to China surged 32.8 percent to their highest level since December 2013, while shipments to Japan were the highest in more than two years.
Imports of goods and services increased 1.3 percent to $229.0 billion in October, the highest level since August 2015. There were increases in food, capital goods and consumer imports. But imports of automobiles and industrial supplies and materials fell.
Imports of petroleum goods were the highest in a year, reflecting an increase in crude oil prices.
Imports from China rose 4.2 percent to their highest level in a year. With exports outpacing imports, the politically sensitive U.S.-China trade deficit fell 4.2 percent to $31.1 billion in October.
In a third report on Tuesday, the Labor Department said non-farm productivity, which measures hourly output per worker, rose at an unrevised 3.1 percent rate in the third quarter.
While the increase snapped three straight quarters of decline, the trend in productivity remains weak. Productivity was unchanged compared to the third quarter of 2015.
(Reporting by Lucia Mutikani; Editing by Paul Simao)