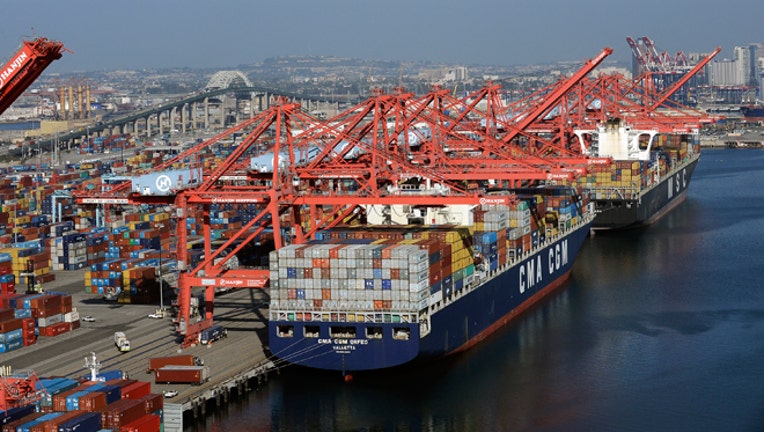 Cheaper U.S. energy prices and lower demand for foreign oil helped narrow the U.S. trade gap in January.
The trade deficit shrank to a seasonally adjusted $41.75 billion in January, the Commerce Department said Friday, as crude imports fell and created the lowest deficit for petroleum products in over a decade.
December's deficit was revised to $45.6 billion from an initially reported $46.56 billion. Economists surveyed by The Wall Street Journal had forecast a trade deficit of $41 billion in January.
Exports decreased 2.9% from December to $189.41 billion, and imports also fell 3.9% to $231.16 billion.
A steep drop in crude oil prices, a firming dollar and the relative strength of the U.S. economy have had a big impact on trade figures over the past year.
After topping $100 a barrel in June, benchmark oil prices declined sharply, reaching below $45 in January.
Last month, the trade deficit for petroleum products fell to $10.69 billion, its lowest level since November 2003. The average price of a barrel of imported crude oil was $58.96 in January, down from $73.64 in December and $90.21 a year earlier, the Commerce Department said.
Non-petroleum imports registered at $168.99 billion on a seasonally adjusted basis, down from December's $172.27 billion and the highest level on record.
While a strengthening U.S. dollar makes foreign goods and services relatively more affordable, it also makes U.S. exports more expensive in overseas markets.
Exports of goods fell in January to the lowest level since October 2012. Much of the decline was in petroleum-related products.
Exports were an early driver of the economic expansion that began in 2009, but trade now is a drag on overall growth. Net exports---the difference between exports and imports--subtracted 1.15 percentage point from fourth-quarter gross domestic product. GDP, the broadest measure of economic output, expanded at a 2.2% annual pace in the final three months of the year.