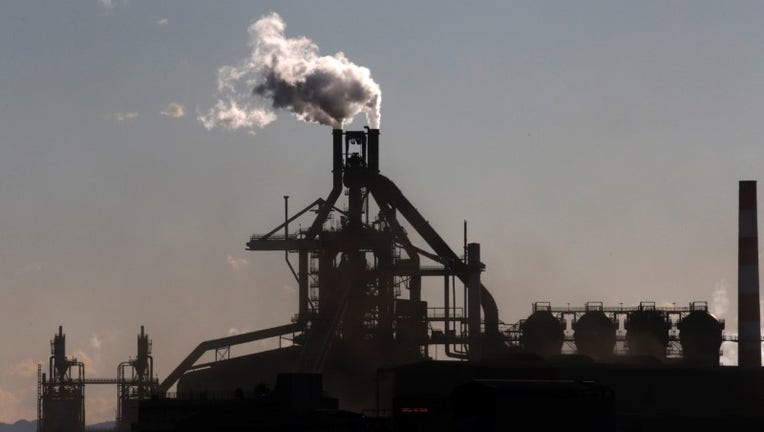 In addition to hurting U.S. manufacturers, steel dumping could pose a threat to national security, United Steelworkers International President Leo W. Gerard said during a Commerce Department hearing Wednesday.
"Our national security is increasingly at risk because of the relentless economic attacks on our steel industry," Gerard warned.
For years, China, among other countries, has been accused of flooding foreign markets with steel it sells at a lower price than what it charges domestically. Ret. U.S. Army Brig. Gen. John Adams, president of national security consulting firm Guardian Six, told FOX Business it is indeed a threat to the country's safety.
"As capacity declines we get into a space where the future of [the industry] to be able to provide for defense is going to be compromised," Brig. Gen. Adams said. "What we're trying to avoid is the diminution of our capacity to the point where it means we can't rely on American domestic production for things we do not want foreign producers to do."
In 2016 China produced more than 808 million metric tons of steel, nearly 50% of the world's total output, according to the World Steel Association. By contrast, the United States produced less than 79 million metric tons, or 4.8% of global output.
U.S. defense agencies use domestic steel for everything from special hulls for submarines, to specialized aircraft carrier decks to tanks and armored vehicles.
"These are specialized steel products that have been developed through American research and development through classified requirements … The last thing we want is for a rival to know what our specialized requirements are because then they'll know how to defeat it," General Adams said.
Beyond the national security concerns, General Adams said some less obvious problems could arise if the United States' ability to manufacture its own steel continues to decline. He pointed to underground water systems and the electrical grid as two examples of critical infrastructure systems that could be compromised if the country cannot produce its own steel.
In March, President Trump signed an executive order targeting countries that have unpaid anti-dumping duties and another ordering an investigation into how steel dumping impacts U.S. industries and the national deficit. The Trump administration hasn't stopped at steel either. Aluminum and lumber have also been added to the administration's watch-list.
More from FOXBusiness.com
General Adams said it is a step in the right direction.
"Trying to convince countries, like specifically China, that have made repeated promises to control their overcapacity … we've got to stop believing them when they lie to us … they're only going to do things that they are forced to do," Gen. Adams said.