U.S., Saudi firms sign tens of billions of dollars of deals as Trump visits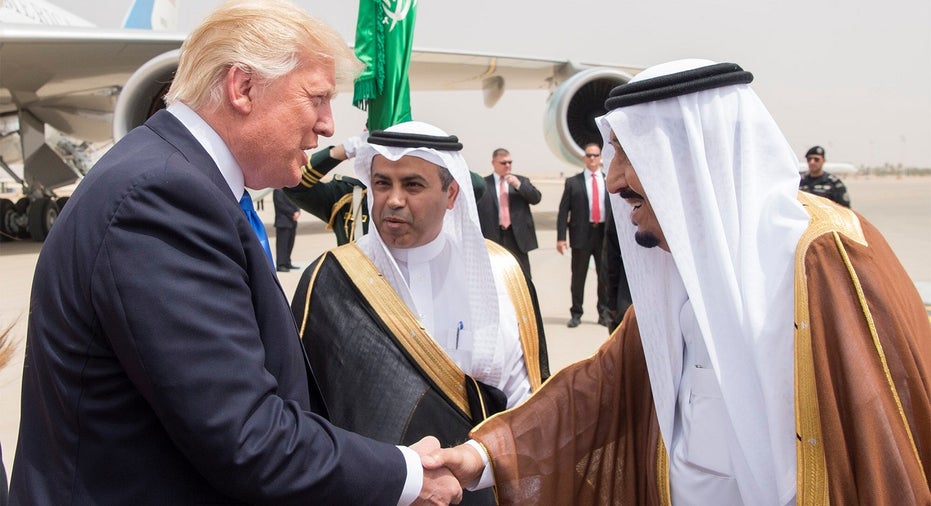 U.S. and Saudi Arabian companies signed business deals worth tens of billions of dollars on Saturday during a visit by U.S. President Donald Trump, as Riyadh seeks help to develop its economy beyond oil.
National oil firm Saudi Aramco said it signed $50 billion of agreements with U.S. firms. Energy minister Khalid al-Falih said deals involving all companies totalled over $200 billion, many of them designed to produce things in Saudi Arabia that had previously been imported.
Business leaders on both sides were keen to demonstrate their talks had been a success, so there was an element of showmanship in the huge numbers. Some deals had been announced previously; others were memorandums of understanding that would require further negotiations to materialize.
Nevertheless, the deals illustrated Saudi Arabia's hunger for foreign capital and technology as it tries to reduce its dependence on oil exports. Low oil prices in the past couple of years have slowed the economy to a crawl and saddled the government with a big budget deficit.
"We want foreign companies to look at Saudi Arabia as a platform for exports to other markets," Falih told a conference attended by dozens of U.S. executives.
In March, Saudi Arabia's King Salman toured Asia and his delegation signed similar agreements worth tens of billions of dollars there, including deals worth as much as $65 billion in China.
FUNDS
Even as it sought U.S. investment on Saturday, Riyadh made two announcements on plans to deploy its own financial reserves for projects that would cement economic ties with the United States.
The Public Investment Fund, Riyadh's main sovereign wealth fund, and U.S. private equity firm Blackstone said they were studying a proposal to create a $40 billion vehicle to invest in infrastructure projects, mainly in the United States.
The vehicle would obtain $20 billion from the PIF and with additional debt financing, might invest in over $100 billion of infrastructure projects - a political boon to Trump, who has said he wants to rebuild crumbling U.S. infrastructure.
Meanwhile the world's largest private equity fund, backed by the PIF, Japan's Softbank Group and other investors including U.S. firms Apple Inc and Qualcomm, said on Saturday it had raised over $93 billion to invest in technology sectors such as artificial intelligence and robotics.
Much of the Softbank Vision Fund's money is likely to be invested in the United States, helping Riyadh obtain access to technology that it could use to diversify its economy.
Top Saudi economic policy makers, including the finance minister and head of the kingdom's main sovereign wealth fund, described investment opportunities in Saudi Arabia to the conference on Saturday.
Saudi officials said they aimed to prepare new, streamlined rules covering direct investment by foreign firms within 12 months.
Among the deals signed on Saturday, GE said it reached $15 billion of agreements involving almost $7 billion of goods and services from GE itself. They ranged from the power and healthcare sectors to the oil and gas industry and mining.
Jacobs Engineering will form a joint venture with Aramco to manage business projects in the kingdom, and McDermott International will transfer some of its ship fabrication facilities from Dubai to a new shipbuilding complex which Aramco will build within Saudi Arabia.
Riyadh, one of the world's biggest military spenders, is keen to develop a domestic arms industry rather than import weapons, so several deals were in military industries.
Lockheed Martin said it would support the final assembly and completion of an estimated 150 S-70 Black Hawk utility helicopters in Saudi Arabia.
(Additional reporting by Marwa Rashad and Celine Aswad; Writing by Andrew Torchia; Editing by Andrew Roche and Chizu Nomiyama)