U.S. Private Sector Adds More Jobs Than Expected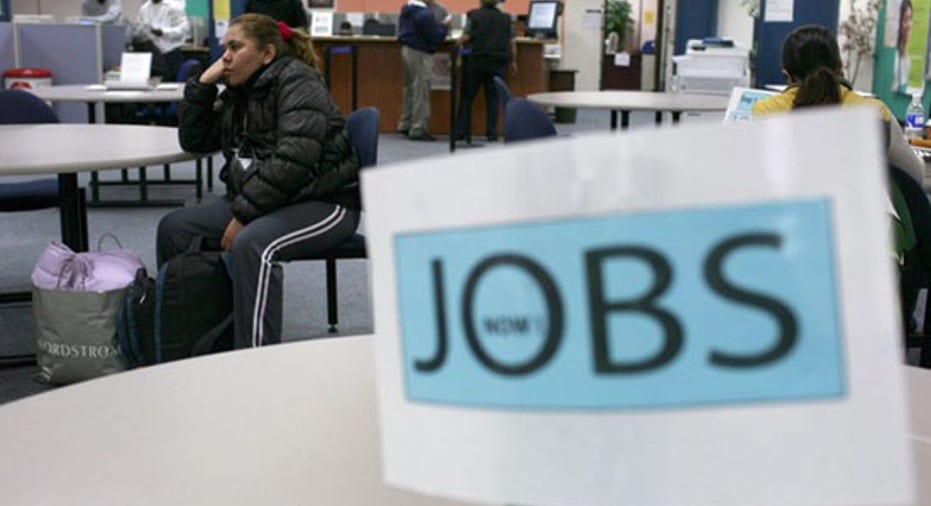 U.S. companies increased their hiring in February, shoring up expectations that the labor market's recovery has moved into a higher gear.
Separate data on Wednesday showed wages grew much more quickly at the end of last year than originally estimated, good news for consumers, but a potential inflation problem for the Federal Reserve.
The private sector added 216,000 jobs last month, according to the ADP National Employment Report, topping economists' expectations for a gain of 208,000.
The ADP figures come ahead of the government's more comprehensive monthly labor market report on Friday, which includes both public- and private-sector employment.
"After two years of expansion without much gain in employment, we're finally hitting the point where firms need to begin adding people in order to meet increased orders," said Steve Blitz, senior economist at ITG Investment Research in New York. "There are still risks ahead, but if you could just stop the clock right where we are now, you've got a recovery that is gathering some momentum; it appears to be self-reinforcing."
Economists polled by Reuters expect Friday's report to show a gain of 210,000 in nonfarm payrolls, with a gain in the private sector of 225,000 jobs offsetting a modest decline in government jobs.
Economists often refer to the ADP report to fine-tune their expectations for the payrolls numbers, though it is not always accurate in predicting the outcome.
Daniel Silver, an economist at JPMorgan, noted that in the month of February in recent years, the difference between the two reports has been smaller and missed only by 2,000 in 2010 and 5,000 in 2011.
The ADP report showed small businesses driving the gains in February, with an increase of 108,000 jobs. Medium-sized companies added 88,000 jobs, and larger companies created 20,000 positions.
ADP's January figures were revised up to an increase of 173,000 jobs from 170,000. The report is jointly developed with Macroeconomic Advisers LLC.
The data helped drive a rebound on Wall Street on Wednesday, a day after its worst selloff in three months, with stocks closing higher, while prices of safe-haven U.S. Treasuries eased slightly. Signs that Greece's debt swap was advancing also cheered investors.
WAGES REVISED HIGHER
Unit labor costs, which the Federal Reserve watches closely for signs of inflation, rose at an annual rate of 2.8 percent in the fourth quarter, the Labor Department said, revised sharply up from the 1.2 percent pace it reported last month. Third-quarter wage growth was raised to a 3.9 percent pace from the previously reported drop of 2.1 percent.
Hourly earnings, adjusted for inflation, rose at a 2.8 percent rate in the fourth quarter, revised from the previously reported increase of 1.0 percent. It was the largest gain since the second quarter of 2010..
"There is no room for policy complacency on the inflation side," said Alan Ruskin, head of G10 currency strategy at Deutsche Bank in New York. "The Fed is going to be confronted with a very difficult decision on how to proceed if the economy remains on its current path, and there is no evidence of core disinflation."
The U.S. central bank, which will hold its next policy meeting on Tuesday, has held interest rates near zero since late 2008 as part of its efforts to boost the economy. In January, it said it would likely keep rates low through at least late 2014.
The Labor Department revised up its reading on non-farm productivity growth to a 0.9 percent pace in the fourth quarter from 0.7 percent. Productivity has slowed after growing rapidly as the economy emerged from the 2007-09 recession, and analysts said the rise in unit labor costs, if sustained, could weigh on companies' results.
Higher labor costs can hurt "job growth as employers squeeze more out of the existing labor pool as they scramble to maintain profit margins in a growth environment that remains OK, but far from robust," said Eric Green, chief economist at TD Securities in New York.
Data later on Wednesday showed consumer credit expanded sharply in January for the fifth month in a row as Americans borrowed money to buy cars and go to school.
A report from the Federal Reserve showed total consumer credit grew by $17.776 billion in January, much more than the $10.0 billion increase analysts expected.
Once a pillar of the economy, consumers had shied away from taking on more credit-card obligations as they paid off debt that was accumulated ahead of the financial crisis.
But the recent growth in credit suggests Americans are becoming less uneasy.
Separate reports on the housing market, which along with the labor market is one of the biggest obstacles to a self-sustaining economic recovery, suggested the sector is continuing to scrape along the bottom.
Home prices fell 1.0 percent in January, the sixth straight month of declines as sales of cheaper distressed properties took a toll, data analysis firm CoreLogic said.
Compared with January of last year, prices were down 3.1 percent. But excluding distressed sales, prices rose 0.7 percent in January and were off just 0.9 percent on a yearly basis.
Applications for U.S. mortgages to buy homes rose last week though demand for refinancing sagged, the Mortgage Bankers Association said.