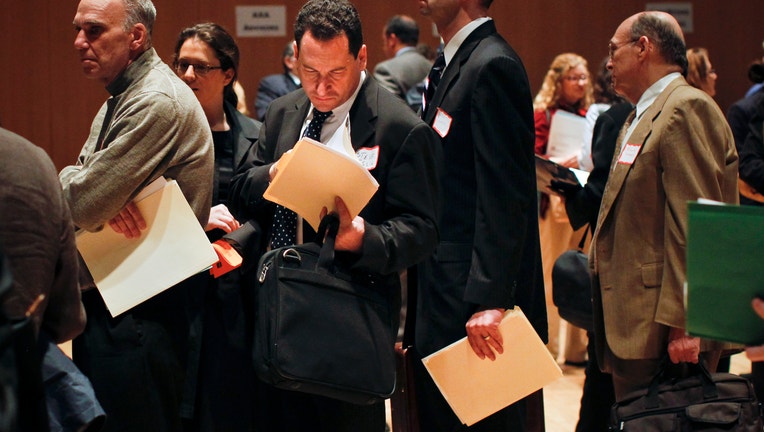 U.S. private employers added 200,000 jobs in July, topping economists' expectations in an encouraging sign for the labor market recovery, a report by a payrolls processor showed on Wednesday.
Economists surveyed by Reuters had forecast the ADP National Employment Report would show a gain of 180,000 jobs. June's private payrolls were revised up to an increase of 198,000 from the previously reported 188,000.
COMMENTS:
BORIS SCHLOSSBERG, MANAGING DIRECTOR, BK ASSET MANAGEMENT, NEW YORK:
"It's a good number, but the market is still waiting for Friday's NFP number. But ADP clearly confirms the US job engine is operating on all cylinders, slanting the odds toward, or at least putting the pressure on the Fed to taper sooner rather than later.
"I think the conventional wisdom, though, is that the Fed would still prefer not to commit to anything and make the decision in September, when they have two full employment releases under their belt. For now, though, this may reverse the tide on dollar/yen, which has been under selling pressure."
SCOTT BROWN, CHIEF ECONOMIST, RAYMOND JAMES, ST. PETERSBURG, FLORIDA:
"You might see a bit of an increase in expectations for Friday's payrolls number. Job growth is still improving. It's still a debate whether the Fed will taper in September or October . A number like this near the 200,000 for both July and August could lead to the beginning of the tapering. People will likely forget about this after GDP number and the Fed decision later."
JACOB OUBINA, RBC CAPITAL MARKETS (NEW YORK), CHIEF FINANCIAL ECONOMIST:
"Ever since the November methodology change ADP has done a much better job of predicting non-farm payrolls so I think a number around 200,000 on Friday is extremely plausible."
JACK DE GAN, CHIEF INVESTMENT OFFICER, HARBOR ADVISORY CORP, PORTSMOUTH, NEW HAMPSHIRE:
It continues a trend that's very interesting, and that trend is that GDP growth is weak and jobs are strengthening.
"Either GDP is too low and we're going to see that with revisions and an upward trend, or the jobs growth is going to moderate… I'm betting that we're going to see an improvement in GDP, but we probably are not going to see significantly better second-quarter GDP."
TODD SCHOENBERGER, MANAGING PARTNER AT LANDCOLT CAPITAL IN NEW YORK:
"The number is obviously a pleasant surprise, and great follow-through from last month. Hopefully Friday's number will continue the trend. But it isn't surprising that futures didn't see much reaction with traders looking ahead to the GDP report and comments out of the Fed later today."
JOSEPH TREVISANI, CHIEF MARKET STRATEGIST, WORLDWIDEMARKETS, WOODCLIFF LAKE, NEW JERSEY:
"There is little sign of change in the ADP numbers. Job creation is not accelerating but it is not faltering either. If this is the Fed's 'moderate to modest growth' then quantitative easing swill soon be a former Fed policy."
GRAPHICS: ADP vs. the U.S. Labor Department: The ADP National Employment Index shows an increase of 200,000 private sector jobs in July - 11,000 more than analysts expect Friday's Labor Department report to show. http://link.reuters.com/fex44t