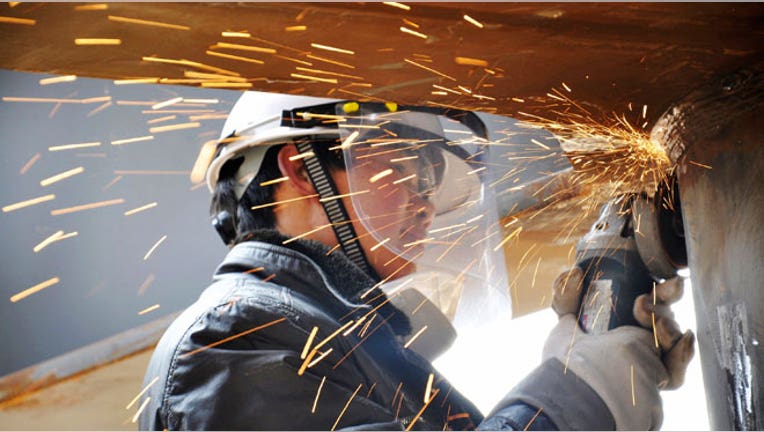 U.S. manufacturers reported activity in March slowed for the fifth consecutive month, according to a survey released Wednesday by the Institute for Supply Management. The weak reading highlights the economy's loss of momentum at the start of 2015.
The ISM's manufacturing purchasing managers index fell to 51.5 in March from 52.9 in February. The index has slowed in every month since hitting 57.9 in October.
Even so, Bradley Holcomb, who oversees the ISM factory survey said "we're well-positioned for a better quarter and year ahead," and shrinking customer inventories should lead to increased orders later on.
Economists surveyed by The Wall Street Journal had expected the latest PMI to fall 52.5. Any reading below 50 signals growth.
Economists have been paring their estimates for first-quarter growth and the worse-than-expected ISM number backs those downward revisions. Of the 18 industries in the March survey, 10 reported growth.
"There is now little doubt that manufacturing downshifted in the first quarter," wrote Ryan Sweet, senior economist at Moody's Analytics, in a research note.
In its report, the ISM pointed to various factors including the weather, higher health-care costs and the stronger dollar as reasons for the slowdown.
"Since some issues are temporary, chances are good we will see a rebound like happened last year," Mr. Holcomb said. In 2014, the economy contracted in the wintry first quarter, only to expand strongly in the second quarter.
The biggest disappointment in the ISM report was the drop in the employment index. It fell to 50.0 in March from 51.4 in February. Earlier Wednesday, ADP reported that its tally of private-sector employment showed a loss of 1,000 jobs in the manufacturing sector. The weak ADP and ISM employment numbers raise worries about Friday's employment report.
"Even considering the ADP data's poor track record of predicting the [Bureau of Labor Statistics} data, we now think there is downside risk to our forecast for the BLS data that will be released on Friday," wrote economists at J.P. Morgan. They forecast payrolls increased by 250,000 jobs last month.
The new orders index dropped to 51.8 from 52.5 in February. The exports index declined to 47.5 from 48.5.The exports index has contracted for three months in a row.
The stronger dollar is hurting exporters. "Dollar strength is challenging for our international business," one respondent in the fabricated metals industry told the ISM.
The ISM production index was little changed at 53.8 from 53.7.
The ISM's prices paid index rose to 39.0 last month from 35.0 in February. The last expansionary reading for the subindex was 53.5 in October.
U.S. manufacturers aren't letting their inventories grow too fast. The ISM inventory index fell to 51.5 from 52.5.