U.S. Economy Grows at 2% Pace in Third Quarter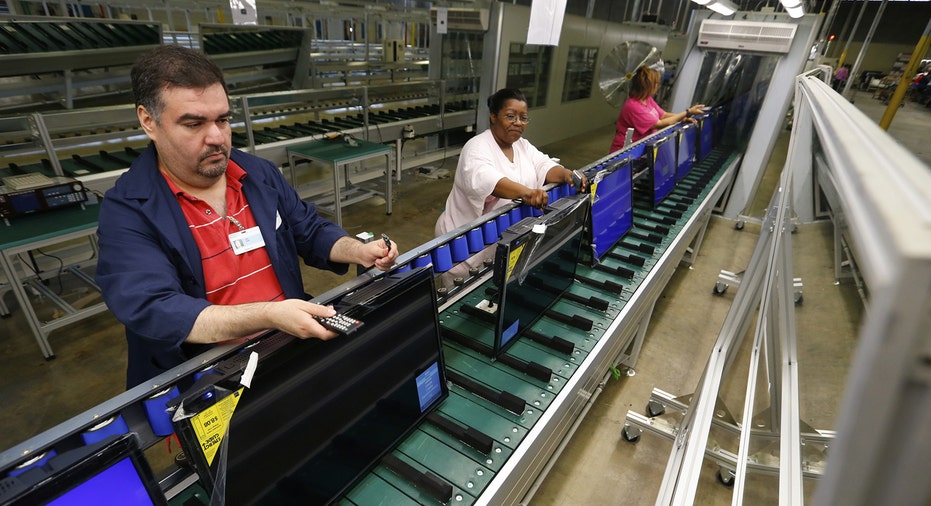 An array of global economic concerns cut into demand for U.S. goods overseas and contributed to weaker domestic growth in the third quarter. U.S. consumers fueled what growth there was.
The Commerce Department reported Tuesday that the U.S. economy expanded at a slightly slower pace than initially estimated last quarter. Gross domestic product (GDP), or the total value of all goods and services produced in the U.S., increased at a seasonally-adjusted annual rate of 2.0% from July through September.
That's down from last month's revised estimate of 2.1%, as healthy spending by consumers and businesses was offset by efforts by companies to reduce inventories. It also marks a sharp slowdown from the 3.9% rate of growth in the second quarter. The latest 2.0% reading slightly beat the Thomson Reuters estimate of 1.9%.
U.S. companies are scaling back on inventory because overseas demand has weakened as economies large and small – from Europe and China to emerging markets in South America and Africa – struggle with their own growth problems.
Another factor eating into demand is the strong U.S. dollar, which makes it more expensive to sell U.S. goods in foreign markets.
"The estimated inventory deceleration was more dramatic than previously reported," economists at IHS Global Insight said in a research note.
And fourth quarter GDP isn't looking much brighter – the BofA Merrill Lynch analysts have it forecast at a tepid 1.5% as inventories continue to decline and warm weather throughout much of the U.S. and falling oil prices cuts into energy production.
The economy grew at an average pace of 2.3% in the first half of the year after expanding 2.4% in all of 2014.
Corporate spending on equipment advanced at a 9.9% annualized pace, according to the Commerce Department, adding 0.6 percentage point to growth and the biggest gain in a year.
Household purchases, which account for almost 70% of the economy, rose at a 3% annual pace, the same as previously estimated. Personal consumption added 2 percentage points to growth.
Thank goodness for a healthy U.S. labor market, which has contributed to consumer optimism as monthly job creation has been strong throughout the second half of 2015 and the unemployment rate continues to fall. There have even been signs that long-stagnant wages are beginning to rise.
Obviously, when consumers feel their jobs are safe or that they can go out and find a better job they are much more likely to buy a new car or go to the mall and spend money.
The sharp decline in energy prices has also put more money in U.S. consumers' pockets.
The sustained strength of the U.S. dollar is being cited as a major culprit for the downturn in economic growth during the second half of 2015, specifically in the area of weaker exports.
As other currencies are being devalued around the world by central banks looking to boost their regions' economy by spurring exports, currency investors have been targeting the U.S. dollar, boosting its value and keeping it at an elevated rate throughout 2015.
The downside to a strong dollar and weakened foreign currencies is that it makes it more expensive to buy U.S. goods in foreign markets, which has cut into exports and hurt the U.S. manufacturing sector.
The soft GDP figure is expected to be temporary, however, not least because consumer demand has remained strong. Inventories are subject to roller-coaster cycles, which always have a dramatic but usually short-lived impact on GDP, and the dollar isn't expected to rise much further.