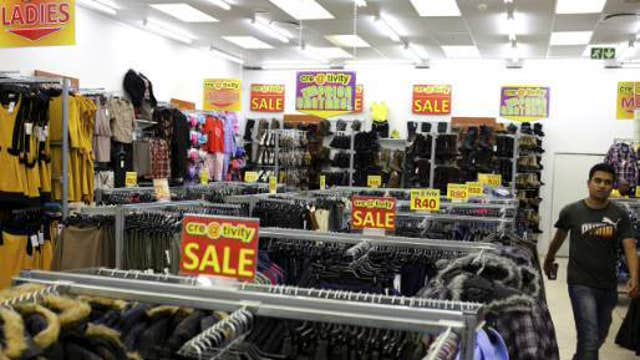 U.S. consumer prices increased for the second consecutive month in March after falling through much of the winter, a sign that U.S. inflation may be stabilizing.
The consumer-price index, which reflects what Americans pay for everything from sneakers to airline tickets, rose a seasonally adjusted 0.2% in March from a month earlier, the Labor Department said Friday. That matched the increase last month, which was the biggest rise since June.
Excluding the volatile food and energy categories, so-called core prices also climbed 0.2%.
Economists surveyed by The Wall Street Journal had expected prices would increase 0.3% and core prices would rise 0.1%.
Compared with a year earlier, overall prices declined 0.1% while core prices have risen 1.8%.
The overall price gauge had weakened since last summer, when oil prices began to tumble. The stronger dollar also appears to be suppressing inflation, in part because it makes foreign goods relatively cheaper for U.S. consumers.
The Federal Reserve is keeping a close eye on low inflation as it weighs whether the economy is strong enough to begin raising interest rates.
The Fed's preferred inflation gauge, the personal consumption expenditures index, was up only 0.3% in February, the Commerce Department said last month. The index hasn't risen above 1% since November, and has run below the central bank's 2% target since spring 2012.
But U.S. wages may be starting to pick up, a development that could help policy makers at the Federal Reserve feel more confident that sluggish U.S. inflation also will gain traction, Federal Reserve Vice Chairman Stanley Fischer said Thursday.
"There are signs of wages beginning to rise in a variety of places," Mr. Fischer said during a panel discussion in Washington, when asked how the Fed will evaluate whether inflation is headed back toward its 2% annual target.
Average hourly earnings rose 0.3% in March from February. But when factoring in stronger inflation, real hourly earnings rose a milder 0.1%. Inflation-adjusted weekly earnings fell 0.2% due in part to a shorter work week.
Friday's report showed energy prices rose 1.1% from February, with the gasoline index jumping 3.9%, its largest increase since February 2013.
Food prices decreased 0.2%, due in part to a decline in the prices for many grocery store products, including fruits and vegetables, nonalcoholic beverages, dairy, meats, poultry, fish and eggs.
The rise in core prices was largely driven by housing costs and medical care. The index for used cars and trucks increased 1.2% after rising 1% the prior month.
The Labor Department's report on consumer prices can be found at: http://www.bls.gov/news.release/pdf/cpi.pdf