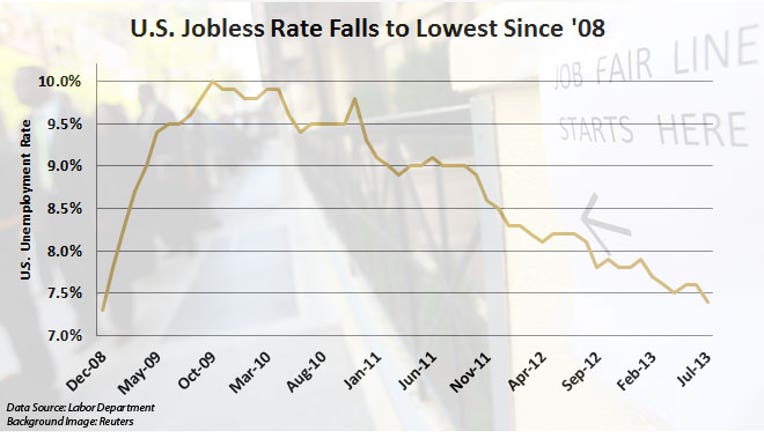 The U.S. economy added just 162,000 jobs in July, well below expectations and not nearly enough to alter the Federal Reserve's plan to maintain its easy money policies for the foreseeable future.
The headline unemployment rate fell slightly to 7.4%, according to figures released Friday by the Labor Department, down from 7.6% in June. Economist had predicted an increase of 184,000 jobs and a 7.5% unemployment rate.
The number of jobs added in July fell short of the 202,000 average monthly gain during the first half of 2013, offering additional evidence that the economy isn't growing fast enough to make a significant dent in the stubbornly high unemployment rate. What's more, the Labor Department reduced its previous estimates for hiring in May and June.
"Bottom line, the reality of a still mediocre economy was evident in today's payroll figure," said Peter Boockvar, chief market analyst at economic advisory firm The Lindsey Group LLC.
The unemployment rate fell in July to its lowest point since December 2008 despite the lackluster job gains because labor force participation fell, meaning fewer workers were counted as part of the workforce.
The labor force lost 37,000 workers in July and labor force participation fell slightly to 63.4%.
On Wednesday, the Fed reiterated its commitment to maintaining its stimulus policies until labor markets show significant improvement. July's data isn't likely to impact that commitment.
"For policymakers, this probably marks a release that rules nothing in or out. The August employment report, and the data flow between now and then, will likely prove decisive for the policy outlook," Barclay's economist Peter Newland wrote in a note to clients.
The May jobs report was revised downward to 176,000 from 195,000, and the change for June was revised lower to 188,000 from 195,000, meaning employment gains in May and June combined were 26,000 less than previously reported.
Stock markets opened lower following the release of the Labor Department report. The Dow Jones Industrial average was down 65.20 to 15,562.82 in early trading.
John Canally, an economist and market strategist at Boston investment firm LPL Financial, said the Fed  isn't likely to react to any number short of 250,000 jobs added.
"The jobs report opens up the debate over what the Fed's number is" for shifting its strategy on maintaining stimulus for the long-haul, Canally said. "Is it 200,000? Is it 250,000? I think it's an open question."
Canally said the Fed is unlikely to begin phasing out its $85 billion a month bond purchase program known as quantitative easing if job creation averages between 125,000 and 150,000 over the next month or so.
Stock and bond markets seem convinced that the Fed plans to begin tapering its bond purchases in September.
With that debate mostly settled, the focus has shifted away from when the Fed might begin phasing out bond purchases to when the central bank might start raising interest rates. The latter move will have a much bigger impact on the economy than the former, pushing up borrowing costs on everything from cars, to big appliances to mortgages.
The Fed has promised not to raise interest rates from their historically low range of 0%-0.25% set four-and-a-half years ago during the peak of the financial crisis until the unemployment rate falls to at least 6.5%.
And Fed Chairman Ben Bernanke has recently emphasized that the 6.5% figure is a "threshold" rather than a hard target. The Fed has recently gone out of its way to explain to investors that interest rates won't be raised until well after quantitative easing is phased out, and neither will happen until labor markets improve significantly.
That appears to be a long way off and Bernanke has acknowledged as much. In a speech last month defending the Fed's easy money policies, Bernanke said the current unemployment rate "overstates the health of labor markets."
Since last September, when the Fed initiated its third round of bond purchases, the central bank has placed an improved U.S. labor market at the center of its policies. The low interest rates and massive bond purchases are designed to spur lending and perk up economic activity, with the end result being an increased demand for goods and a need for more workers.
While other sectors of the economy have shown signs of growth in recent months, notably the housing sector, labor markets have struggled as employers have shown a reluctance to add new workers in the face of tepid consumer demand and uncertainty over rising costs as new health care laws take effect next year.
Another sign of weak consumer demand is the low inflation rate, which currently stands at about 1%, well below the Fed's target rate of 2%. Low inflation has sparked fears of deflation, which occurs when weak demand pushes prices lower. If left unchecked, deflation can lead to long-term economic stagnation.
The July report showed the average work week declined to 34.4 hours, while average earning fell 0.1% to $23.98.