U.S. Adds Just 113,000 Jobs in January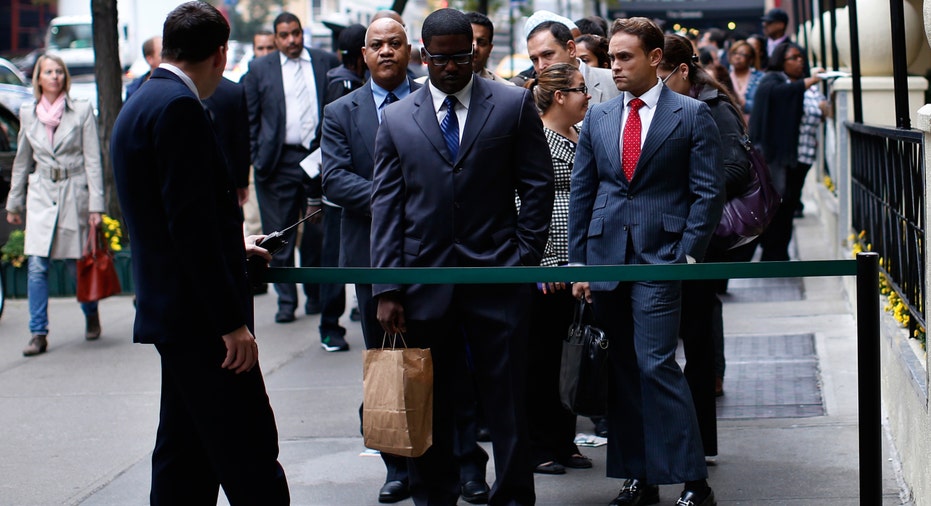 The U.S. economy added just 113,000 jobs in January, a small improvement over December's disappointing report but not nearly enough to signal a much-needed rebound in the increasingly unpredictable U.S. labor market.
The number of jobs created fell well below forecasters' predictions of 185,000 new jobs.
The headline unemployment rate was 6.6%, according to figures released by the U.S. Labor Department, down from 6.7% in the prior month.
The labor participation rate, a key gauge of the percentage of working-age Americans currently employed, was 63%, up from 62.8% in December. Despite the tick higher last month, the rate remains at its lowest level in four decades.
Lance Roberts, chief executive at STA Wealth Management, said January is "the most difficult month to predict" in terms of job creation because of seasonal adjustments to the labor force often related to a decline in retail jobs once the holiday shopping season ends.
The Labor Department said most of the job growth in January occurred in construction, manufacturing, wholesale trade and mining.
The weak December report, which revealed the addition of a meager 74,000 jobs, well below forecasts, was blamed on severe weather throughout much of the U.S. The December figure was revised higher to 75,000 in the report released today by the Labor Department.
After gaining an average of 194,000 new jobs per month in 2013, it's unclear how the loss of momentum in job growth might impact future monetary policy set by the Federal Reserve.
Chris Williams, chief economist at research firm Markit, said the tepid January numbers will make it harder for the Fed to maintain its plan to gradually scale back its long-running easy money policies.
Fed policy makers "may choose to await a clearer picture of the economy, and especially to see the extent to which severe cold weather may have affected the data, before cutting (bond purchases) any further," Williams said in a note to clients.
"On balance, however, it still seems likely that policymakers will highlight the erratic nature of the payroll data and instead focus on the longer terms trend, which has seen the pace of hiring rising at a pace consistent with the stimulus being reduced," he said.
The strengthening jobs market late last year prompted the Fed to begin scaling back its unprecedented stimulus policies initiated five years ago in the wake of the 2008 financial crisis.
But since then economic data has been mixed. For instance, data released this week showed that the number of Americans filing new claims for unemployment benefits fell more than expected last week, a positive sign for labor markets. But another report showed that U.S. exports fell in December, which bodes poorly for the key manufacturing sector.
In January, the Fed continued to gradually scale back its monthly bond purchases, or quantitative easing, voting to cut purchases by another $10 billion per month despite the lousy December jobs report, other volatile data and an outbreak of turbulence in emerging markets.
Central bankers have vowed to take a cautious approach to so-called tapering, fearing that dialing back its bond purchases too quickly could backfire if the economy shows signs of stalling again.
The Fed doesn't meet again until March so policy makers will have the February jobs report to digest in addition to the January numbers.
In any case, the Fed (like many analysts) seems to be relying less on labor market indicators for their decisions on future policy and more on broader economic barometers such as GDP and inflation levels.
In particular, the headline unemployment rate has been cited as especially misleading in recent months. The rate has fallen to its lowest level in four years but for the wrong reasons, namely because thousands of people have been leaving the workforce each month which reduces the number of people the government counts as unemployed.
The reasons so many people are leaving the workforce each month have been debated but the primary reasons seem to be baby-boomers retiring and others leaving out of frustration with finding a fulltime, well-paying job.
Construction added 48,000 jobs in January, more than offsetting a decline of 22,000 in December, the Labor Department reported. In January, job gains occurred in both residential and nonresidential building (13,000 and 8,000, respectively) and in nonresidential specialty trade contractors (13,000). Heavy and civil engineering construction also added 10,000 jobs.
Employment in manufacturing rose by 21,000 in January. Manufacturing added an average of 7,000 jobs per month in 2013.
In January, wholesale trade added 14,000 jobs, with most of the increase occurring in nondurable goods (10,000). Mining added 7,000 jobs in January, compared with an average monthly gain of 2,000 jobs in 2013.
The number of long-term unemployed, or those who've been out of work for 27 weeks or more, declined by 232,000 to 3.6 million, according to the Labor Department. This category accounted for 35.8% of the unemployed.