U.S. Adds 173,000 Jobs in August Ahead of Fed Rate Decision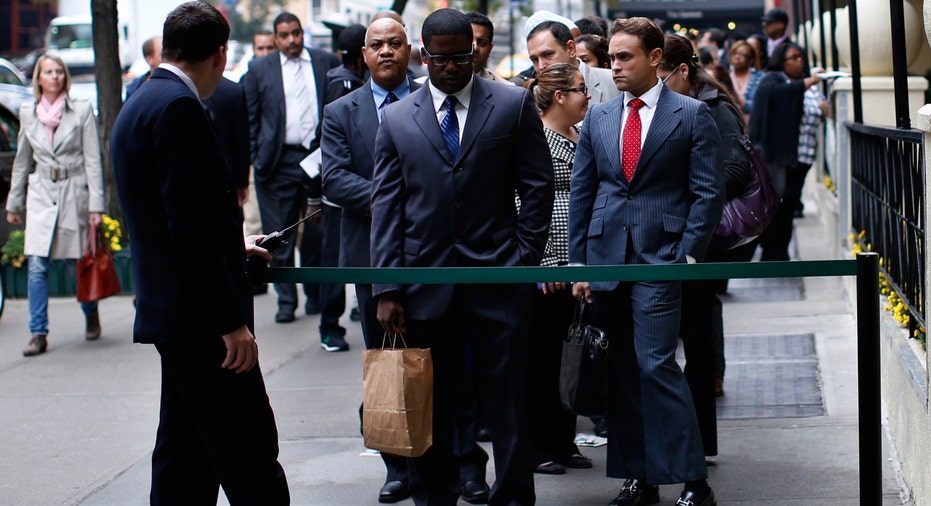 The U.S. added 173,000 jobs in August, fewer than Wall Street expected. The report will undoubtedly play a significant role in helping the Federal Reserve decide on the timing of the first interest rate hike in nearly a decade.
The headline unemployment rate fell to 5.1%, the lowest level in seven-and-a-half years. Analysts had predicted the rate would fall to 5.2% down from 5.3% a month earlier, and that the economy would add 220,000 new jobs.
:
Perhaps no recent piece of economic data will play more of a role in helping to determine the timing of a rate liftoff than Friday's labor report. Rates have been held at a range of 0%-0.25% since December 2008 in an effort to stimulate borrowing and economic activity.
The policy-setting Federal Open Market Committee meets September 16 and 17, and despite the recent market turmoil brought about by signs of weakness in Chinese economic growth, a rate increase at this month's meeting remains on the table.
Initial reaction from analysts was, much like the report, mixed.
Chris Williamson, chief economist at research firm Markit, said the report won't make the Fed's decision much easier.
"A mixed report on the health of the U.S. labour market gives frustratingly little new insight into whether the Fed will start to hike rates," Williamson said. "A bumper payrolls number would have sealed the case for higher interest rates in many people minds, while a low number would have dealt a blow to any chances of tightening of policy at the next meeting. Instead, we had something in the middle.
"Dig deeper and the labour market report should in fact add to rate rise odds, but recent financial market volatility and growth jitters in China mean it would be seen by many to be a risky move to start hiking rates any time soon," Williamson added. 
Brian Hamilton, chairman of Sageworks, was more optimistic, saying the report serves as a reminder that the U.S. economy is not "stuck in the stock market." He pointed to unemployment hovering at the lowest rate since 2008, and the most recent GDP report which showed a "very healthy rate of growth so far this year."
"The bulk of U.S. GDP and job creation is driven by companies outside of the stock market, and these private companies are performing very well.  Hopefully the market will take note of these positive data points and some anxieties will be quelled, at least for now," Hamilton continued.
One stat from Friday's report that could give FOMC members pause was a 150,000 increase in the number of people working part-time due to economic reasons, up to 6.5 million. That number had been trending downward in recent months and the reversal isn't good. It's a sign of excess labor market slack, something Fed Chair Janet Yellen has been keeping a close eye on.
Prior to the market volatility that emerged late last month, it seemed almost certain that rates would start moving higher in September. Now there is less certainty about that move. Fed policy makers are still trying to determine whether the U.S. economy is ready to absorb the higher borrowing costs that will come with higher interest rates.
Once again, the wage growth element of the August report will be closely watched by the Fed. Wages rose in August 0.3% from a month earlier, a bit more than anticipated, and 2% year over year, according to the Labor Department report.
The laws of basic economics suggest that as the unemployment rate has fallen precipitously in the past year to 5.1% from 6.1% a year earlier, and as job creation has flourished, averaging about 250,000 per month over the past 12 months, wages should have risen accordingly.
Simple supply and demand holds that if the job market tightens by virtue of strong monthly gains and a falling unemployment rate, then workers' wages should rise because employers will have to compete with one another to find qualified workers.
But that hasn't been the case.
One of the reasons cited for the lack of wage growth despite the tightening job market is the degree of so-called "labor market slack" that emerged in the wake of the financial crisis, which threw an estimated 8.8 million Americans out of work.
While the U.S. has numerically regained all of those jobs, the quality and description of those replacement positions has in many cases changed dramatically. Many full-time employees who lost their jobs during the financial crisis have indeed returned to work but at part-time or temporary jobs that pay lower salaries, offer less hours and don't provide the same level of benefits as pre-recession jobs.
Health care and social assistance added 56,000 jobs in August, according to the Labor Department report. Employment in professional and business services continued to trend up in August (up 33,000) and has increased by 641,000 over the year. Employment in food services and drinking places also continued on an upward trend in August (up 26,000), in line with its average monthly gain of 31,000 over the prior 12 months.