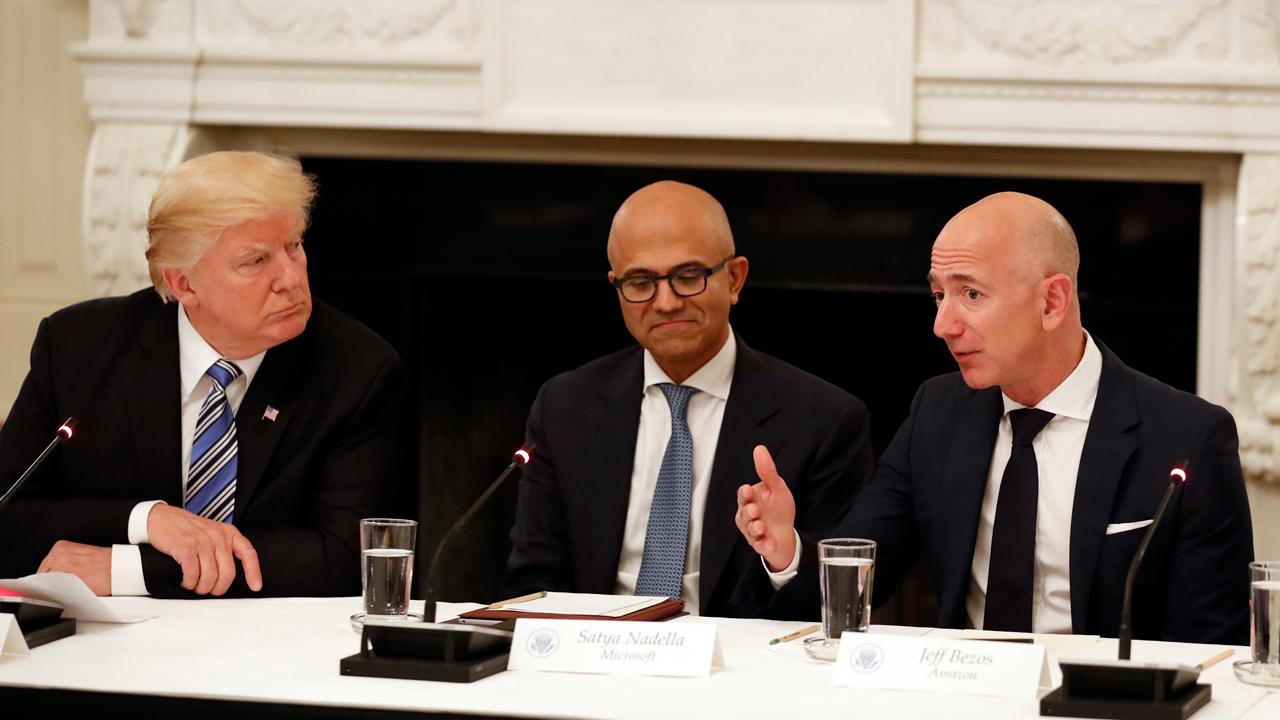 President Trump met with Silicon Valley's top executives Monday in an effort to streamline the federal government's digital infrastructure.
"Our goal is to lead a sweeping transformation of the federal government's technology that will deliver dramatically better services for citizens, stronger protection from cyber-attacks," Trump said during a roundtable meeting at the White House.
Apple (NASDAQ:AAPL) CEO Tim Cook, Intel (NASDAQ:INTC) CEO Brian Krzanich, Microsoft (NASDAQ:MSFT) CEO Satya Nadella, IBM (NYSE:IBM) CEO Ginni Rometty, Alphabet (NASDAQ:GOOGL) Executive Chairman Eric Schmidt and Accenture (NYSE:ACN) CEO Julie Sweet, were among the leaders who met with the president in Washington.
Cybersecurity expert Morgan Wright told FOX Business' Melissa Francis that Trump's meeting with the tech luminaries is vital to the America's national security.
"Yesterday's technology, tomorrow has been the motto of the federal government since as long as I've been working with them," he said. "This is a huge opportunity to really change forever how government is served."
Jared Kushner, a senior adviser to President Trump, is leading the American Technology Council, which was established in May by an executive order signed by the president to modernize the archaic technology of the federal government.
"We created the White House Office of American Innovation in an effort to bring business sensibility to a government that for too long has relied too long on past practices as automatic justification of their continuation," Kushner said Monday.
Wright added that the tech leaders, many of who have criticized the administration's positions on policies such as immigration and climate change in recent months, needed to put their political beliefs aside for the greater good of the nation.
"It's not about your legacy, it's about what's best for the American people. And what's best for the American people is that we secure our power grid and we secure our nuclear plants," he said.