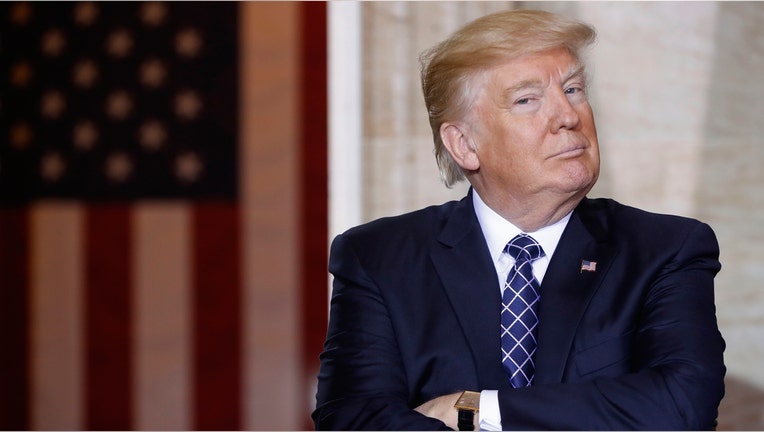 President Donald Trump kicked off "Made in America" week at the White House Monday, as he hosted a product showcase featuring items from homegrown businesses in each state.
"We want to build, create and grow more products in our country, using American labor, American goods, and American grit," Trump said Monday. "When we purchase products in the USA the profits stay here, the revenues stay here, and the jobs … stay right here in the USA."
From big companies like Caterpillar (NYSE:CAT) and Campbell's Soup (NYSE:CPB) to smaller businesses, including flag and broom makers, here's a look at the companies that the president met with Monday and what they make in the USA.
Alabama: Altec
Founded in 1929, Altec is a bucket truck company that delivers products and services to the telecommunications and electric utility markets. Headquartered in Birmingham, Ala., Altec operates in more than 100 countries.
Alaska: The Great Alaskan Bowl Company
The Great Alaskan Bowl Company is a mill that manufactures large, wooden bowls— which were often used throughout the 1800s to make bread and serve food. Each bowl takes up to 6 days to dry in a kiln, according to the company, just one step in a very complex process.
Arizona: PING Golf
Based in Phoenix, Arizona, PING Golf is an American golf club manufacturer that was founded in 1959 by a former General Electric engineer, who started the business by making clubs in his garage.
Arkansas: Hytrol
One of the most recognized names in the conveyor belt industry, Hytrol has been in business for more than 60 years.
California: The California Wine Institute
On behalf of the Golden State, the California Wine Institute—the largest advocacy and public policy association for California wine – will be at the White House Monday. This group is no stranger to D.C., it makes trips annually in order to keep wine on the national agenda.
Colorado: Gordon Signs
For more than 100 years, Colorado-based Gordon signs has been providing neon signs to businesses and locations—including Sports Authority Field at Mile High, where the Denver Broncos play.
Connecticut: Sikorsky
Aircraft manufacturer Sikorsky, a division of Lockheed Martin, is known for its production of the Black Hawk helicopter. Sikorsky claims to have built "the world's first practical flight helicopter" in 1939.
More from FOXBusiness.com...
Delaware: ILC Dover LP
ILC Dover LP is a manufacturing company that uses high-performance flexible materials to create innovative products. It has been involved in space development and production programs since the 1960s and has supplied all the space suits for NASA since project Apollo.
Florida: TervisFlorida-based Tervis makes Tumbler cups—which insulate drinks and maintain temperatures for extended period of times. The third-generation family-owned company employs 900 people.
Georgia: Chick-fil-A
Well-known restaurant chain Chick-fil-A has more than 2,100 restaurants across 46 U.S. states. Chick-fil-A is known for its chicken breast sandwiches – a recipe the company says it perfected in 1964.
Hawaii: Koloa Rum Co.
Koloa Rum uses Hawaiian sugar cane to make premium rum. The company is relatively new: it bottled its first batch of rum in September 2009.
Idaho: Boise Cascade Company
Need a new wood floor? Boise Cascade is your company! It manufactures engineered wood products and distributes products and services to wholesalers, retail dealers and builders.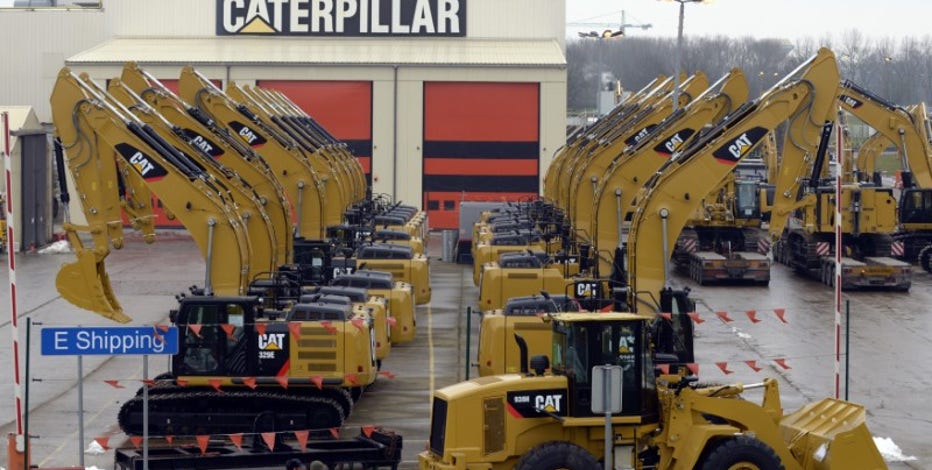 Illinois: Caterpillar
A well-known symbol of American power, Caterpillar designs, builds and provides machinery and engines to consumers around the world. Caterpillar tractors—before they were known as such—were actually used on the battlefield during World War I to haul supplies, according to the company's website.
Indiana: Broomcorn Johnny's
Craft broom-making company Broomcorn Johnny's makes each of its unique brooms by hand. The company's owner says he actually uses tools from the late 19th and early 20th centuries to create each of his products.
Iowa: RMA Armament
Iowa-based RMA Armament was founded by a former U.S. marine and police officer who wanted to redesign and transform traditional body armor. The company changed the concept down to the materials employed and the adhesives used in order to better protect those who serve our country.
Kansas: Grasshopper Company
Family-owned Grasshopper has focused on manufacturing ZeroTurn lawnmowers since 1969.
Kentucky: Cambellsville Apparel
A major supplier to the U.S. Department of Defense, this cut and sew apparel manufacturer provides t-shirts, sweatshirts and sweatpants for men. The small company, which employs about 170 people, supplies products to the U.S. Marines and the Air Force.
Louisiana: Marucci Sports
Founded by two former Big League baseball players and their athletic trainer more than a decade ago, Marucci handcrafts quality bats. The company makes the number one bat in the Big Leagues, according to its website.
Maine: Hinckley Yachts
What began as a company that built boats for local fisherman in Maine, Hinckley is now a world-renowned builder of premium jetboats between 29 to 79 feet long.
More from FOXBusiness.com...
Maryland: Heath Crab Pots
Founded 40 years ago, Heath's Crab Pots is the largest manufacturer of pots in the Chesapeake region.
Massachusetts: St. Pierre Manufacturing
St. Pierre Manufacturing makes horseshoes and tire chains. It was founded in 1920, inspired by Henry St. Pierre whose car got stuck in the mud when he was driving to a nearby village.
Michigan: Milton Manufacturing
Detroit-based Milton Manufacturing provides metal and fabric solutions to the defense, auto, aerospace, agriculture and heavy truck industries.
Minnesota: Faribault Woolen Mill Co.
Faribault Woolen Mill is one of the longest running woolen mills in America – built in 1892. The company, operated by fifth generation crafters, makes blankets, throws, scarves and accessories.
Mississippi: Taylor Machine Works
Started in 1927, Taylor Machine Works manufactures industrial lift trucks and forklifts.
Missouri: Beehler Corporation
Beehler has been manufacturing hinges since 1886. The company says it has continually redesigned its products to fit the evolving needs of different time periods.
Montana: Simms Fishing
Since 1980 Simms Fishing has been manufacturing its fishing products in the United States. It was one of the first companies to sell neoprene waders, a product known to provide a more waterproof and warm fishing experience.
Nebraska: Greater Omaha Packing
Founded in 1920, Greater Omaha Packing is one of the few beef producers that processes all of its meat in-house. The company ships its top-of-the-Prime grade steaks to every U.S. state and more than 50 different countries.
Nevada: Kimmie Candy
Third generation farmer Joe Dutra founded Kimmie Candy in 2000 in Sacramento, California. In order to create more American jobs the company relocated to Nevada in 2005 where it has been able to expand its employee-base along with international sales.
New Hampshire: Cider Belly Doughnuts
Located on Moulton Farm, New Hampshire, this company is praised for its fresh, homemade cider doughnuts.
New Jersey: Campbell's Soup
Joseph Campbell founded the soup manufacturer in 1869. According to the company's website, 80 Campbell's products are bought in North America every second.
New Mexico: Desert Plastics
A small business formed by a handicapped woman in 1999, Desert Plastics produces a myriad of products for use in ultra-high altitude airplanes, snow measurement instrumentation, and specialized industrial solar vessels depending on its customers' needs.
New York: Steinway Steinway & Sons has received over 125 patents on its pianos since 1857 and was founded in 1853. Each of its pianos are built entirely by hand and consist of 12,000 individual parts.
North Carolina: Cheerwine
Cheerwine is the oldest family-owned soft drink company in America, according to the company. The drink was created by LD Peeler in Salisbury, NC in 1917 as a solution to the limited availability of sugar during World War I. By adding cherry syrup instead of sugar, Peeler was able to replicate the sweetness of a drink with more sugar.
North Dakota: Dakota Outerwear Co.
This veteran-owned company is known for production of military clothing. Its gear is worn by the U.S. military, National Guard, police, and other defense agencies.
Ohio: Bully Tools
Bully Tools prides itself on its production of garden and farm tools that are exclusively 100% American made.
Oklahoma: DitchWitch
Family-owned and operated, this company employs thousands of people to produce advanced construction equipment.
Oregon: Leupold and Stevens
Founded in 1907 by American brother-in-law Fred Leupold and Adam Volpel, Leupold and Stevens says it has been the leader in sporting optics for 110 years and is fifth generation family owned.
Pennsylvania: Ames
Captain John Ames started the company in 1774 when he produced America's first shovel. The company has expanded to sell many different garden tools.
Rhode Island: Narragansett Brewing Company
The Narragansett Brewing Company is the fifth largest lager beer brewery in New England. The company was founded in 1888 by six local businessmen and produced it first beer in 1890.
South Carolina: Casual Cushion Company
A leader in the patio furniture replacement cushion industry, Casual Cushion was founded in 1979 by Ernest and Pierette Siesel. The company is currently run by the founders' two sons, Michael and Jason Siesel.
South Dakota: K Bar J Leather
K Bar J Leather is a premier manufacturer of leather western cowboy chaps and chinks.
Tennessee: Gibson Guitars
Used by famous rock stars, including Jimi Hendrix, Gibson has been producing electric guitars since 1974.
Texas: Stetson Hats
American icon John B. Stetson founded Stetson Hats in 1865 when he created the cowboy hat. The company has crafted its hats using the same techniques for over 150 years.
Utah: Colonial Flag Company
This company has been crafting flags and flagpoles for customers in each of the 50 states for over 30 years. According to its website, Colonial's flags have flown aboard U.S. space shuttles and at state buildings.
Vermont: Dubie Family Maple
Located in the heart of Vermont's Maple Country, this family-owned-and-operated company has been producing Pure Vermont Maple Syrup for 14 years.
Virginia: National Capital Flag Company
Founded in 1962, National Capital Flag Company produces flags on premises and houses one of the largest stocks of U.S. flags, state flags, and international flags in the country.
Washington: Liberty Bottleworks
Launched in 2011, this company produces sustainable, recyclable, custom-designed water bottles. All of Liberty Bottleworks' products are manufactured in the United States.
West Virginia: Homer Laughlin China
Homer Laughlin China is well-known for the diverse styles of its dinnerware.
Wisconsin: Pierce Manufacturing
Pierce Manufacturing produces state of the art firetrucks and was founded in 1913.
Wyoming: Aviat Aircraft
Aviat Aircraft produces quality aircraft. "Each piece of metal and plastic, every rivet, every bolt, every nut and screw is formed, shaped, assembled and inspected by a dedicated crew of skilled individuals who strive for excellence in all they do," according to the company's website.