Trump's Gary Cohn Seeks Kinder, Gentler Persona: Will He Toss In Dinner to Prove It?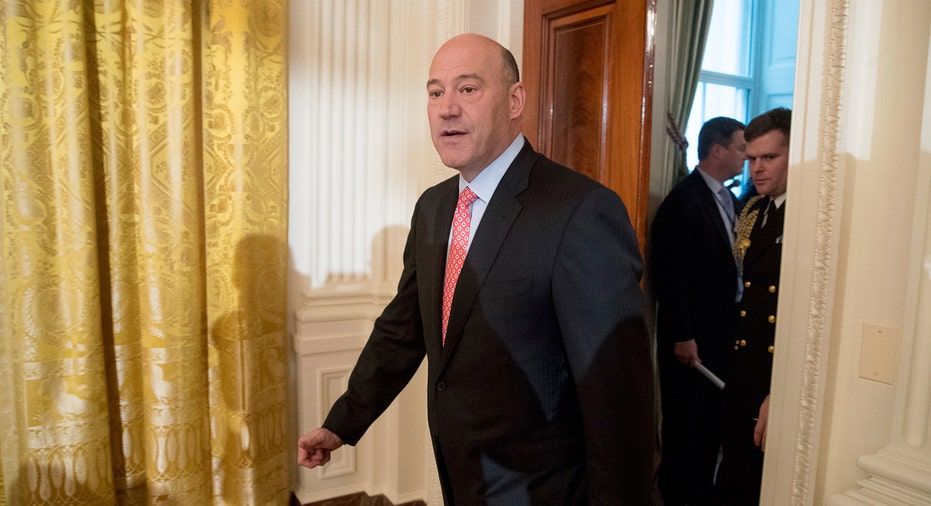 Trump economic adviser Gary Cohn, known for his brash, confrontational management style, now wants to show certain members of the media that he has a kinder, gentler side.
And he maybe, according to sources, is willing to pay for dinner to prove it.
The FOX Business Network has learned that Cohn, an imposing man who spent most of his career in the cut-throat world of commodities trading before entering politics, has been personally offended by a recent spate of dismissive reporting on his work inside the Trump White House. Some people with knowledge of the matter say, to stem the tide of bad publicity, he has been discussing the possibility of hosting a dinner with reporters to better explain what he does and possibly soften what many perceive as his rough edges.
It is unclear when the dinner will take place or if Cohn will go through with it, these people add.
A spokeswoman says the notion that Gary Cohn is setting up a dinner meeting with reporters is incorrect and there's "no dinner planned."
"Cohn isn't really happy about the press he is getting, and isn't all that happy with working in the White House," said one Trump insider. "He thinks an outreach to the press through a dinner party might get reporters to know him better."
The move would be an odd one given the Trump administration's current disposition toward the media, which is one of confrontation from White House Press Secretary Sean Spicer's daily press briefings to the frequent tweets of the president himself, when he calls out stories he doesn't like as "fake news." But Cohn, a long-time executive at Goldman Sachs, is worried about how he's being portrayed in the media, and whether leaks among opposing factions from within the Trump White House may hurt his standing with the president.
News of his recent contretemps with fellow adviser Steve Bannon over economic policy have been particularly jarring for Cohn, a liberal Democrat who managed to woo Trump to appoint him as the chair of his National Economic Council, in part through his friendship with Jared Kushner, another Trump adviser and the president's son-in-law, Trump insiders tell FOX Business.
Bannon, an economic nationalist, is the brainchild behind Trump's successful 2016 presidential campaign, which stressed an "America First" policy on domestic and international affairs. As reported by FOX Business, Bannon has recently butted heads with Cohn over free trade, (Cohn is for it, Bannon would like to repeal various trade agreements) a border tax (Cohn is against it, and Bannon is for it to help pay for tax cuts and improve exports) and other issues.
It's unclear who is gaining favor in the early stages of this battle but several unflattering tidbits about Cohn have been leaked to the press in recent weeks, including an anecdote in the New York Times where Cohn was said to have pointedly demanded that Trump stop interrupting him during a White House meeting.
"There are two reasons why (Cohn) would host a party like this," said political consultant Hank Sheinkopf. "To put your opponent for power on notice, and to create a setting where you can, in the future, be a source for reporters."
Cohn, who stands at 6'3" and 220 pounds, spent 27 years at Goldman Sachs mainly as a commodities trader and most recently as No. 2 to the firm's chief executive Lloyd Blankfein. He is known as one of the most intimidating managers on Wall Street, both with his fellow executives and competing firms in the trading business.
But the transition from Wall Street to Washington hasn't been easy; while at Goldman, Cohn had nearly complete control over all of the firm's vast operations. Now, even as Trump's most senior economic adviser, he still must compete for the president's attention with other top aides, some of whom are eager to see him publicly embarrassed.
Cohn appears to know what he's up against, which sources say is why he has told people he is weighing the reporter dinner, even if a spokeswoman says it is not happening.
While he is taking no government salary, Cohn cashed out of Goldman to join Team Trump with a whopping $285 million separation package, which included his sale of Goldman stock to avoid conflict of interest issues.
He could also receive a substantial tax benefit, since under federal guidelines he can defer paying capital gains taxes on that sale of stock.