Trump's Gary Cohn replacement could be out of the box
Updated 3/9/18, originally published 3/7/18.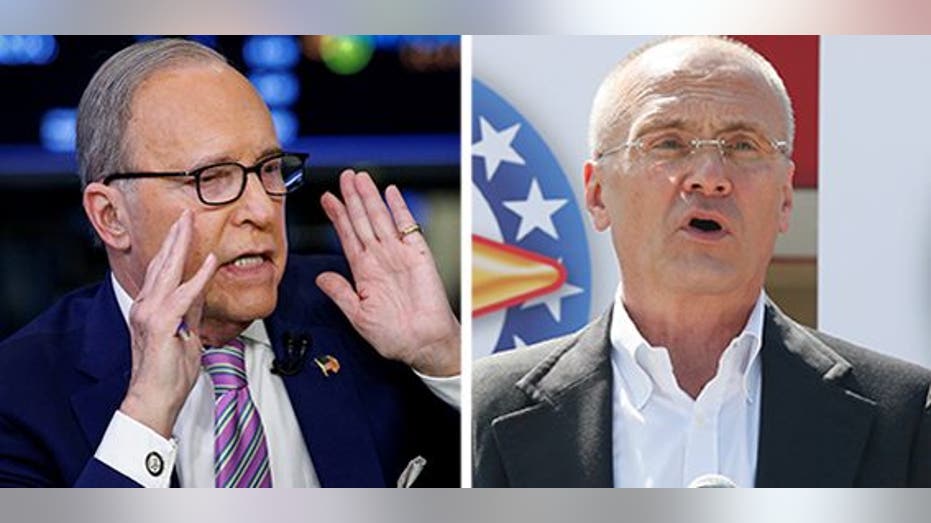 Even though Gary Cohn has pledged to stick around for a few weeks after resigning as Trump's National Economic Council director over his opposition to tariffs, policy wonks and investors aren't wasting anytime betting on his replacement and two names are climbing the leader board.
Larry Kudlow, former economic and policy adviser to President Ronald Regan and free-market economist, is one name topping the list, even though he shares Cohn's anti-tariff views, as first reported by FOX Business.   And fast-food honcho Andy Puzder, the former CEO of CKE Restaurants, which owns Hardee's and Carl Jr's.
"Andy Puzder would be a great pick," said Sean Spicer, former White House press secretary, during an interview on FOX Business' "Mornings With Maria" on Friday. He also noted Kudlow is in the running as well. "He's been on the president's radar for awhile. I think both of these individuals have a strong business sense and could keep markets calm and work well with others" Spicer said. He also noted both men get President Trump. "Those are the two people that understand the president" Spicer pointed out.
In addition to "understanding" the president's style, like Cohn, neither are academic economists. A trait Trump may like, according to Treasury Secretary Steven Mnuchin.
"What I'd say, and the president said it yesterday, he likes different views, he listens to different views," said Mnuchin while adding that Cohn's replacement will extend the mission of expanding the economy. "Whoever is on the team, we are focused on the president's economic agenda. I go back to tax reform, regulatory relief and trade, and the president has delivered" said Mnuchin earlier in the week while appearing on "Mornings With Maria".
Trump may like different views, but he does not like advisers operating their own agendas. As Peter Navarro, who is the chief trade architect, and Commerce Secretary Wilbur Ross were making the media rounds promoting the tariff plan, Cohn may have been working to stage a meeting of corporations that would be hurt by tariffs, including Ford and Coca-Cola, as FOX Business reported. That move may have accelerated his resignation.
This role on President Trump's team does not require Senate confirmation. Therefore, potential contenders will be put through less scrutiny about their past and present.  Kudlow, who publically battled substance addiction 30 years ago, is a well-respected conservative voice on Wall Street and in Washington. He declined to comment when reached by FOX Business. 
Puzder saw his candidacy as a potential secretary of labor cut short after allegations of domestic abuse. At the time, Puzder and his ex-wife said those allegations were false and they maintain that stance today. In January, Puzder shot down a report in Politico that said he was interviewing for a White House role. "They made it up out of whole cloth," he told FOX Business at the time. Puzder did not respond to inquiries from FOX Business at the time of publication.  
Also on the short list may be Kevin Warsh, former Federal Reserve governor under President George W. Bush, now with the Hoover Institution, a think tank that promotes economic prosperity. Warsh also spent several years at Morgan Stanley, which makes his background similar to that of Cohn, who once worked at Goldman Sachs. Inquiries by FOX Business to Warsh were not returned at the time of publication. And Shahira Knight, a top deputy to Cohn who was recently promoted by him as the deputy director for domestic policy, is also being considered.  Sources told FOX Business she was instrumental in tax reform and that she is a numbers whiz.
Like Cohn and Warsh, she has held positions in finance including Fidelity Investments and the Securities Industry and Financial Markets Association (SIFMA), the voice of the U.S. securities industry as listed on her LinkedIn profile.
During Wednesday's White House briefing, press secretary Sarah Sanders was asked about the short list. "I'm not going to get into any naming or a list, but I can tell you that the President has a number of people under consideration.  And he's going to take his time making that decision" she told reporters.
Axios was first to report that Kudlow, Warsh, Navarro and Knight are potential contenders to replace Cohn.
Brian Schwartz and Blake Burman contributed to this report.
Suzanne O'Halloran is Managing Editor of FOXBusiness.com and a graduate of Boston College. Follow her on @suzohalloran