Trump's budget slashes spending, leaves Social Security & Medicare untouched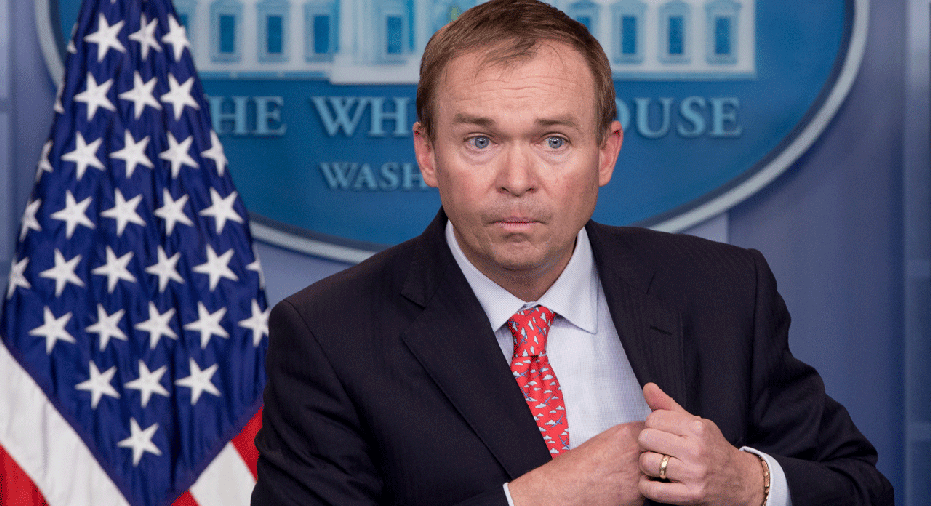 Office of Management and Budget (OMB) director Mick Mulvaney will detail the Trump administration's proposed 2018 budget Tuesday, an effort he is calling a "taxpayer first" budget.
The combination of large cuts to popular government programs and the White House's proposed tax and health care overhauls are what the administration says will boost U.S. economic growth enough to keep expenses in check over the next decade. Total spending cuts through 2027 will clock in at $3.6 trillion.
Here are some key particulars from the plan, called "The New Foundation for American Greatness," which will be detailed in full on Tuesday.
Paid Parental Leave
As President Trump promised throughout his campaign, and as championed by his daughter Ivanka, the proposal will include paid family leave. The program—likely to be unpopular among Republicans—would permit six weeks' worth of leave for new mothers and fathers, a White House official told FOX Business last week, and will call for $20 billion over 10 years.
Infrastructure
As the White House seeks to make progress on its legislative agenda, which includes the daunting tasks of both tax reform and health care, the infrastructure bill will be thrust back into the limelight Tuesday, with the administration's expected request for $200 billion over 10 years toward that effort. The funds will be used to provide incentives for the other $800 billion worth of infrastructure investment the administration is bidding for through a combination of public and private means in order to revamp the nation's roads, bridges, airports and more. Full details of the infrastructure plan are expected to be revealed within the coming weeks.
Medicare & Social Security
These two programs will be safe from any big budget cuts, which Trump also promised during the election cycle, despite being a massive expense for the government.
"We can balance the budget without changing [Social Security and Medicare]," Mulvaney said Monday in a briefing for reporters.
Medicaid Reform
The White House's 2018 budget proposes reforming Medicaid by giving more power to the states. States will choose between two financing methods— a per capita cap and a block grant--- and they will also choose how to best spend Medicaid dollars. Critics believe a move away from the current guaranteed federal match system could be detrimental to enrollees. Medicaid funds will not be permitted to be allocated to entities that provide abortions, including Planned Parenthood.
Welfare Programs
The Trump administration's budget is expected to cut billions from welfare programs over the next decade, including a $193 billion cut to the food stamps program, known as the Supplemental Nutrition Assistance Program (SNAP), through 2027.
"We no longer will measure compassion by the number of programs or the number of people on those programs," Mulvaney said Monday.
Bottom Line
The aim of the administration's budget is to push the 3 percent growth target, promote the tax and health care overhauls and to allocate more federal funds toward national security, Mulvaney said.