Trump's Battle Royale: Inside Kushner, Cohn's Growing Dominance Over Bannon, Priebus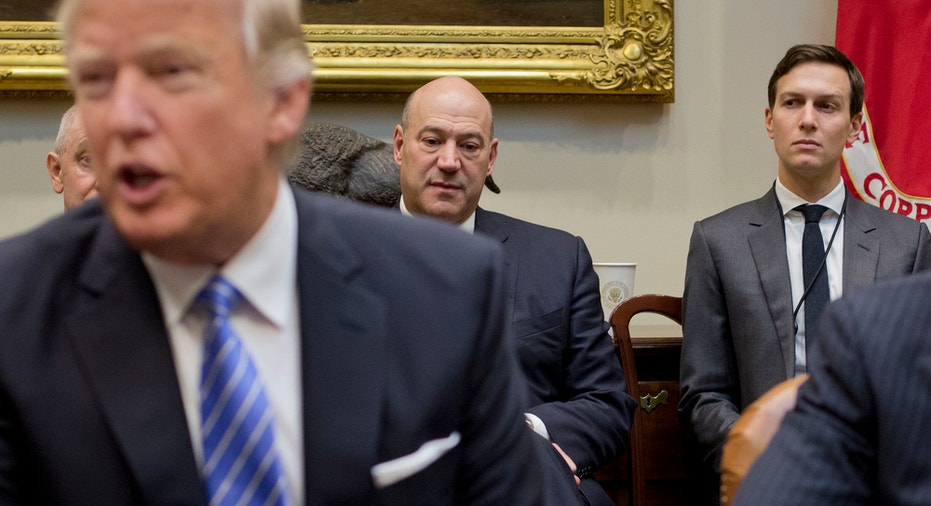 After a week of political back-biting, an uneasy calm has descended over the White House as President Trump makes clear he's inclined, for now, to keep his senior management team in place even as he downgrades the status of one key adviser, and continues to hold in limbo the future of another, FOX Business has learned.
White House officials this weekend confirmed that senior adviser Steve Bannon, the populist firebrand and former head of Breitbart News, will remain in the administration, at least for now. But, they say, his power with the president was severely eroded late last week after clashing with Jared Kushner, the president's 36-year-old son-in-law, who has now emerged as the most powerful adviser within the president's inner circle. People close to Bannon say if his power recedes further he could resign from the administration.
Bannon is no longer on the National Security Council but even worse, the president has signaled that he is not the top White House adviser, a position he has enjoyed, albeit unofficially, through the transition and into the first two months of the administration.
These same officials say another adviser who had come under considerable pressure, Chief of Staff Reince Priebus, will also remain in the administration for the time being. In recent weeks, Trump had begun to ask friends and associates if they felt he was being served well by Priebus, particularly after the administration's failed attempt to reform health care.
But White House officials tell FOX Business that the president recognizes the difficult task Priebus has in pushing through his ambitious agenda that includes not just a health care overhaul, but major changes in economic policy and tax reform, and has decided he should stay even if his power, like Bannon's, has been watered down.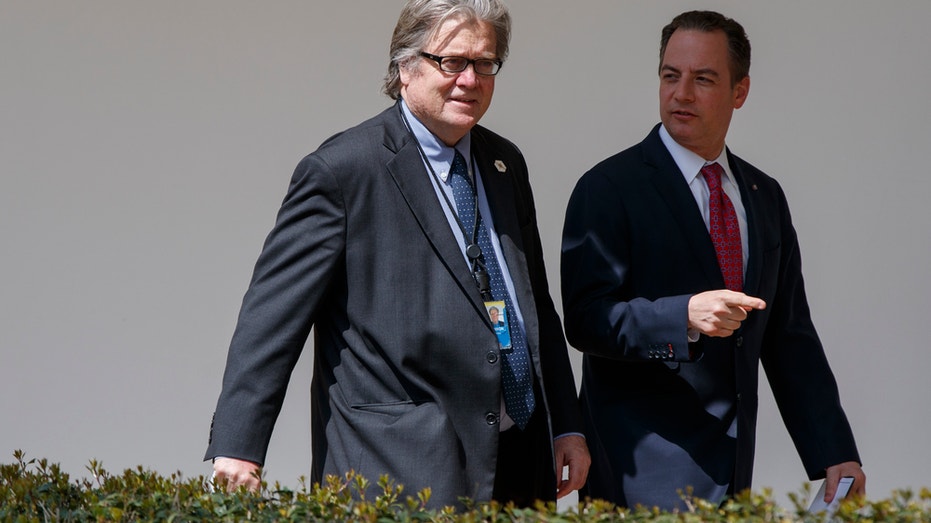 What is clear is that Kushner, regarded as a Liberal Democrat, and his close associate National Economic Council chief Gary Cohn—a former supporter of President Obama—are now heading the most powerful faction inside the already fractious White House and at least a subtle shift in policy has begun, these officials confirm to FOX Business. Trump has signaled Kushner's expanded role by granting him numerous responsibilities inside the White House, a sign he's both growing tired of internal bickering and is losing faith in Bannon and Priebus.
As evidence, people close to the White House point to the softening of the president's populist rhetoric on trade, where he no longer is calling for trade wars with China, even as he met with Chinese President Xi Jinping last week, or to completely rewrite trade deals like the North American Free Trade Agreement (NAFTA). Kushner and Cohn support trade deals and are said to be wary about isolating China.
They also point to the recent bombing of Syria, something Trump once attacked President Obama for considering back in 2013, as further proof the president is embracing foreign interventionism, rather than the so-called "America First" isolationism that Bannon would prefer and that Trump ran on during the 2016 presidential campaign.
Big question marks loom over Trump's plans to slash tax rates for individuals and businesses, and a big infrastructure spending plan. If Kushner and Cohn have their way, corporate taxes might be cut, but not those for individuals, keeping in line with their progressive ideology. They may also push Trump to scale back on tax cuts in order to spend more on infrastructure, a move that would garner support from Democrats in Congress.
"It's too early to tell if Trump will do a complete shift in policy," said Hank Sheinkopf, a political consultant who works mainly with Democratic candidates. "But he's got to find ways to govern and obviously Bannon and Priebus have caused problems. You need someone who can bring unity. Kushner may be that in Trump's mind."
Of course all administrations have internal turf wars, and presidents often jettison advisers as they seek out the best people to translate their agenda into legislation. But Trump has had a particularly unproductive first two months in office from a legislative standpoint as his health care overhaul stalled, and administration officials have been signaling that his proposed tax cuts may be put off until the end of the year.
Meanwhile, the internal feud nearly overshadowed some rare victories for Trump, including the confirmation of his Supreme Court nominee, Neil Gorsuch, and the bi-partisan support he received for his bombing of Syria following the Assad regime's use of chemical weapons in its bloody civil war.
The White House would not comment publicly on the contretemps other than to say, "Once again this is a completely false story driven by people who want to distract from the success taking place in this administration. The President's pick for the Supreme Court (a decision that has generational impact) was confirmed today, we hosted multiple foreign leaders this week and the President took bold and decisive military action against Syria last night. The only thing we are shaking up is the way Washington operates as we push the President's aggressive agenda forward."
Press Secretary Sean Spicer on Monday, during his daily briefing, confirmed reports of infighting among the administration but characterized them as "overblown."
"Our battles and our policy differences need to be behind closed doors," Spicer said. "We need to focus and ultimately all come out committed to his [Trump's] agenda."
It's also unclear if the past week's White House battle will result in the president ditching all of his Bannon-inspired campaign promises such as the construction of a wall along the Mexican border to stem the tide of illegal immigration, and not pursuing major tax cuts for individuals and businesses.
Indeed, one major wild card in trying to predict the direction of policy of the Trump White House is the president himself, a temperamentally volatile man whose ideology has vacillated over the years. Trump is said to favor a degree of internal bickering as long as advisers are loyal to him, and he has cobbled together maybe the most ideologically diverse White House in recent times.
Some of his advisers like Kushner and Cohn, the former No 2 at Wall Street's Goldman Sachs (NYSE:GS), could have easily worked in the Obama White House. Both are liberal corporatists who favor free trade and global intervention, but also more liberal economic policies such as expansive government, and are not anti-immigration.
Others like Bannon favor less government, lower taxes and an America First policy where the country refrains from global intervention, enacts trade barriers and cuts back on immigration.
During most of his long career as a businessman, Trump was at times in the Kushner-Cohn camp; he supported the presidency of Bill Clinton, the husband of his Democratic challenger in the 2016 election. But Trump started to embrace populist and isolationist right-wing politics relatively recently as he began to consider a run for the White House; he became a harsh critic of President Obama, at one point questioning whether he was born in the U.S. and thus not qualified to be president.
During the presidential campaign, Trump channeled the ideological theories espoused by Bannon and his political website Breitbart News, making Bannon's recent demotion all the more startling.
Even as he loses power, Bannon has no immediate plans to leave the White House, people close to him say, but they concede his stroke with Trump is waning and he might leave if he is overpowered by the Kushner-Cohn team. These people close to Bannon also say he knows full well that Trump is apt to change his mind again, and Bannon could find himself back in the inner circle.
"Steve is staying put because he knows the best way to get the policies he wants the president to pursue is to stay in the White House," said one White House staffer. "It's either that or selling ads for Breitbart News, so at least for now he isn't going anywhere."