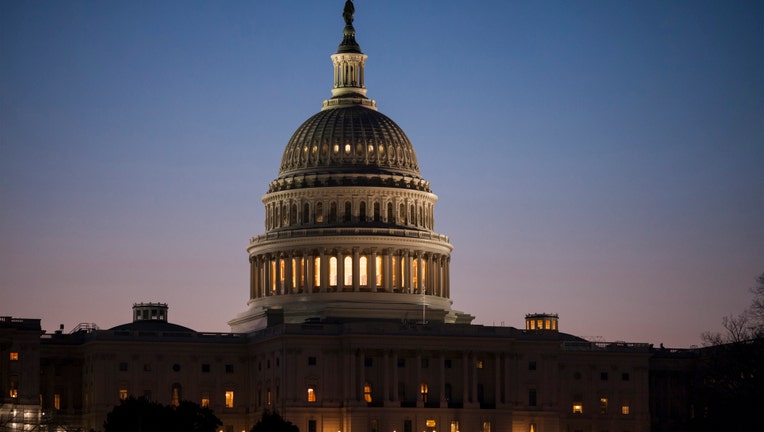 President Donald Trump's administration has continued to indicate they prefer to work out a bipartisan deal on tax reform and one of the groups they've turned to is the moderates within the Democratic Party, the Blue Dog Coalition.
The 18-member Blue Dog Coalition, known for being the moderate Democrats within the House of Representatives, have been preparing behind the scenes for the possibility that they may be called upon to work with the administration and possibly be critical yes votes in case the Republican majority can't get the job done on their own, FOX Business has learned.
On June 15, Rep. Dan Lipinski (D-Ill.), policy co-chair of the Blue Dogs, sent a letter to lobbyists, think tanks and advocacy groups, inviting them to listening sessions to give them a chance to express what they would like to see in a bipartisan tax plan. More than 15 groups accepted the request and met with Lipinski in late July, including the AFL-CIO, the Tax Policy Center and the National Federation of Independent Business, according to people familiar with the matter.
The group has also met with representatives from the U.S. Chamber of Commerce and Maya MacGuineas, President of the Committee for a Responsible Federal Budget, according to Democratic aides.
A spokeswoman for the Chamber of Commerce confirmed the meeting to FOX Business.
"I can confirm that we met with them on tax reform, and we will continue to engage all sides of the political spectrum on the number one issue for the business community – pro-growth tax reform," the spokeswoman said.
MacGuineas would not confirm or deny meeting with the Blue Dogs.
Five days after Lipinski sent his letter to members of K-Street, Treasury Secretary Steven Mnuchin, National Economic Council Director Gary Cohn and Legislative Affairs Director Marc Short, had a casual dinner with members of the Blue Dog Coalition on Capitol Hill to hear their ideas on what they hoped to see in a new tax reform bill.
Lipinski spoke to FOX Business in an exclusive interview, confirming the meeting with the White House officials but also noted they haven't heard from them since then and are continuing to hope to be part of their future plans.
"They said to keep the lines of communication open. Nothing has gone beyond that and we haven't seen anything specific in and out of the plan. When we met with them, we talked about what the issues are and what the difficulties were going to be," Lipinski said.
A White House spokeswoman did not return calls for comment.
While dinner attendees considered the get together friendly and informative, some members of the Blue Dog Coalition left with more questions than answers, wondering if the administration's plan was based on wishful thinking  and if there was enough evidence to back up their hope that broad tax cuts will be paid for, in part, by an increase in economic growth.
In an exclusive interview with Fox Business, Congressman Mike Thompson (D-Calif.), a member of the Blue Dog Coalition and of the House Ways and Means Committee, said that the administration's plan to pay for tax cuts through economic growth is an unrealistic goal.
"I believe it needs to be paid for and not with smoke and mirrors. It has to reasonably score and needs to be revenue neutral. It can't just be paid for on a hope and a wish," Thompson said.
Cohn, in an interview with Stuart Varney on Friday, reaffirmed that tax cuts will be paid for by growing the economy. "When you lower the corporate rate from 35% down to 15%, that 20% has an enormous multiplier effect in the U.S. economy. Of course we are going to get growth by lowering the business rate," he said at the time.
It wasn't clear at the meeting in June if the White House would be able to conjure together a bill that would be revenue neutral, which is the bare minimum of what the Blue Dogs would want to see in a bipartisan tax plan.
According to Thompson and Lipinski, the group has expressed some of their broader expectations on crafting a tax reform package with White House officials and House leadership, including Chairman of the House Ways and Means Committee, Kevin Brady (R-Texas).
They say the Blue Dogs hope to see a plan that increases economic growth, the reduction of rates for middle income workers, broadening the revenue base, lowering the corporate tax rates and it being revenue neutral.
The caucus is expected to release more detailed tax reform principles in September.
One of the unknowns for the moderate Democrats is where House Speaker Paul Ryan (R-Wis.) stands on working with their group.
So far, there's been no outreach from the speaker's office and if he's relying on getting a bill passed through the House with only conservative Republicans, experts say there's no guarantees that tactic will work out in their favor.
Mark Mazur, director of the Urban Brookings Tax Policy Center and former assistant secretary for tax policy in the Treasury, said in an interview with FOX Business, Ryan might need the Democrats after all. "It's a hard one because I think if Republicans are going to use reconciliation and plan to do it as Republicans alone, there's still no guarantee it will pass," Mazur said. "They have a narrow majority in both chambers and it's hard to do."
Lipinski also said he was disappointed with the lack of outreach from Ryan's office to the Blue Dogs but also insisted that the House Speaker did meet with the bipartisan Problem Solvers Caucus.
"It's disappointing that Speaker Ryan hasn't reached out to the Blue Dogs, but I have to say with the problem solvers caucus back in June. I can't get into details. The issue of tax reform did come up. The Speaker did seem interested what Democrats were thinking about tax reform at that time. I'm hoping this is not going to be a situation that republicans cook up a plan and come looking for democrats come on board," Lipinski said.
A spokeswoman for Ryan did not return calls for comment.