Trump Went to War With Motor City and Won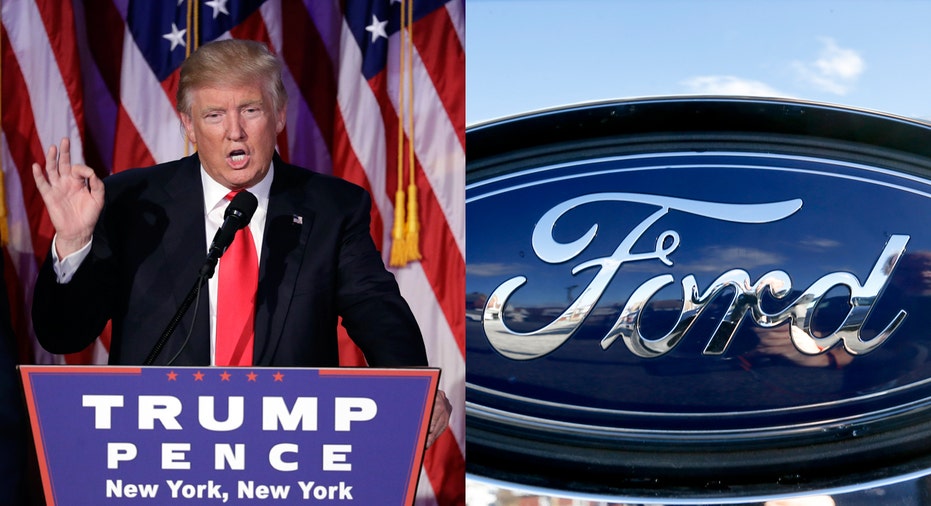 Ford (NYSE:F) became a lightning rod of the 2016 presidential race, as Donald Trump hammered the automaker for expanding its manufacturing operations in Mexico. The president-elect also targeted other automakers and manufacturers for doing the same—part of Trump's broader criticisms of the North American Free Trade Agreement.
The top car-producing states in the nation ultimately sided with Trump, who swept through the Rust Belt on Election Day.
In Michigan, the epicenter of America's auto industry, Trump won a state that hadn't supported a Republican candidate since George H.W. Bush in 1988. The Republican nominee also took Ohio, the second-largest car producer among the 50 states, with relative ease. A similar story played out in Indiana, whose vehicle production is slightly ahead of Kentucky this year.
Overall, the seven states that have manufactured the most cars so far this year all lined up behind Trump: Michigan, Ohio, Indiana, Kentucky, Alabama, Tennessee and Missouri.
It was apparent that Trump's message resonated with voters who work in manufacturing. According to Fox News exit polls, union households supported Hillary Clinton by an eight-point margin, below President Barack Obama's lead of 18 points in 2012. The results marked the lowest union support for a Democrat in the past 20 years.
Trump carried 52% of the union vote in the battleground state of Ohio, far better than former Republican presidential candidate Mitt Romney's 37% support. About half of Ohio voters believe trade with other countries costs American jobs, while 32% said trade creates jobs. Among those who think trade hurts jobs, 67% backed Trump.
An internal poll by the United Auto Workers union showed 28% support for Trump before the election, and another 6% of members were undecided. However, during a press conference following Trump's victory, UAW President Dennis Williams conceded that the union's poll may not have accurately reflected Trump's overall support among auto workers.
Consider that Trump likely garnered support from voters who have lost their jobs in the manufacturing sector, including car factories.
Trump successfully reached those Americans by targeting NAFTA and what he characterized as imbalanced trade deals that encourage companies to ship jobs overseas. For car companies, Mexico has become another critical region for manufacturing, particularly for small cars. Compacts generate smaller profits at their price point, so companies such as Ford have moved production of most small cars to Mexico.
Fiat Chrysler Automobiles (NYSE:FCAU) has gone a step further. The Italian-American firm will stop building the Chrysler 200 and Dodge Dart in two plants in Michigan and Illinois at the end of this year. CEO Sergio Marchionne was seeking a partnership with another car maker who could make the midsize sedans, but no deal has materialized.
Ford made its own move official in September, announcing that all small cars would be produced in Mexico. Earlier this year, Ford detailed plans to invest $1.6 billion to build a new assembly plant in the country.
Trump has threatened to push for tariffs as high as 35% on cars imported from Mexico, arguing that a tax is necessary to encourage companies to focus on building cars in the U.S. Ford CEO Mark Fields defended the company's record, arguing that manufacturing moved to Mexico was replaced with other models built in the U.S. Chairman Bill Ford revealed in October that he met with Trump to discuss the matter.
After Trump's victory, Ford released a statement saying it agrees with Trump "that it is really important to unite the country – and we look forward to working together to support economic growth and jobs." Likewise, House Speaker Paul Ryan said Republicans will focus on adjusting U.S. taxes on border adjustments rather than imposing tariffs.
A group representing the industry has already reached out to Trump's transition team to suggest changes to federal fuel-efficiency rules that are seen as overly burdensome, among other proposals.
The Alliance of Automobile Manufacturers, which includes top automakers like Ford and General Motors (NYSE:GM), said the regulations are a "substantial challenge" for car companies, according to a letter cited by multiple reports.
Also, Williams expressed a willingness to work with the Trump administration on trade policies, saying his position on the issue is "right on."