Trump weighs Malpass, Holtz-Eakin as Gary Cohn replacements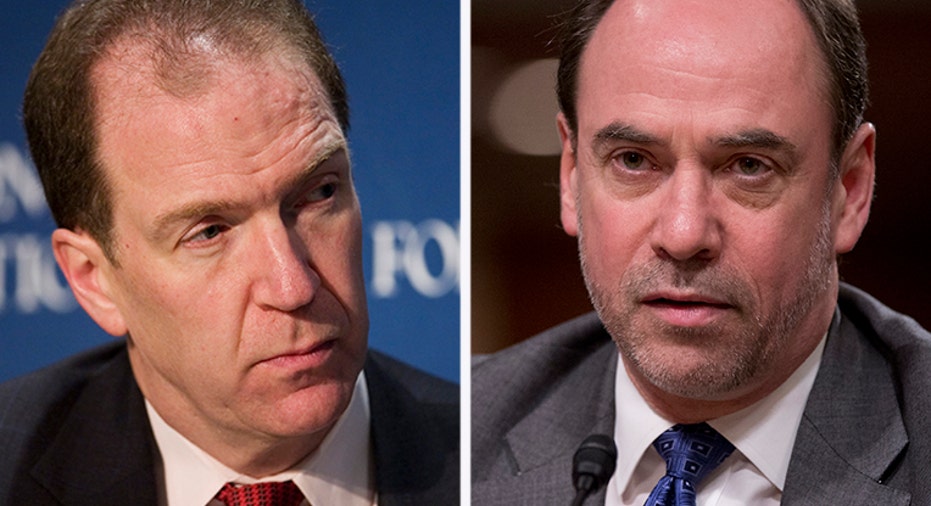 National Economic Council director Gary Cohn is on his way out of the White House and there are two new names under consideration for the top post, FOX Business has learned.
Steve Moore, Heritage Foundation economist and an external economic adviser to President Donald Trump, said in an interview on Friday that the administration is contemplating the likes of David Malpass, under secretary for international affairs at the Treasury Department, and Douglas Holtz-Eakin, president of conservative think tank American Action Forum. Holtz-Eakin is also a former member of President George W. Bush's Council of Economic Advisers.
"I think they're looking at Larry Kudlow, David Malpass and Douglas Holtz-Eakin," Moore said. He also noted he's heard that Stanford Graduate School of Business visiting fellow Kevin Warsh, once a consideration for chairman of the Federal Reserve, is being thought of as a potential replacement for Cohn within the White House.
Other names under consideration include Andy Puzder, former CEO of CKE Restaurants which owns Hardee's and Carl Jr's, as well as White House trade adviser Peter Navarro and National Economic Council deputy Shahira Knight.
When reached by telephone on Friday, Holtz-Eakin told FOX Business that he had not heard from the White House about being considered for the job and that he hadn't given much thought about accepting any type of offer.
However, he made it clear that he was not in favor of the recently imposed import tariffs on steel and aluminum goods, a sign that he may not be the best fit for the position.
"I'm not a fan of this approach. I worked in the Bush White House when the economic team went against this and lost that fight. History this time is in our favor," Holtz-Eakin said. "The tariffs we went with were overturned by the World Trade Organization while the jobs lost in the steel-consuming industries were larger than those gained in the steel industry," he added.
A White House spokeswoman would not confirm or deny the new additions to the list of candidates that may replace Cohn.  "No personnel announcements at this time," she said.
A Treasury spokesman and Warsh did not return requests for comment.
Malpass may be a likely choice to be Cohn's successor because of his experience on Wall Street and the fact that the Treasury Department backed the president's decision to move ahead with import tariffs.
Malpass worked at investment bank Bear Stearns for 15 years, including a stint as its chief economist. In 2008, he founded economic research firm Encima Global, which provided daily analysis of global economic and political trends.
His extensive work in politics includes working in the Treasury under President Ronald Reagan, being the deputy assistant secretary of state under President George H.W. Bush and served as an economic adviser to Donald Trump during his presidential campaign.
After the commander in chief signed the proclamation declaring large-scale tariffs, the Treasury, where Malpass currently works, celebrated the decision.
"President Trump has announced a critical decision that reinforces the importance of the aluminum and steel industries with respect to the national security of the United States," Treasury Secretary Steven Mnuchin said in a statement. "These tariffs are a necessary tool to strengthen both our economic and national security," he added.
Cohn's sudden departure comes after a losing battle to Navarro and Commerce Secretary Wilbur Ross. Cohn, behind the scenes, tried to stop Navarro and Ross from influencing the administration's economic policy, but by the beginning of the week it was clear that he was on the losing end of the war, as a meeting he tried to set up with CEOs who could be hurt by tariffs at the White House was abruptly canceled.
Trump signed his proclamation on Thursday declaring 25% tariffs on steel and 10% on aluminum products, with exceptions for Canada and Mexico, at least for now.
The president, to his credit, gave Cohn a sendoff on Thursday during a cabinet meeting, where Trump suggested Cohn may even return to the White House.