Trump vs. Amazon's Bezos: A look into the ongoing biz battle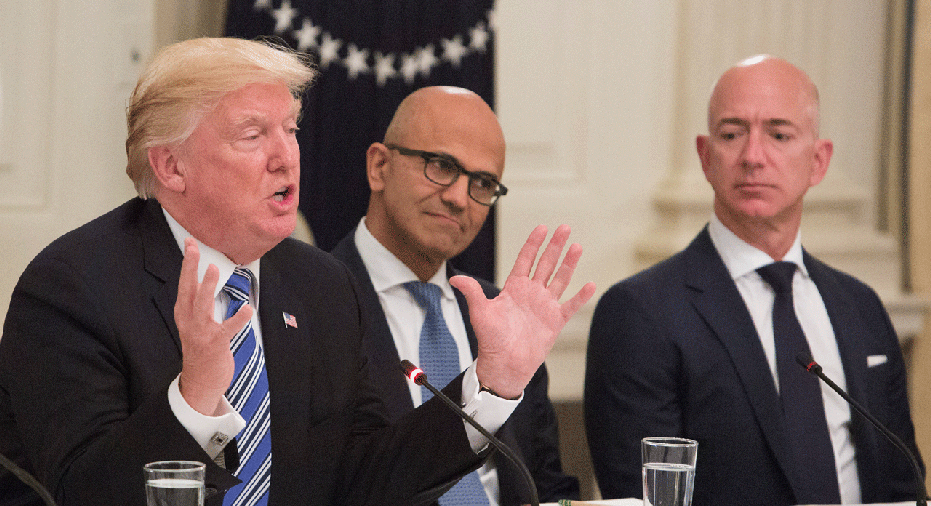 President Donald Trump continued his offensive against some of the United States' biggest business leaders on Wednesday, pulling Amazon (NASDAQ:AMZN) CEO Jeff Bezos into the mix by accusing him of hurting "tax paying retailers" and eliminating jobs.
Amazon is doing great damage to tax paying retailers. Towns, cities and states throughout the U.S. are being hurt - many jobs being lost!

— Donald J. Trump (@realDonaldTrump) August 16, 2017
This pronouncement follows President Trump's comments against the CEOs who left his manufacturing council this week in reaction to his response to the white nationalist protests in Charlottesville, Virginia over the weekend. After four executives resigned from the group – including Kenneth Frazier of Merck (NYSE:MRK) and Kevin Plank of Under Armour (NYSE:UAA) –  Trump said during a press conference on Tuesday that they were not taking their duties seriously as it "pertains to this country" and some "are leaving out of embarrassment because they make products out of the country."
However, unlike Trump's plausibly temporary feud with the CEOs of Merck and Under Armour, the president has a years-long feud with Amazon's chief executive. Here's a look at the timeline.
The history
A week after Bezos was at the White House discussing ways to modernize federal IT systems in June, Trump went after the tech titan for dodging internet taxes on Twitter.
The #AmazonWashingtonPost, sometimes referred to as the guardian of Amazon not paying internet taxes (which they should) is FAKE NEWS!

— Donald J. Trump (@realDonaldTrump) June 28, 2017
But there is some apparent animosity between the president and his fellow billionaire businessman. During an interview with Fox News in May, President Trump said Bezos was "getting away with murder tax-wise," claiming the Amazon CEO was using The Washington Post to accumulate capital among politicians so that the company can dodge taxes.
During the same interview, Trump suggested Amazon had "a huge antitrust problem."
"He's using The Washington Post, which is peanuts, he's using that for political purposes to save Amazon in terms of taxes and in terms of antitrust," Trump told Sean Hannity.
Meanwhile, U.S. Commerce Secretary Wilbur Ross said Amazon had violated no antitrust laws during an interview with FOX Business last week.
"I haven't seen anything that Amazon has done that would qualify remotely for antitrust consideration," Ross said.
Trump said during a campaign rally in February 2016 that the company would have "such problems" if he were elected president.
In December 2015, Trump aired his grievances against Bezos via Twitter.
If @amazon ever had to pay fair taxes, its stock would crash and it would crumble like a paper bag. The @washingtonpost scam is saving it!

— Donald J. Trump (@realDonaldTrump) December 7, 2015
Bezos responded to Trump's tweet, in one of his first ever messages on the social media platform, floating the idea of sending him to space.
Bezos' business victories
It's unlikely Bezos will be too fazed by Trump's most recent tweet, given the stellar year the tech innovator has had so far. Amazon's stock is up more than 30% year-to-date and more than 300% over the past five years. Last month, Bezos also temporarily became the world's richest person with a net worth of more than $90 billion, according to Forbes, before Amazon shares retreated slightly and Microsoft (NASDAQ:MSFT) co-founder Bill Gates reclaimed the top spot.
In the second quarter, sales on the e-commerce platform surged 25% to $38 billion. And Amazon's conquests are just beginning.
The tech company recently announced a bid to acquire organic grocer Whole Foods Market (NYSE:WFM), furthering its expansion into the grocery aisle. "I think it's a very clever move," Secretary Ross told FOX Business regarding the Whole Foods deal.
Amazon also recently announced a new Prime feature that has the struggling retail industry trembling as it seeks to bring the dressing room straight into customers' living rooms. The new service, Amazon Prime Wardrobe, would allow members to try on clothes for free and send back what they don't like at no extra charge. This as Amazon was crowned the second-largest seller of apparel in the United States by Morgan Stanley (NYSE:MS).