Trump visits Poland ahead of meeting with Putin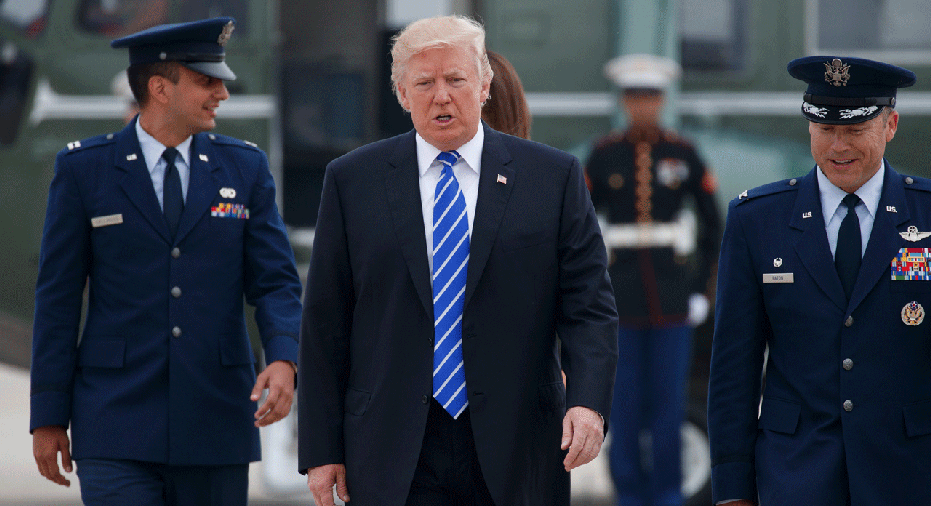 President Donald Trump boarded Air Force One Wednesday, headed for Poland and his second international trip as leader of the United States ahead of the G20 summit later this week in Germany.
The visit is seen as an international show of support for a country that has sought protection from threats emanating from Russia, before Trump is set to meet Russian President Vladimir Putin for the first time face-to-face at the G20 gathering.
"Even if he doesn't mention Putin or Russia outright, just stepping foot in Poland sends a powerful statement," said Jim Carafano, a foreign policy analyst at the Heritage Foundation, a conservative think tank.
At the same time, Trump will have to balance his visit to Europe with escalating tensions with North Korea, after the U.S. concluded Tuesday that North Korea had test-launched its first intercontinental ballistic missile. The U.S., South Korea and Japan responded to the provocation by requesting an emergency session of the U.N. Security Council, scheduled Wednesday afternoon.
Asked what he would do about North Korea, Trump responded just before taking flight: "We're going to do very well."
Trump's first trip to Europe as president in May saw a series of awkward encounters, including a tough speech to the leaders of NATO countries urging them to spend more on their armed forces, an uncomfortable handshake with France's new president, and a caught-on-camera moment when Trump pushed past the prime minister of Montenegro, Europe's newest country, while squeezing his way to the front of a crowd.
But Poland may offer Trump a chance to shine.
According to Polish media reports, Poland's government promised the White House a reception of cheering crowds as part of its invitation. To make good on that pledge, ruling party lawmakers and pro-government activists plan to bus in groups from the provinces to hear Trump's speech.
The White House didn't respond to a request for comment on those reports.
With Trump's sights already set on the 2020 election, his visit to Poland could also be seen as a power play for battleground states like Michigan, Wisconsin and Pennsylvania, which are home to hundreds of thousands of Polish-American voters.
Trump may also seek to use Poland as an exemplar of partnership. A U.S. ally in Iraq and Afghanistan, Poland is one of the five NATO members that spends at least 2 percent of their gross domestic product on the military. That's something that Trump — and U.S. leaders before him — have demanded of NATO allies. Trump has scolded other NATO members for falling short on their commitments.
Poland is also host to about 1,000 U.S. troops, and is supporting U.S. and NATO forces in Iraq and Afghanistan. It's also a regular customer for U.S. military equipment.
Before Trump's arrival, Poland's government emphasized that Russia's aggression in Ukraine poses a threat to the whole of Europe, something that will inevitably be raised in discussions with Trump as Europeans seek to gauge the president's willingness to confront Putin before their first face-to-face meeting later this week.
The Associated Press contributed to this report.