Trump Tweets Mean Business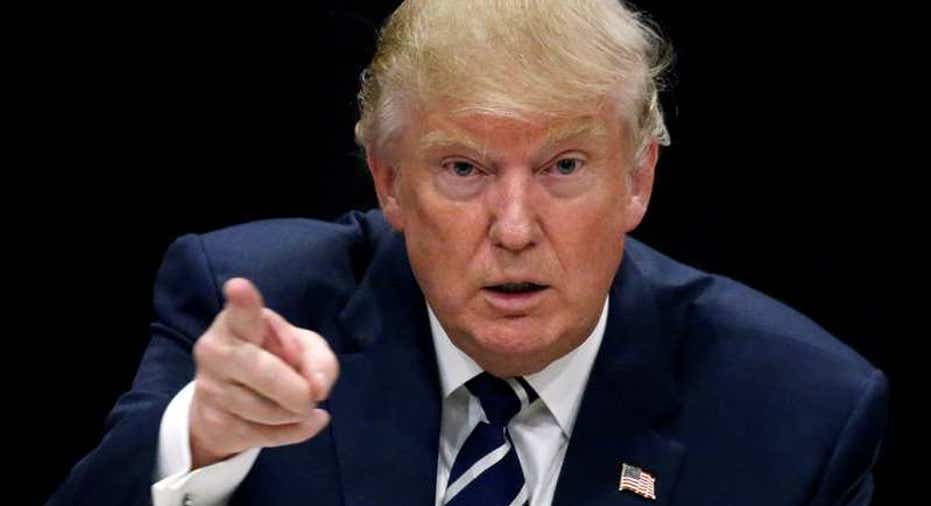 In less than 140 characters, Donald Trump has brought billion-dollar businesses and CEOs to their knees. His tweets have taken on corporate giants like General Motors (NYSE:GM) and Lockheed Martin (NYSE:LMT) -- forcing those companies to come back swinging.
It's rare for a political leader to confront and call out major industries in such a public way. It's unprecedented for a political leader to do so in a Tweet.
Because of his tweets, the auto industry is reevaluating its moves to Mexico and defense companies are scrambling to rein in exorbitant costs.
FOXBusiness.com takes a look at the companies Trump has challenged on Twitter (NYSE:TWTR) and the fallout hitting the stocks.
1. Fiat Changes Plans and Trump Says Thanks
---
Hoping to avert criticism by President-elect Donald Trump that have rattled other automakers, Fiat Chrysler (NYSE:FCAU) decided to be proactive. On Sunday, the Italian automotive giant announced plans to invest about $1 billion to build auto plants in Ohio and Michigan. The company said the move would create 2,000 jobs in the U.S. Trump responded a day later with a tweet thanking the company. Within an hour after the stock market opened on Monday, Fiat's stock jumped. Fiat Chrysler CEO Sergio Marchionne denied the company's decision has anything to do with Trump's Twitter criticism on the industry. "You're going to hate me for saying this, but the decision has been in the works for a long period of time. It was coincidental with all these tweets coming out...  "We didn't twist ourselves into a pretzel (to make this decision)... It wasn't a preemptive strike against a tweet."
2. Toyota Reels From Trump Warning
---
Toyota's stock (NYSE:TM) plummeted after President-elect Donald Trump slammed the company on Twitter. "Build plant in U.S. or pay big border tax" Trump tweeted last Thursday. The company's stock hit the low of the trading session less than an hour after the tweet was sent out. The stock managed to recover some of those losses. Toyota, like Trump's other targets, attempted to set the record straight with the following statement.
"Toyota has been part of the cultural fabric in the U.S. for nearly 60 years. Production volume or employment in the U.S. will not decrease as a result of our new plant in Guanajuato, Mexico announced in April 2015.  With more than $21.9 billion direct investment in the U.S., 10 manufacturing facilities, 1,500 dealerships and 136,000 employees, Toyota looks forward to collaborating with the Trump Administration to serve in the best interests of consumers and the automotive industry." 
Over the past 30-days shares of Toyota are little changed.
3. Ford Gets Unexpected Plug
---
Ford (NYSE:F) has been an early and frequent Trump target but his most recent tweets gave kudos to the automaker for scrapping a plan to build a $1.6 billion auto plant in Mexico. The announcement came hours after Trump said he would levy stiff import taxes on vehicles built outside of the U.S.
Even so, CEO Mark Fields insisted the decision was based on demand not the President-elect. "We are doing this decision based on what's right for our business," Field's said during an inteview on the FOX Business Network's Cavuto: Coast-to-Coast. "As we think about the investments here in Michigan, as you can imagine Neil, we look at a lot factors as we make those. One of the factors that we are looking at is a more positive U.S. manufacturing business environment under President-elect Trump and some of the pro-growth policies that he said he is going to pursue."
The small jolt caused Ford's stock to jump about 1% on Tuesday however shares have lost over 2% during the past 30-days.
4. Trump Unleashes Wrath on GM
---
General Motors (NYSE:GM) was the target of Trump's Twitter storm this week when he attacked the company for plans to build a $5 billion Chevy Cruze plant in Mexico by 2018. GM quickly responded to the president-elect's tweet by saying all the sedans were made in an assembly plant in Lordstown, Ohio. General Motors shares slid nearly 1% after the tweet and are little changed over the past 30-days.
5. Tweet Sets Off Battle Among Aerospace Giants
---
Trump's morning tweet last month suddenly pitted Boeing (NYSE:BA) against Lockheed Martin (NYSE:LMT) after he challenged Boeing to build a cheaper model of the F-18 Super Hornet. The president-elect says he has been trying to lower the costs of fighter jets and wants Lockheed Martin to rein in cost overruns.
6. Single Tweet Sends Defense Industry Into Tailspin
---
Trump's tongue-lashing on Twitter sent the defense industry into defense mode in early December. In a tweet, Trump lamented that 747 Air Force One costs were "out of control" while pledging to cancel the order. The blast sent shares of Lockheed Martin (NYSE:LMT), which makes the F-35 fighting jets, tumbling 2%. Over the past 30-days shares have slipped 3%.
7. Boeing's Image Takes a Dive Following Tweet
---
Aerospace giant Boeing (NYSE:BA) found itself in President-elect Trump's crosshairs during a morning tweet Dec. 6, minutes before the opening of the U.S. stock market. After Trump lashed out at the company for costs he said were "out of control" the shares tumbled before eventually rebounding later in the session. Trump ended the tweet by saying: "Cancel order!" The company was caught off-guard by the tweet and officials reportedly reached out to the president-elect. Days later, Boeing donated $1 million to Trump's inauguration celebration.