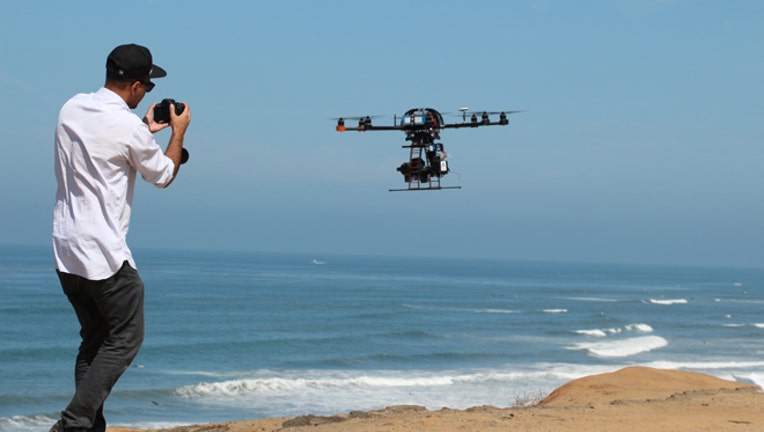 President Donald Trump on Wednesday signed a memorandum creating a new drone integration pilot program, in an effort to incorporate the growing use of unmanned aircraft into national airspace.
With Trump's signature, the Department of Transportation (DOT) will enter into agreements with state, local, tribal governments and private companies to build "innovation zones" to test the operations of unmanned aircraft systems (UAS). Governments and businesses looking to partake in the program would have to be approved by the Federal Aviation Administration (FAA).
Part of the reason for the creation of the program stems from the administration's push to improve America's infrastructure—particularly the nation's airspace, including air traffic control reform—something the Trump administration has prioritized, dating back to the president's time on the campaign trail, as well as the growing use of unmanned aircraft in the U.S.
Senior administration officials said over one million UAS owners have registered with the FAA, and commercial UAS are projected to increase fivefold by 2021.
Testing of currently-restricted drone operations by governments and companies would be permissible under the program, including flights over people and "beyond-visual-line-of-sight flights." This initiative also aims to make it easier to deliver medicines, commercial packages and inspect important American infrastructure.
Speaking at the Drone Focus Conference in North Dakota in May, U.S. Transportation Secretary Elaine Chao explained why the administration was concentrating on advancing drone operations in the skies over America.
"The integration of drones into our national airspace will be the biggest technological challenge to aviation since the beginning of the Jet Age … Our job is to prepare the way for this new technology, so it can be deployed safely and usher in a new era aviation service, accessibility and ingenuity," she said.
Administration officials expect the program to benefit the American workforce, including the creation of tens of thousands of new jobs.
The first pilot programs will begin within a year of Wednesday's signature, according to senior administration officials.