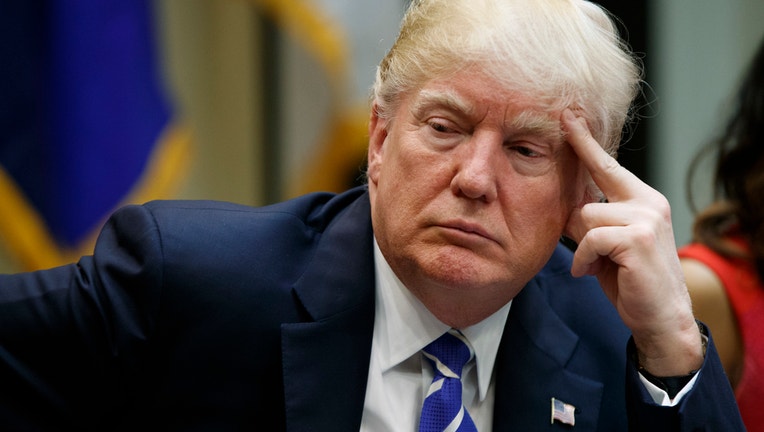 Only a day after President Donald Trump made a deal with congressional Democrats on raising the nation's debt ceiling for three months, the commander in chief came to another agreement with one of their leaders to publicly reinforce that those participating in the Deferred Action for Childhood Arrivals (DACA) program will be protected for at least six more months, FOX Business has learned.
In yet another sign that the president may start turning to Democrats for help with key legislative agenda items and that their party may be gaining influence within the White House, Nancy Pelosi (D-CA) received a phone call from Trump in which she requested him to tweet out that those who are part of DACA, also known as DREAMers, would not lose their status before Trump's self-imposed six month deadline, according to a Democratic aide familiar with the matter.
Trump agreed and at approximately 9:40 am ET, the president tweeted, "For all of those (DACA) that are concerned about your status during the 6 month period, you have nothing to worry about - No action!"
Last Tuesday, the administration announced they were ending the Obama-era DACA program, which protected young undocumented immigrants who were brought to the United States as children and gave them eligibility for a work permit. The announcement was made by Attorney General Jeff Sessions who also noted there will be a six month safety period to give Congress a chance to formulate a law that protects those who are part of the program.
Senate Minority Leader Chuck Schumer (D-NY), a participant in the Wednesday meeting with Pelosi and other congressional leaders, also spoke to the president on Thursday morning about the DACA participants and "pressed him on protecting DREAMers," according to an aide familiar with the matter. Trump was "receptive" to the idea, according to that same source, but said they didn't get into details on how to move forward with protecting them.
White House Press Secretary Sarah Sanders confirmed the conversations with Pelosi and Schumer in a statement to FOX Business but did not comment on the substance of the president's tweets.
"The President spoke to Senators McConnell and Schumer as well as Speaker Ryan and Minority Leader Pelosi this morning. The President is committed to working across the aisle and doing what is needed to best serve the American people," Sanders said.
Spokespersons for Pelosi and Schumer declined to comment.
Trump's allies, and even some who haven't supported him in the past, have had mixed reactions on the leader of the Republican Party making deals with the Democrats.
In an interview with Maria Bartiromo on Fox Business, Treasury Secretary Steven Mnuchin, another participant of Wednesday's meeting, supported the president's deal with those from across the aisle.
"We're very happy we have a deal," Mnuchin said. He added "The president's priority was to make sure we have the funding for [Hurricane] Harvey and to make sure we raise the debt limit to pay for that."
Michael Caputo, a former Trump campaign adviser, defended the president's in making a deal deal-making with the Democrats in a text message to Fox Business.
"As the leader of the GOP, the President thought he could find common ground with the GOP. President Trump now knows he underestimated how much Congressional Republicans enjoy frolicking in the swamp. He's wise to look elsewhere to drain it," Caputo said.
In an exclusive interview with Neil Cavuto on Thursday, Dallas Mavericks owner Mark Cuban, and a vocal critic of Trump in the past, applauded the president's effort to work with Democrats on the debt ceiling.
"It's pure, classic, Donald Trump. I think it was really smart," Cuban said. He added, "I think he's being who the people elected him to be. He's being a non-politician. He's not a traditional Republican. He hasn't been a Republican all his life. He's a deal-maker and that's why he was elected."
Rep. Mark Meadows (R-NC) and the House Freedom Caucus appear to not agree with Trump's deal with the Democrats, saying it's "not the best option" on Wednesday in front of a press gaggle.