Trump talks energy security in Poland ahead of first meeting with Putin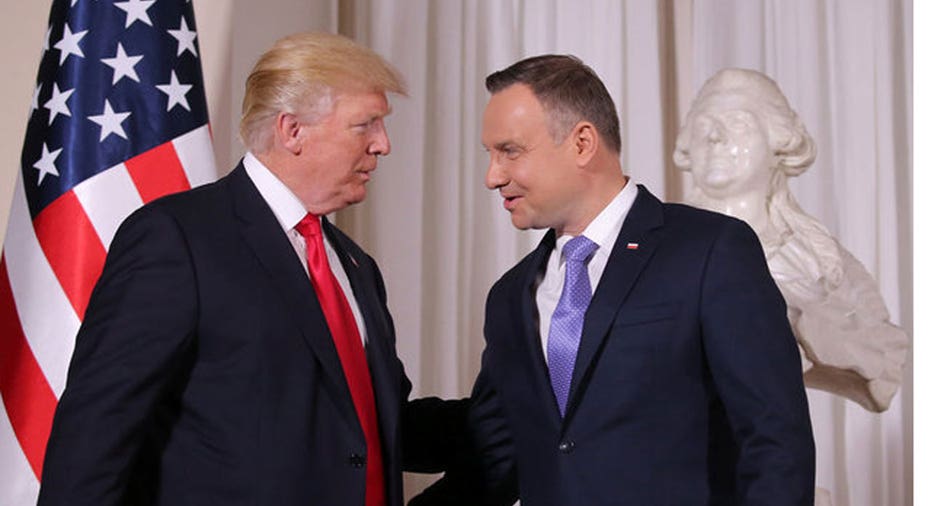 Ahead of President Donald Trump's first one-on-one meeting with Russian President Vladimir Putin on Friday, the U.S. leader spoke with Croatia and Poland about diversifying the energy supply in the region.
The White House said in a statement that the president's meeting Thursday with Croatian President Kolinda Grabar-Kitarovic of Croatia reaffirmed their mutual interests in supporting "stability and security in the western Balkans."
The White House also says that Trump "expressed support for timely completion of the Krk Island liquefied natural gas facility."
On Thursday, during a speech in Warsaw, Poland, Trump discussed expanding the United States' energy partnership with the country. Russia is one of the most prominent suppliers of energy to countries throughout the European Union and geopolitical experts say Trump's push to make sure Poland and the surrounding region are "never again held hostage" to a single energy source could be viewed negatively by Putin.
Poland received its first shipment of American liquefied natural gas last month.
President Trump is headed to Germany where he will take part in the Group of 20 summit in Hamburg. Among a host of meetings with world leaders, Trump and Putin will have their first face-to-face meeting on Friday.
The Associated Press contributed to this report.