Trump Steals Janet Yellen's Thunder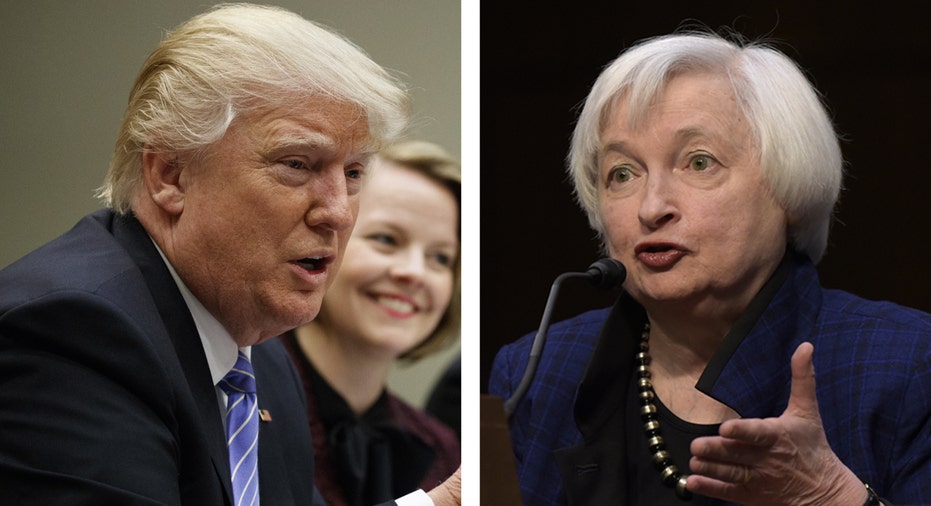 As Fed Chair Janet Yellen touted the improving U.S. job market and the Fed's economic policies during her semi-annual appearance on Capitol Hill Wednesday, President Trump stole the spotlight during a media presser, plugging his new initiatives to create more jobs and slash regulations.
"My administration remains very focused on the issues that will encourage economic growth, that's what we're all about," he said during a taped White House meeting with top U.S. retail CEOs, which included J.C. Penney CEO (NYSE:JCP) Marvin Ellison and Target (NYSE:TGT) CEO and Chairman Brian Cornell.
"We have a lot of, a lot of companies moving back in, coming back into the country, bringing the jobs with them. We're cutting regulations big league. We're really cutting them by massive amounts," Trump said.
Trump also trashed the regulatory environment that evolved under the Obama administration, and in some cases, with respect to Dodd-Frank, was implemented by the Federal Reserve.
"As you know the overregulation cost our economy an estimated $2 trillion a year which is incredible. It cost your businesses tremendous amounts of money and time. I've taken executive action of creating a permanent structure of regulatory reduction," he said.
Meanwhile, over on Capitol Hill, Yellen was telling members of the House Financial Services Committee that the U.S. is nearing full employment and wage growth is picking up, along with consumer spending. When asked about Trump, she declined to speculate on his looming fiscal policies. However she did acknowledge that several surveys have cited regulation, taxes and uncertainty as factors holding back investment.
"We understand [those factors] could be contributing to slow growth in investment spending, but there are other factors like sales growth at those firms, and overall economic growth," she explained. The U.S. economy has been averaging growth of around 2%, a level Yellen described as "very disappointing" during her testimony on Tuesday.  
The relationship between the Fed chair and the president is shaping up to be an interesting one. Trump was a vocal critic of Yellen and the Fed's extended, low-interest rate policy during his campaign, while Yellen maintains that the Fed is apolitical and independent.
Yellen's four-year term expires in Feb. 2018 and she said she intends to stay on for the duration. Daniel Tarullo, the Fed's top banking regulator, recently announced he will resign in April. Fed Vice Chairman Stanley Fischer's term expires in 2019. Along with these spots, there are two Fed vacancies President Trump can fill.
Since taking office the President has summoned CEOs from the auto, airline, pharma and manufacturing industries to the White House. He has also had pow-wows with financial executives including JPMorgan CEO (NYSE:JPM) Jamie Dimon and Blackstone CEO (NYSE:BX) Stephen Schwarzman, both of whom will be working with the new administration on business policies.
As Yellen and Trump made headlines in tandem, the U.S. stock market continued to hit fresh records, a trend the president is following closely.
"There is a lot of confidence in our economy right now, there is great confidence level. You've been seeing that in the stock market" he said.
Suzanne O'Halloran is Managing Editor of FOXBusiness.com and a graduate of Boston College. Follow her on @suzohalloran