Trump slashes hundreds of regulations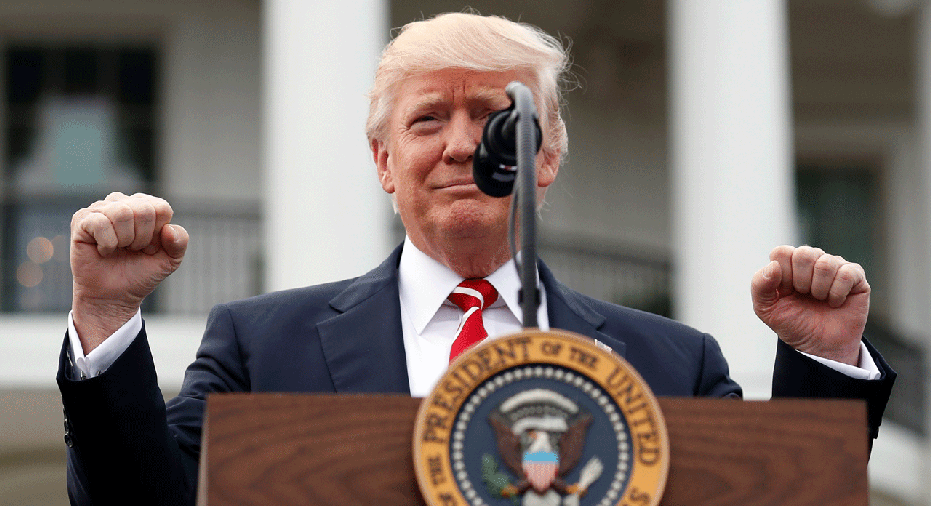 While President Donald Trump, marking the end of his first 6 months in office Thursday, works toward his first major legislative victories with health care and tax reform, another campaign promise has more quietly come to fruition: deregulation.
The Trump administration has withdrawn or delayed 860 proposed regulations in its first five months, the beginnings of a regulatory overhaul meant to bolster economic growth.
In combination with tax reform, deregulation has been listed as a crucial component of the White House's economic agenda, which targets 3% GDP growth over the next couple of years.
Federal agencies have withdrawn 469 proposed regulations compared to a fall 2016 report when Barack Obama was president, according to figures from the White House budget office. This includes 19 regulations with an economic impact of $100 million or more. Another 391 regulations have been delayed for further evaluation and consideration.
A little over a week into his tenure, President Trump signed an executive order requiring any agency requesting the implementation of a new regulation to identify two others for elimination. That same order also slashed the regulatory budget to $0 for fiscal year 2017.
The Trump administration said the Obama administration introduced rules in the last five months of fiscal 2016 that imposed $6.8 billion in annual costs on the economy, while the rules imposed during Trump's first five months have imposed no costs.
Some of the rules involve making government regulations less burdensome. The Interior Department says it plans to reduce the paperwork burden for outdoorsmen, fish restoration programs and Native American tribes. The Labor Department intends to streamline the approval process for new apprenticeship programs. The Federal Railroad Administration is planning a rule to give railroads more flexibility for choosing different types of passenger trains.
Federal agencies expect to complete 1,732 regulations this year, which is about a 20% reduction compared to the fall of 2016.
However, the push to ease the United States' regulatory burden does have its critics. The Natural Resources Defense Council has filed lawsuits saying that suspended rules regarding methane leaks violate the Clean Air Act. Public Citizen, a consumer advocacy group, issued a report Wednesday saying the deregulation push has been about rewarding corporate elites such as automakers and Wall Street firms.
The Associated Press contributed to this report.