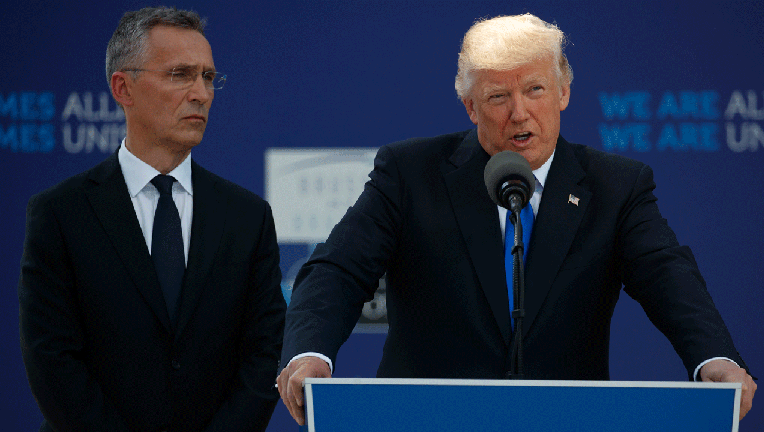 President Donald Trump came out swinging Thursday during his first meeting at the NATO headquarters in Brussels, scolding members of the alliance for failing to live up to their financial obligations for collective defense.
"NATO members must finally contribute their fair share and meet their financial obligations … Many of these nations owe massive amounts of money from past years, and not paying in those past years. Over the last eight years, the United States spent more on defense than all other NATO countries combined," Trump said.
The president noted that the two percent-of-GDP threshold may be insufficient to make up for lost contributions in recent years, saying 2 percent should be the "bare minimum for confronting today's very real and very vicious threats."
Trump said members of the transatlantic military alliance had unfairly burdened U.S. citizens and taxpayers with the costs of defense, noting if each member had lived up to its financial obligation last year NATO would have an extra $119 billion in its reserves.
Here's a look at what some of NATO's most wealthy members pay.
The United States
The United States contributed more than 22 percent of the organization's budget in 2016, according to White House data, far outpacing all other members. The government spent 3.6 percent of GDP, or $664 billion, on defense. The United States' financial commitments to defense have fallen over recent years, down from more than $757.4 billion in 2009. However, President Trump's new budget looks to reverse that trend with a $54 billion injection into the defense sector.
Germany
Germany contributed 14.6 percent of the alliance's budget in 2016, but still fell short of the contribution threshold. Last year the country contributed defense funds equivalent to just 1.19 percent of its gross domestic product, totaling $40.6 billion. President Trump has publicly urged German Chancellor Angela Merkel, head of one of the world's strongest economies, to step up financing. Merkel committed to increasing defense spending toward the target level by the year 2024.
The United Kingdom
The U.K. spent $60.3 billion on defense in 2016, comprising 2.2% of the country's GDP. The U.K. is one of five countries that meets the pledge limit, even though it pays about $600 billion less than the United States.
France
While France contributed $43.6 billion to defense, it too falls into the category of not paying its fair share. This level of financial commitment amounts to just 1.78 percent of the country's economic growth. France's contributions have fallen by more than $10 billion over the past 6 years, from $54.4 billion in 2009.
Canada
The United States' northern neighbor is one of NATO's most serious offenders when it comes to not meeting its financial obligations. In 2016, Canada paid just $15.4 billion for defense, which is equivalent to slightly less than 1 percent of the country's gross domestic product. Last year Canada's economic growth clocked in at more than $1.8 trillion.
Members who pay up
The other countries that currently meet the two-percent-of-GDP threshold include Estonia, Poland and Greece, which pay 2.16 percent, 2.0 percent and 2.38 percent of their GDP's, respectively.