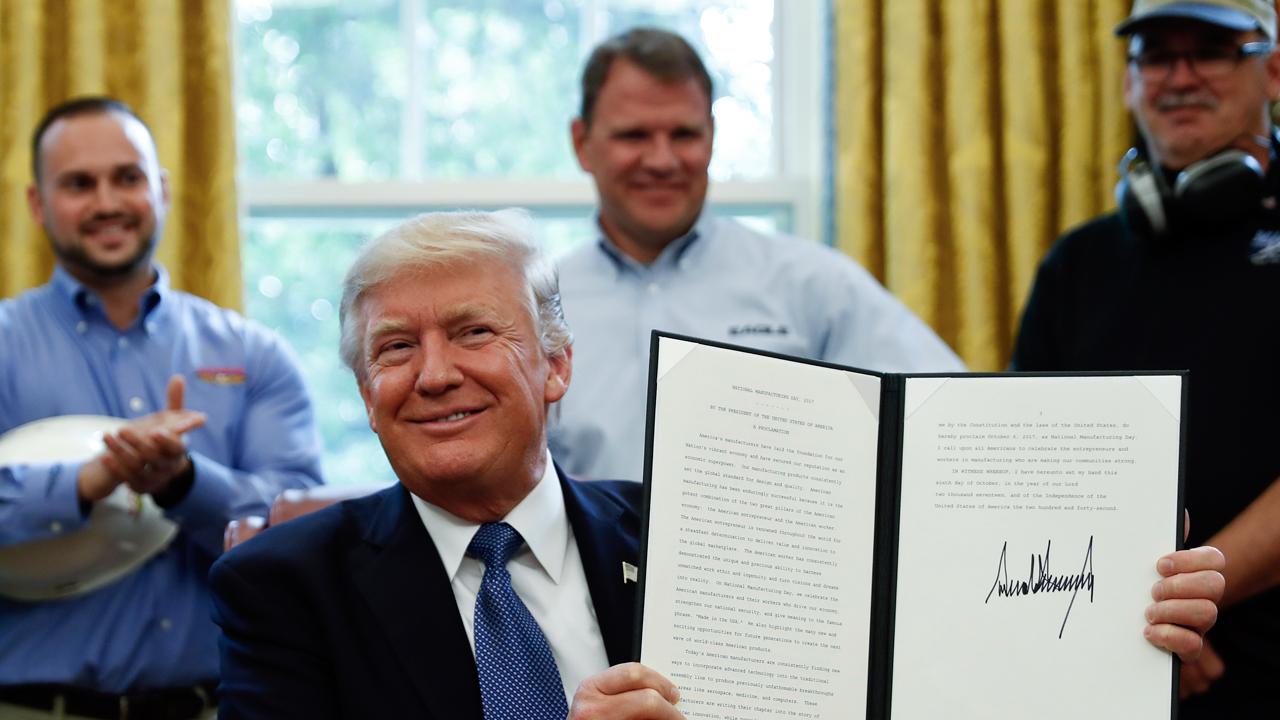 President Donald Trump signed a proclamation honoring National Manufacturing Day on Friday, saying his administration is helping "compete and win on the world stage."
The president was joined by National Association of Manufacturers (NAM) President Jay Timmons and 14 workers and representatives from the manufacturing industry.
Manufacturing optimism has continued to hover near record highs, registering its highest three-quarter average in the most recent National Association of Manufacturers survey. While 89.8% of companies said they had a positive outlook for their own company, more than 87% of survey respondents thought the GOP's tax reform plan would address their concerns with the current tax system.
Timmons told FOX Business on Thursday that one key to continued growth in the manufacturing sector is comprehensive tax reform.
"Tax reform overall, is all about economic growth. And, being able to put money into expanded plants and equipment as well as hire new workers, obviously you are going to see increase in our economic numbers every, every quarter," he said.
The GOP has focused heavily on the manufacturing sector in its campaign to overhaul the United States' tax code, with House Speaker Paul Ryan (R-Wis.), Senate Majority Leader Mitch McConnell (R-Ky.) and the president visiting different factories around the country to tout the plan's potential benefits for corporations and workers. One key component of the blueprint is a 15 percentage point reduction in the corporate tax rate, which would slash the current 35% level to 20%. Timmons said the corporate tax cut will attract both investments and capital.
White House officials have said, in addition to creating jobs and attracting investment, a lower corporate rate would boost workers' pension plans through a rise in stock prices.
The Associated Press contributed to this report.