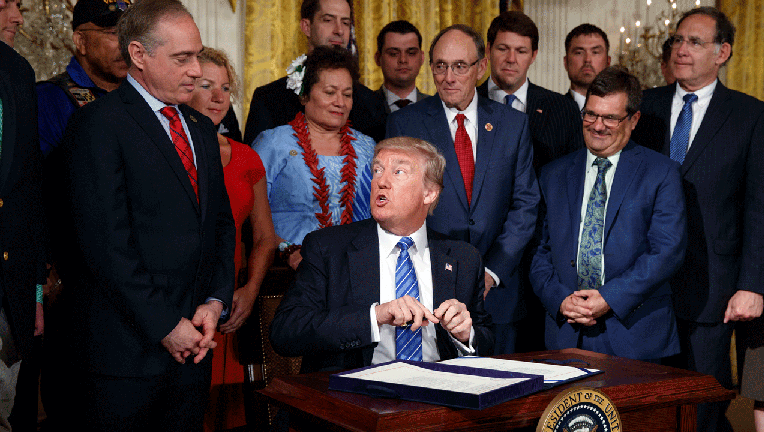 President Donald Trump signed a bill into law Friday that aims to hold employees at the Department of Veterans Affairs more accountable by providing whistleblower protections and making it easier to fire individuals for misconduct.
"Since my first day in office, we've taken one action after another to ensure our veterans and make sure – we have to make sure – that they get world-class care, and the kind of care that they've been promised by so many different people for so many years," President Trump said at the White House Friday.
The law, called the Department of Veterans Affairs Accountability and Whistleblower Protection Act, makes the process by which VA Secretary David Shulkin can fire an employee simpler by affording him more authority to get rid of employees and shortening the review process for said firing. The law also shortens the review period for new hires and offers protections to employees who complain about wrongdoing within the agency.
"We want all of American veterans, all of them, every one of them, to experience, and to at least have the opportunity to experience that same gratitude every time they walk in to the V.A. That's what today is all about, keeping our promises to those who have kept us free, kept us happy, saved our lives, and saved our families," the president said while signing the new bill.
Trump promised during the campaign to dismiss VA workers "who let our veterans down."
Trump says the law, which received support from lawmakers on both sides of the aisle, represents one of the biggest reforms to the VA in a generation or more. He promised future steps to transform the VA "until the job is done."
The measure was prompted by a 2014 scandal at the Phoenix VA medical center, where some veterans died while waiting for care. The VA is the government's second-largest department, providing health care and other services to millions of veterans.
The Associated Press contributed to this report.