Trump Signs Executive Order to Slash Regulations 'Bigly'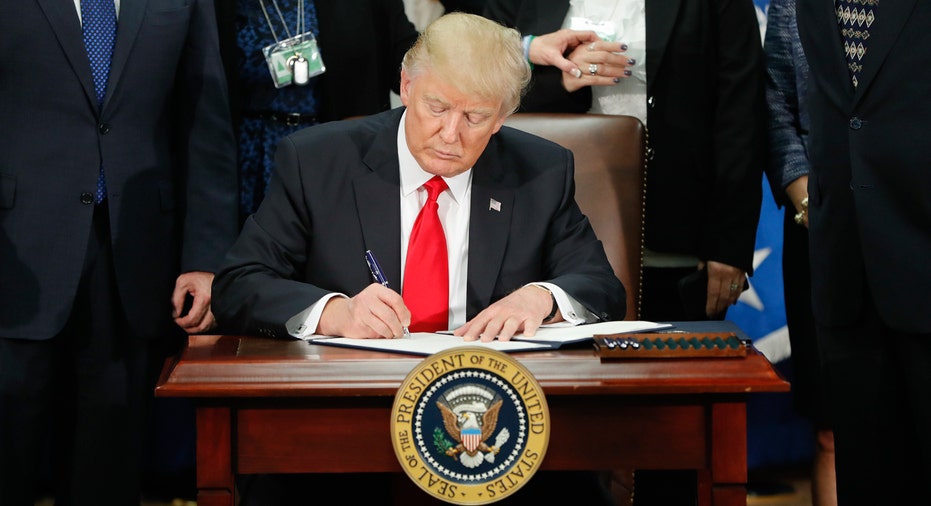 President Trump signed an executive order Monday requiring any agency requesting one new regulation to identify two for elimination. The order is a step toward fulfilling a campaign promise Trump made to cut red tape for businesses.
Before signing the order, Trump met with some of America's small business leaders at the White House. The new act also slashes the regulatory budget to $0 for fiscal year 2017.
While speaking to the media, Trump reiterated his administration's goal to both lower taxes and simplify the tax code for America's "28 million" small businesses. He cited Dodd-Frank as an obstacle for starting up and expanding businesses, pledging that his administration would "do a number" on the post-recession regulation aimed at ending "too big to fail" institutions.
"We'll be reducing [federal regulations] bigly, and their damaging effects on our small businesses, our economy, our entrepreneurial spirit… the American dream is back," Trump told reporters.
After the meeting, small business leaders in attendance praised Trump's willingness to give Main Street "a seat at the table," calling the outcome "fantastic."
"Thank you for doing this because small business has been buried in a tidal wave of red tape. To break that will really change the world for us, thank you," one of the business owners told Trump in front of reporters.
The small business leaders also brought up the Affordable Care Act, another piece of legislation the new administration has begun taking steps toward dismantling.
"It was fantastic in week 2 for the President to have small business [at the White House], [he's] someone that really cares about problems we're having with regulations, Obamacare rules and regulations are actually crushing small businesses in the health-care field," said Larry McKinney of Capital Radiology.
Monday's meeting comes amid sharp declines on Wall Street, after a weekend filled with critical media coverage of the President's executive order on immigration. Also weighing on the markets Monday morning is a report from Reuters that says some GOP sources expect the implementation of Trump's tax reform plan to be delayed until 2018. While Trump promised small business leaders at the meeting that tax cuts would give them relief down the road, he didn't give specifics on when such policy changes would be implemented.
As of noon Monday, the Dow Jones Industrial Average was down nearly 170 points, marking the worst day of the 2017 trading year.