Trump sets NAFTA goals: Dilute pact's force, loosen regional bonds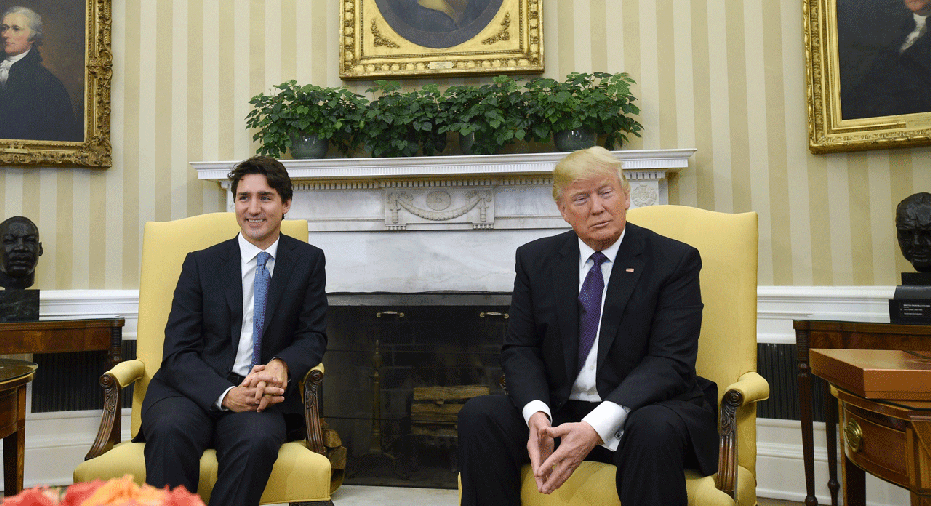 The Trump administration has honed its strategy for remaking the North American Free Trade Agreement in advance of the next round of talks starting Wednesday -- by proposing a number of specific ways to water down the pact and reduce its influence on companies.
U.S. trade officials have made that theme clear in recent days, prompting a backlash from Mexico and Canada and from business groups in all three countries, casting new uncertainty over the talks as they resume in Washington.
One provision designed with that objective is a "sunset" clause that would force Nafta's expiration in five years unless all three countries act to renew it, said people briefed on the plan.
Other proposals, these people said, would weaken or eliminate the mechanisms aimed at settling disputes between the three countries and curbing the unilateral threats and sanctions that frequently roiled trade ties in earlier years.
None of the U.S. proposals would alter the specific trade terms that have spurred a quarter-century of commercial integration between the U.S., Mexico and Canada, such as tax-free trade across borders. But the uncertainty they introduce over enforcement and duration would likely make them less appealing to companies, business groups say.
The administration wants to "change the incentives to discinentives," and "create more uncertainty and reluctance for U.S. businesses to invest in Mexico," said an outside trade adviser to the administration who has discussed the Nafta talks with officials. "They want to change the decision making around outsourcing and the offshoring of investment."
President Donald Trump has attacked the 1994 pact as "a disaster" and has threatened to pull the U.S. out, most recently in a Forbes magazine interview published Tuesday, where he said: "I happen to think that Nafta will have to be terminated if we're going to make it good. Otherwise, I believe you can't negotiate a good deal."
But neither he nor his aides have publicly detailed what changes would be needed to avoid that outcome. Behind the scenes, lawmakers, lobbyists for a range of industries and other stakeholders are now getting a fuller picture of the U.S.'s posture.
That has sparked a fierce lobbying effort by American business groups to quell them. "We've reached a critical moment," Thomas Donohue, president of the U.S. Chamber of Commerce said in a speech Tuesday in Mexico City, as he sought to tighten cooperation with Mexican government and business leaders in fighting his own government's plans. "The chamber has had no choice but to ring the alarm bells."
As part of the swirl of diplomacy aimed at creating a widespread alliance to salvage much of the current Nafta, Canadian Prime Minister Justin Trudeau will visit Washington this week to meet with Mr. Trump and lawmakers who have opposed the Trump proposals before heading to Mexico to coordinate with President Enrique Peña Nieto.
Emily Davis, a spokeswoman for U.S. Trade Representative Robert Lighthizer, who has presented the administration's plan to interested parties, declined to comment on the proposals. But she issued a statement Friday in response to business criticism of them: "The president has been clear that Nafta has been a disaster for many Americans, and achieving his objectives requires substantial change."
Indeed, where American business groups, and the Mexican and Canadian governments largely say they want to strengthen and modernize Nafta, the administration's goal is to undo some of its core concepts -- particularly the goal of treating the three countries more like one big regional economy rather than three separate ones.
For example, Nafta is aimed at providing parallel access to government spending across the three countries, each opening to the others roughly the same percentage of their respective budgets. The Trump administration argues that is unfair, because the U.S. federal budget is much bigger than the other two.
During the Ottawa round of talks last month, Mr. Lighthizer pushed a provision that would reduce significantly U.S. federal projects open to Mexican and Canadian bidders. This "dollar for dollar" proposal would shrink the amount of U.S. federal spending to the same dollar amount as the trading partners, which would effectively cut the U.S. procurement open to Canada and Mexico by about 90%.
Another pending proposal would require for the first time that certain products contain not just a certain level of Nafta-regional content, but U.S.-specific content. That plan, applied to autos and auto parts, would require 50% of Nafta products come specifically from the U.S.
On the dispute mechanisms, the U.S. administration wants to weaken a provision that gives private companies the right to sue governments. That was intended to provide firms more certainty when investing in a foreign country, particularly Mexico, where they might not have confidence the local legal system would protect their property rights.
Business groups say the U.S. plans -- particularly the sunset clause and the one weakening the "investor-state dispute settlement" process -- would make it harder for executives to plan the cross-border investment feeding regional supply chains that Nafta has encouraged and that, they say, has raised the efficiency and competitiveness of the North American economy.
Advocates of those proposals don't disagree -- they say it is precisely the point. The Nafta provisions Mr. Trump wants to overhaul have "lowered the risk premium for outsourcing," said Lori Wallach, a senior trade expert at the consumer watchdog group Public Citizen, and a longtime Nafta critic. "This is about trying to change the terms and incentives."
By Jacob M. Schlesinger