Trump Seeks to Nail Support for Health Care Bill Before U.S. House Vote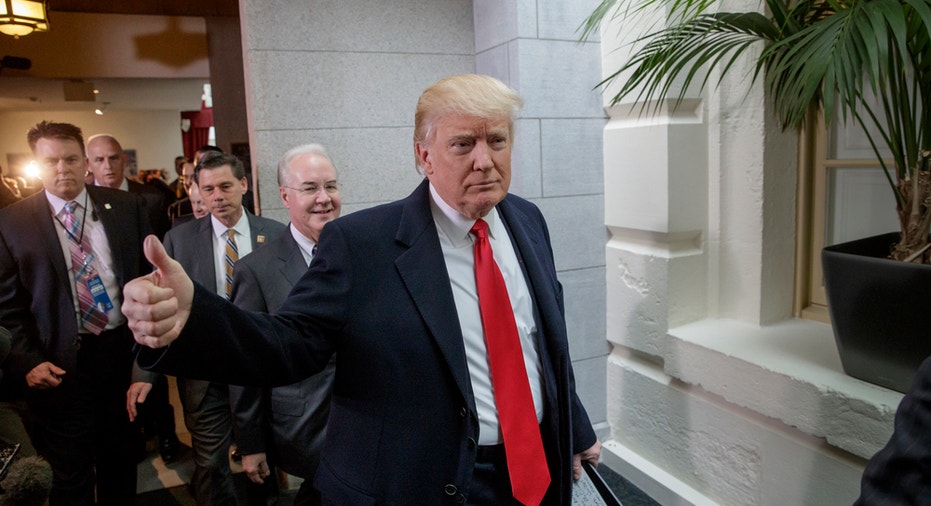 U.S. President Donald Trump and Republican congressional leaders struggled on Wednesday to get enough support in the House of Representatives to win passage of their Obamacare rollback bill, watched by wary investors in financial markets.
Repealing and replacing Democrat Barack Obama's 2010 Affordable Care Act is a first major test of Trump's legislative ability and whether he can keep his big promises to business.
The current House Republican rollback plan, scheduled for a floor vote on Thursday, faces stiff resistance from some conservative Republicans who view it as too similar to Obamacare, and from moderates who fear its impact on voters.
Trump and House Speaker Paul Ryan, the measure's leading proponent, can afford to lose only about 20 Republican votes or risk failure, since Democrats are united against it. By some estimates, 26 House Republicans have signaled their opposition.
Trump's promises during his election campaign and his first two months in office have lifted U.S. stock markets to new highs. But stocks fell back on Tuesday as investors worried that a rough ride for the healthcare legislation could have an effect on Trump's ability to deliver on other big pieces of his agenda, from cutting taxes and regulation to boosting infrastructure.
The S&P 500 and Nasdaq stock benchmark indexes were little changed on Wednesday.
"The Trump agenda is like a one-lane road with this big truck called 'healthcare' in the lead," said Brookings Institution senior fellow William Galston. "If that truck breaks down, everything else will back up."
While paying little attention to the details of the House Republican effort, Trump has put considerable effort into shoring up the bill, actively courting conservative lawmakers who say the bill is too similar to Obamacare. In a trip to Capitol Hill on Tuesday he warned Republicans that the political consequences of failure could be steep in next year's congressional midterm elections.
Trump kept up his efforts to sell the plan, called the American Health Care Act, on Wednesday, meeting with about 10 House members at the White House, said Representative Patrick McHenry.
"The president is meeting with a mixed bag of members to continue moving support for the bill," a White House official said.
"Big day for healthcare. Working hard!" tweeted Trump, who took office in January.
He declined to say what he would do if the proposed legislation failed to pass the House. Asked if he would keep pushing the bill, he told reporters: "We'll see what happens."
"GET HEALTHCARE DONE"
At rallies in Nashville, Tennessee, and Louisville, Kentucky, this week meant to drum up support for the bill, Trump spent little time discussing specifics and made clear he saw it as a step on the road in a broader agenda.
He said Congress and the administration needed to "get the healthcare done" to "start the tax reductions."
Obamacare overhauled the American health insurance system and aimed to reduce the numbers of Americans with no health insurance. Twenty million people gained insurance under the law, but Republicans have long targeted it as government overreach because of its mandates on individuals and employers, and they have criticized rising costs of insurance premiums.
The nonpartisan Congressional Budget Office estimated 14 million people would lose medical coverage under the Republican plan by next year. It also said that 24 million fewer people would be insured by 2026.
Republicans argued this would not be because 24 million people would be pushed off insurance plans under the proposal. Some would be people dropping out because there would no longer be a penalty for not being covered, said Representative Kevin Brady, Republican chairman of the Ways and Means committee.
Ryan, in several radio interviews early on Wednesday, pressed his case that Republicans had to keep their campaign promise to jettison Obamacare and that all factions of the party should unite to deliver the bill.
"We can get it done," Ryan said on "The Jay Weber Show."
He said conservatives who oppose the bill need to recognize that the House bill has to be crafted so it can pass the Senate, where Republicans hold a slimmer majority, and that they will have more opportunities to pursue changes later.
Even if the legislation gets through the House, its fate is uncertain in the Senate, where a number of Republicans have spoken out against the House version.
Senator John Thune, head of the Senate Republican Conference, said on "Fox & Friends" that "This is the beginning of a process, not the end of a process."
Ryan said he expected the Senate to work on the bill next week and another House vote on the final measure the week of April 3, with it headed to the White House for Trump to sign it into law by Easter, April 16.
That optimistic timeline would depend on a rapid end to Republican resistance to the bill.
Republican leaders made some changes to the bill this week to try to satisfy critics from their own party but that and Trump's visit to Congress on Tuesday did not appear to sway members of the House Freedom Caucus, who said they have enough votes to defeat the bill.
(By David Morgan and Yasmeen Abutaleb; Additional reporting by Doina Chiacu, Susan Cornwell, Susan Heavey, Jeff Mason and Steve Holland; Writing by Frances Kerry; Editing by Kevin Drawbaugh and Bill Trott)