Trump Says U.S. Will Renegotiate Trade Pact with Canada, Mexico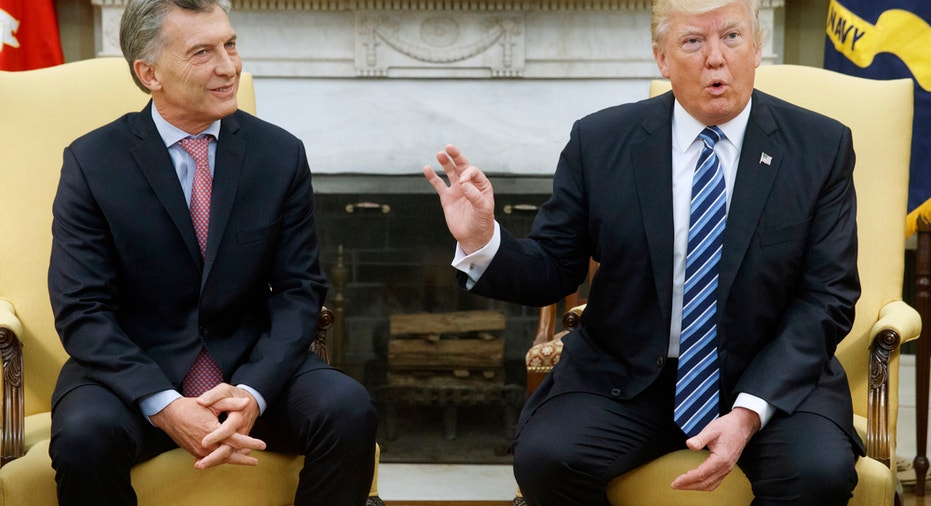 President Donald Trump said on Thursday he was ready to kill the 23-year-old trade agreement with Canada and Mexico but agreed to renegotiate it after pleas from their leaders, expressing optimism about extracting better terms for the United States.
Trump, during a White House appearance with visiting Argentine President Mauricio Macri, said terminating the North American Free Trade Agreement, a pact he has long condemned, "would be a pretty big shock to the system," though he was planning to do so within two or three days.
Hours after White House officials disclosed on Wednesday that Trump and his advisers had been considering an executive order to withdraw from NAFTA, he said he received telephone calls from Mexican President Enrique Pena Nieto and Canadian Prime Minister Justin Trudeau.
"They asked me to renegotiate. I will," Trump said. "And I think we'll be successful in the renegotiation, which frankly would be good because it would be simpler" than killing NAFTA.
Mexico, Canada and the United States form one of the world's biggest trading blocs, and trade disruptions among them could cause havoc in automotive, agricultural, energy and other sectors.
Trump had repeatedly threatened to pull out of NAFTA, which erased most tariffs between the three neighbors, if he could not renegotiate better terms for the United States, which went from running a small goods trade surplus with Mexico in the early 1990s to a $63-billion deficit in 2016. On Thursday he said NAFTA had been "horrible" to the United States but very good for Canada and Mexico.
There had been a split among Trump's top advisers over whether to move to terminate the trade pact.
"Now, if I'm unable to make a fair deal ... for the United States, meaning a fair deal for our workers and our companies, I will terminate NAFTA. But we're going to give renegotiation a good strong show," Trump added.
Trump said the renegotiation "will start very soon. It's actually starting today."
Trudeau, speaking at a news conference in Saskatchewan, said during the call Trump "was very much thinking about canceling and I highlighted quite frankly ... that a disruption like canceling NAFTA, even if it theoretically eventually might lead to better outcomes, would cause a lot of short- and medium-term pain."
"That's not something that either one of us would want," Trudeau added, "so we agreed that we could sit down and get to work on looking at ways to improve NAFTA."
ECONOMIC DAMAGE
Any move to break up NAFTA would cause great economic damage to Canada, which sends 75 percent of all its exports to the United States. Canadian officials have so far taken a largely restrained attitude to Trump's harsh language on NAFTA, describing it as a negotiating tactic ahead of the talks.
In Mexico City, Mexican Foreign Minister Luis Videgaray said Wednesday's call, initiated by Pena Nieto and lasting about 20 minutes, focused exclusively on the looming talks over NAFTA's "renegotiation and modernization." Videgaray said Trump wanted to see the talks accelerated.
"I believe that all the conditions to reach a good negotiation exist, that will suit Mexico ... and that is also good for the region, for both Canada and the United States," Videgaray told local broadcaster Televisa, adding that relations between the United States and Mexico have experienced "enormous progress" during Trump's presidency.
Trump has criticized multinational trade agreements as unfair to the United States. He made pulling out of the 12-nation Trans-Pacific Partnership, negotiated by his Democratic predecessor Barack Obama, one of his first major acts after becoming president in January.
Formal NAFTA talks likely will not get started until August. The U.S. Trade Representative's office must first send Congress a notice that starts a 90-day consultation period preceding any negotiations. A USTR spokeswoman said the notice would not be sent until the Senate confirms Trump's nominee for trade representative, Robert Lighthizer.
The Mexican and Canadian currencies maintained their rebound early on Thursday after Trump's latest comments. The U.S. dollar dropped 0.2 percent against its Canadian counterpart and about 0.7 percent against the peso.
Trump's scorn toward international trade deals, part of his nationalist political message, appeals to Americans who feel such pacts have cost Americans jobs, and he has said businesses that choose to move plants outside the country would pay a price.
Trump has accused Mexico of luring away American factories and jobs with cheap labor and other advantages enabled by NAFTA. On Tuesday, Trump said he did not fear a trade war with Canada even as he complained about Canadian trade practices.
His administration on Monday moved to impose tariffs on imported Canadian lumber that mostly feeds U.S. homebuilding, noting trade authorities have consistently sided with Ottawa in the long-standing dispute.
(By Ayesha Rascoe and David Lawder; Additional reporting by Susan Heavey and Mohammad Zargham in Washington, Veronica Gomez and David Alire Garcia in Mexico City, and David Ljunggren in Ottawa; Writing by Will Dunham; Editing by Lisa Von Ahn and Nick Zieminski)