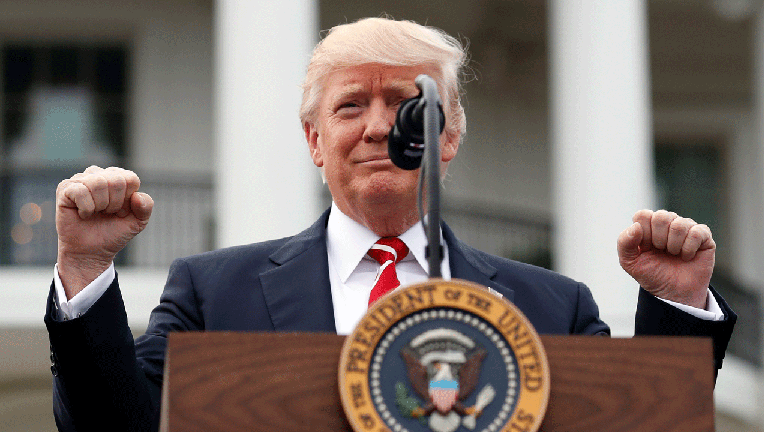 President Donald Trump said this week he is "very supportive" of the Senate's health care bill to repeal and replace the Affordable Care Act, but acknowledged the concerns of the four GOP senators who on Thursday came out against the legislation, saying more negotiations may still take place.
"They're also four good guys and they're four friends of mine. And I think that they'll probably get there.  We'll have to see," Trump said during an interview on FOX & Friends Friday morning.
Sen. Ted Cruz (R-Texas), Sen. Rand Paul (R-Ky.), Sen. Mike Lee (R-Utah) and Sen. Ron Johnson (R-Wis.) all came out in opposition of the draft bill released Thursday. Sen. Paul cited concerns over continuation of some of the ObamaCare subsidies, while Sen. Cruz said the legislation did not do enough to lower the cost of premiums.
The president said Friday he is hopeful these differences can be reconciled over the near-term.
"It's a very complicated situation from the standpoint, you do something that's good for one group but bad for another. It's that very, very narrow path.  But I think we're going to get there.  We have four very good people that – it's not that they're opposed, they'd like to get certain changes. And we'll see if we can take care of that," Trump said.
The president and his administration know this fine line all too well. The House of Representatives' initial bill to repeal and replace the Affordable Care Act had to be pulled before ever reaching the floor due to lack of support, particularly from the House Freedom Caucus. With the addition of two amendments, the MacArthur and Upton amendments, Republicans passed the bill with a narrow majority last month.
The approval process in the Senate could be a bit trickier. The bill proposed Thursday is viewed as slightly more moderate than the House bill, which some believe could alienate the conservative wing of the party. Of the 52 GOP Senators in the chamber, the Republican Party can only afford to lose two for the bill to pass.
While repealing and replacing the Affordable Care Act was one of President Trump's principal campaign promises, he acknowledged Friday crafting a quality health care bill that can appeal to the majority is a process that often takes a long time – a process he has tried to speed up.
"You know, health care is a very difficult situation … ObamaCare is a disaster.  And we're trying to do something in a very short period of time. It's interesting, because I've been here for only five months.  People are saying, where's the health care, where's the health care? Well, I've done in five months what other people haven't done in years," he said.
The bill released Thursday differs from the House version in a couple important ways. First, it slows the expansion of Medicaid more gradually—beginning in 2021—and ultimately results in deeper cuts to the program. Another difference is that subsidies would be awarded based on income, rather than by age as proposed in the House bill.
Senate Majority Leader Mitch McConnell said Thursday he expects the bill to be scored by the Congressional Budget Office by Monday and to be put up for a vote in the chamber as early as next week.