Trump renegotiating 'rough' US trade deal with South Korea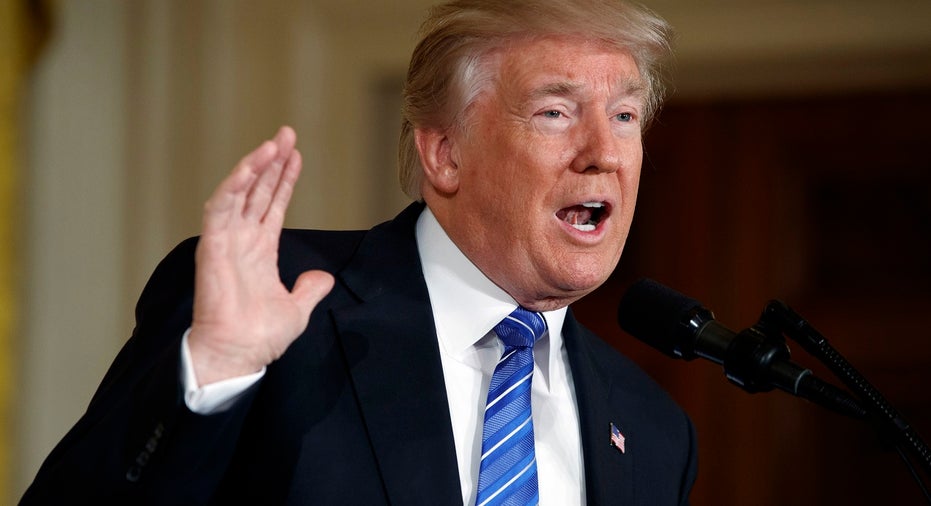 U.S. President Donald Trump said on Friday he was renegotiating what had been a "rough" trade deal with South Korea when he met for a second day with South Korean President Moon Jae-in, focusing on North Korea's nuclear threat and trade.
Moon, making his first trip to the United States since becoming president in May, was greeted again by Trump at the White House, where he attended a dinner hosted by the U.S. chief executive on Thursday.
Trump has spoken harshly about U.S. trade imbalances and threatened to tear up a five-year-old trade agreement reached with South Korea by his predecessor, Barack Obama.
Speaking alongside Moon in the Oval Office, Trump said the two had "accomplished a lot" on North Korea and trade on Thursday.
"We are renegotiating a trade deal right now as we speak with South Korea, and, hopefully, it will be an equitable deal, a fair deal for both parties," he told reporters.
"It's been a rough deal for the United States, but I think that it will be much different and will be good for both parties. ... We want something that is going to be good for the American worker, and I think that we will be able to do that today."
Trump said the two were in the process of discussing "many options" on North Korea.
Moon has said he wants to form a friendship with Trump and find common ground on North Korea. He said he and Trump had had "very honest discussions and on issues to include the North Korean nuclear issue and other issues of mutual interest."
"It was a great opportunity for us to further the trust and friendship between me and President Trump," he said. "It was also an opportunity to reconfirm that the U.S. and Korea are walking together on the same path towards a great alliance."
Moon did not mention the trade issue.
On Wednesday, he said that unfair trade practices would be eradicated and factors that limited competition, such as market entry barriers and price regulations, would be re-evaluated under his administration.
The U.S. goods trade deficit with South Korea has more than doubled since the KORUS pact took effect in 2012, from $13.2 billion in 2011 to $27.7 billion in 2016. It was forecast to boost U.S. exports by $10 billion a year, but they were $3 billion lower in 2016 than in 2011.
Moon told Reuters last week he wanted to discuss a two-phase approach on North Korea with Trump, starting with a freeze on North Korea's nuclear and missile development that would be followed by complete dismantlement.
Trump stressed that the relationship with South Korea was "very, very strong" and his personal relationship with Moon "very, very good." But another potentially tricky area in the their talks could be the wary stance Moon has taken toward the Terminal High Altitude Area Defense (THAAD) anti-missile system that the United States deployed in South Korea in March.
Trump wants China, North Korea's neighbor, ally and main trading partner, to do more to rein in Pyongyang's nuclear and missile program.
He sought to woo China after a summit meeting with Chinese President Xi Jinping in April, but has grown frustrated that their relationship has not resulted in stronger action.
Washington on Thursday imposed sanctions on two Chinese citizens and a shipping company for helping North Korea's weapons programs and accused a Chinese bank of laundering money for Pyongyang.
The administration also announced plans to sell Taiwan about $1.42 billion in arms, prompting an angry response from Beijing, which considers Taiwan a renegade province and opposes sanctions outside a U.N. framework.