Trump, Putin meeting: Sizing up the economic relationship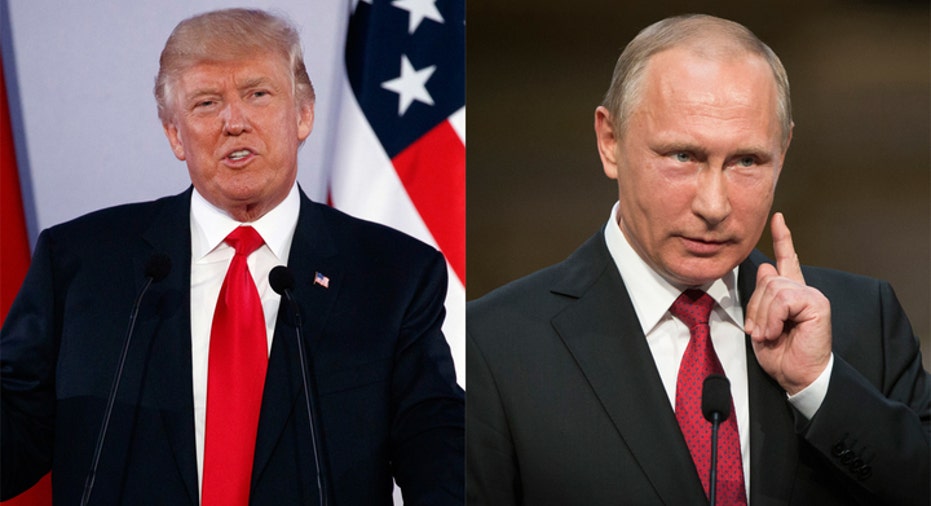 U.S. President Donald Trump and Russian President Vladimir Putin will meet for the first time face-to-face Friday, at the Group of 20 summit in Germany, amid escalating global tensions and a strained relationship between the two world powers.
While the White House has been mum on details pertaining to the actual conversation – insisting it will be like any of the other meetings Trump has with foreign leaders – many wonder whether he will bring up Russia's interference in the 2016 presidential election, economic sanctions or a host of other difficult topics.
Despite accusations that Trump officials colluded with Russia to interfere in the U.S. election, which is being investigated by a special counsel, relations between the two world super powers have been stiffening ever since Trump took office. Trump has maintained throughout his campaign and his presidency that he is open to having a positive relationship with Russia.
With a critical political relationship at stake, here is a look at the economic partnership between the two countries.
Russian economy
While the U.S. is considered the world's largest economy, Russia is the eighth largest economy by GDP and the sixth largest by purchasing power parity, according to the International Monetary Fund. Last year, Russia's GDP registered at $1.28 trillion, compared with the U.S., which experienced economic growth of more than $18.5 trillion, according to data from the World Bank.
Russia is also one of the larger export economies; it is a big exporter of energy, particularly oil, within the European Union. In 2015, crude petroleum accounted for 28% of all exports, while refined petroleum comprised 18% and natural gas 8%, according to data from the Observatory for Economic Complexity (OEC).
Trade
In 2016, the United States' trade deficit with Russia totaled more than $8 trillion, according to the U.S. Census Bureau. So far this year, the gap is $4 trillion.
Russia's leading trading partners as of 2015 were the Netherlands, Poland, China, Germany, Italy and Belarus, according to the OEC. Its top import markets are China, Germany, the U.S., Belarus and Italy.
Russia doesn't register among the United States' top import or export markets, although it is the country with which the U.S. has the 13th largest trade deficit, according to government data.
The U.S. has had sanctions in place against Russia since at least 2014, which were levied in response to Russia's aggression in Ukraine. Amid speculation in May that the White House was seeking to ease sanctions against Russia, National Economic Director Gary Cohn said: "If anything, we would probably look to get tougher on Russia."
Nuclear arsenals
Ninety percent of the world's nuclear arsenal is estimated to belong to the United States and Russia, according to the Arms Control Association. Estimates for 2017 place Russia slightly ahead of the U.S. when it comes to nuclear warhead inventories. In total, Russia has about 7,000 warheads compared to 6,800 in the U.S., State Department data shows. Of those stockpiles, Russia has 1,765 warheads deployed, while the U.S. has 1,411.
Meanwhile, the U.S. faces a potential emerging nuclear threat from North Korea, which launched an intercontinental ballistic missile earlier this week that experts believe is capable of hitting Alaska. Russia, however, objected to the United Nations Security Council's condemnation of the launch on Thursday because of the language the U.S. used to draft the statement.
Setting the stage
Before arriving in Germany, President Trump visited Poland in a show of solidarity with the nation that seeks security assurances from potential Russian aggression. Trump reaffirmed the United States' commitment to NATO's common defense clause Thursday and snuck in a jab at Russia as well during a speech in Warsaw.
"We urge Russia to cease its destabilizing activities in Ukraine and elsewhere and its support for hostile regimes including Syria and Iran, and to instead join the community of responsible nations in our fight against common enemies and the defense of civilization itself," Trump said.