Trump likely to get GOP senators' revised health care draft Tuesday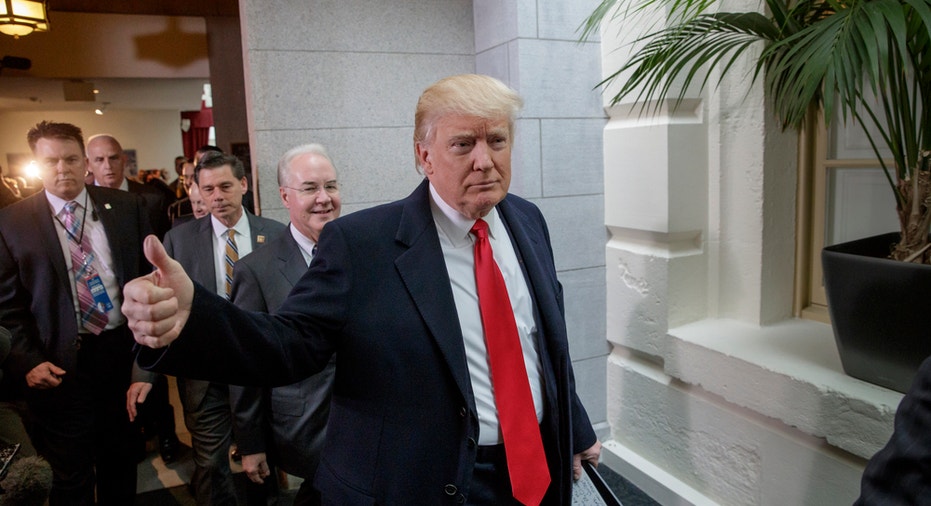 Members of the Senate's GOP working group to develop a new health care law are planning to huddle with President Trump on  Tuesday as they race to meet a July 4 deadline made by majority leader Mitch McConnell to vote on a bill, the FOX Business Network has learned.
McConnell and some members of the working group, which includes Utah senators Mike Lee and Orin Hatch, and Tennessee Senator Lamar Alexander, will present the new health care proposal to the president in a draft form to seek his opinion on certain aspects and to make changes as necessary, according to people with direct knowledge of the matter.
The move is designed to get the administration back on track with its legislative agenda with a focus on the president's big ticket items including tax cuts and health care reform. It comes as the administration is embroiled in controversy involving a burgeoning probe into whether Trump aides assisted in alleged Russian meddling in the 2016 election, and whether the president obstructed justice by firing James Comey as FBI director as he was investigating the matter.
Press Secretary Sean Spicer did not return repeated calls and emails for comment.
A spokesman for McConnell's office did not deny the existence of a meeting between Trump and members of the working group. "If there is a meeting, it will be the White House's news to make," spokesman David Popp told FOX Business.
With Trump's surprise victory in the presidential election and Republicans maintaining control of both houses of Congress, GOP leaders predicted a wave of legislative successes in 2017, including a repeal of ObamaCare, and a reform of the tax code.
But six months into the Trump presidency, GOP lawmakers are growing nervous that fallout over Trump's continued inability to push legislation could hurt Republicans in the 2018 mid-term elections. Some political analysts say the GOP is in jeopardy of losing control of the House of Representatives if it doesn't deliver on any of these items.
As FOX Business first reported last week, White House sources have indicated that congressional lawmakers may end up with a bill that combines both tax cuts and health care in an effort to expedite what has been an uphill battle in passing these legislative promises.
Senate sources tell FOX Business that aides to McConnell and other key members of the group plan on completing their draft legislation by Monday night. The president is scheduled to give a major health care speech Tuesday afternoon in Milwaukee, and sources say he will likely be briefed by McConnell and the working group before his speech.
If Trump's schedule changes, the meeting could be delayed.
McConnell told Trump last week that the Senate may vote on health care by July 4. The House passed its health care reform bill on May 4.
It's unclear exactly what would appear in the Senate draft; Democrats have accused GOP leaders of being overly secretive about the process and not involving them in decision making.
But some details of the draft have leaked out. As FOX Business first reported, the working group draft plan includes allowing states to apply for waivers for essential health benefit coverage but also continuing the controversial Affordable Care Act community rating regulations.
The community rating regulations under ObamaCare disallowed health insurance companies from charging different premiums regardless of geographic area, age, gender or health status.