Trump hosts manufacturers as tax reform faces first hurdle in Congress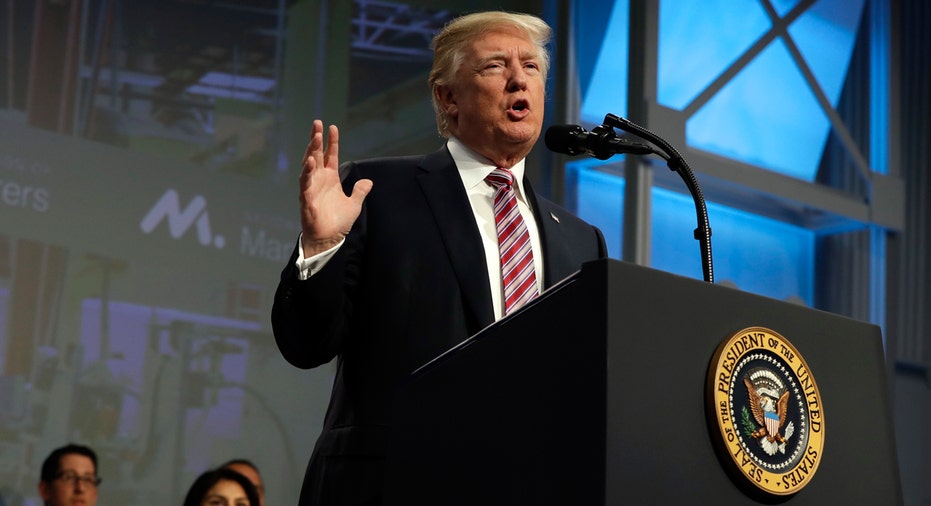 President Donald Trump will host a roundtable with American manufacturers on Friday, where he is expected to continue advocating for the GOP's tax reform effort as Congress takes its first steps toward advancing the overhaul.
Trump will be joined by executives and workers from companies headquartered in West Virginia – a manufacturing state led by Democratic Sen. Joe Manchin – and Maryland, according to a White House official. The president will declare Oct. 6 "National Manufacturing Day" concordant with the administration's efforts to revitalize the sector.
Manufacturing optimism has continued to hover near record highs, registering its highest three-quarter average in the most recent National Association of Manufacturers survey. While 89.8% of companies said they had a positive outlook for their own company, more than 87% of survey respondents thought the GOP's tax reform plan would address their concerns with the current tax system.
The GOP has focused heavily on the manufacturing sector in its campaign to overhaul the United States' tax code, with House Speaker Paul Ryan (R-Wis.), Senate Majority Leader Mitch McConnell (R-Ky.) and the president visiting different factories around the country to tout the plan's potential benefits for corporations and workers. One key component of the blueprint is a 15 percentage point reduction in the corporate tax rate, which would slash the current 35% level to 20%. White House officials have said, in addition to creating jobs and attracting investment, this would boost workers' pension plans through a rise in stock prices.
Congress took a step toward passing tax reform on Thursday, when the House of Representatives approved the 2018 budget resolution. The budget contains the reconciliation mandate for tax reform, which will allow the Republican Party to use the fast-track process when it votes to approve the legislation later this year. It also sets aside money for tax cuts. In a statement released Thursday, Trump applauded the GOP's efforts, calling it "a pathway to fix our rigged and burdensome tax code."
On Thursday, a source with knowledge of the matter told FOX Business that the budget resolution is expected to pass both chambers in late October or early November, after which the GOP will introduce the tax reform bill for discussion.