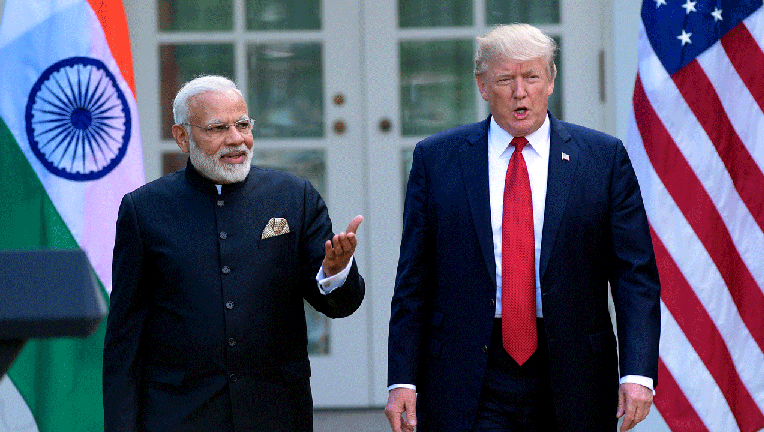 President Donald Trump hosted Indian Prime Minister Narendra Modi at the White House Monday, where trade and economic investment took center stage between the leaders of the world's largest democracies.
President Trump said Monday he looked forward to continuing a relationship with India where the leaders would work together "to create jobs in our countries, to grow our economies and to create a trading relationship that is fair and reciprocal."
India, one of the world's fastest growing economies, offers huge economic opportunities for American manufacturers. In 2017, the country's economy is expected to grow by 7.2 percent, according to the World Bank. On Monday, retired four-star U.S. Army Gen. Jack Keane told FOX Business that the U.S. will likely announce a $2 billion unmanned surveillance aircraft deal with the country. This comes as Lockheed Martin (NYSE:LMT) seeks a government contract to build F-16 fighter jets for the Indian air force.
Furthermore, President Trump said the United States will be exporting more energy to India as the two countries work on finalizing contracts.
Still, creating a fair trade relationship with India remains a priority for Trump. The United States had a $24 billion trade deficit with India in 2016, according to the U.S. Census Bureau, and so far this year has racked up a deficit worth $7 billion. President Trump said Monday, during a joint press conference with Prime Minister Modi, that it is necessary for India to remove economic barriers on exports into its markets.
One issue that could be tense for the pair as they continue private discussions is President Trump's focus on reforming the United States' H-1B visa program. Indian technology firms are a big beneficiary of the program, but Trump issued an executive order in April designed to review how the program is impacting American workers and whether companies are exploiting loopholes and undercutting the domestic labor force.
More from FOXBusiness.com...
Ahead of his meeting at the White House Monday, Prime Minister Modi took part in a gathering with U.S. CEOs Sunday, focusing on economic cooperation between the two large global economies. The Indian Prime Minister tweeted a picture of the group after the meeting Sunday.
Among the CEOs in attendance were Mastercard (NYSE:MA) CEO Ajay Banga, JPMorgan (NYSE:JPM) CEO Jamie Dimon, Apple (NASDAQ:AAPL) CEO Tim Cook, Amazon (NASDAQ:AMZN) CEO Jeff Bezos and Lockheed Martin CEO Marillyn Hewson.
"The meeting with Prime Minister Modi today was very productive and I appreciated the opportunity to discuss ways we can strengthen the ties between our two countries," Hewson said in a statement Sunday. "Lockheed Martin has a strong history of working in partnership with Indian government and industry to deliver products and technologies that support national security for India and the region, while generating economic benefit and jobs in U.S. and India."
Amazon CEO Jeff Bezos tweeted that he was "excited" about continued opportunities to work with India on economic projects Sunday.