Trump facilitates deals for Boeing, Lockheed during meeting with Greek PM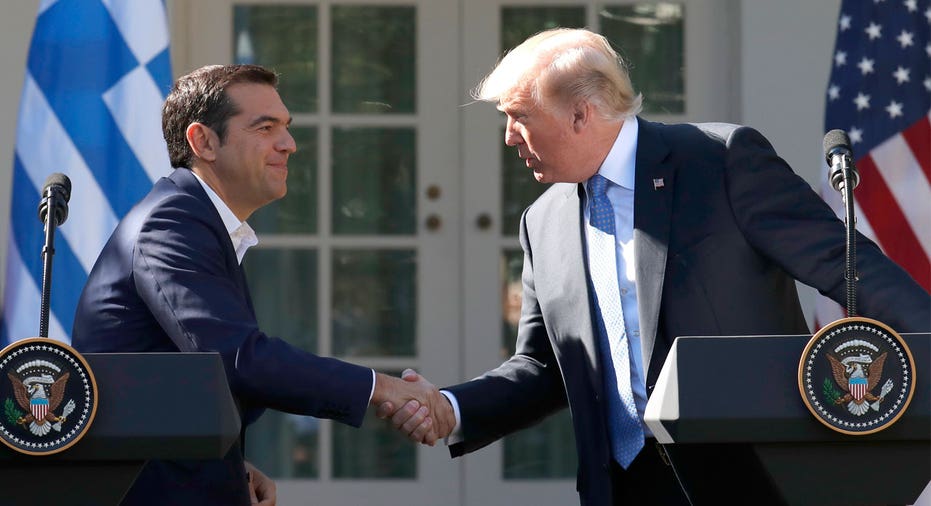 President Donald Trump is striking deals for U.S. companies at the same time as he is working to improve foreign relations.
Speaking at the White House on Tuesday, Trump said the U.S. was working with the southeastern European country to help strengthen its economy and security systems.
"We are helping, as you know, with a massive renovation of their air force and also of airplanes generally going to Greece," Trump said during a joint press conference with Greek Prime Minister Alexis Tsipras. "They're looking at buying additional planes from Boeing. And we are helping – we're very much involved with Greece and with helping Greece get back on its feet."
On Wednesday, a person familiar with the matter told FOX Business Greece has in fact expressed interest in Boeing's defense and commercial products.
According to the official website of the Hellenic Air Force, it currently uses no Boeing (NYSE:BA) aircraft in its defense systems.
Also on Tuesday, during the same meeting with the Greek PM, Trump spoke about a potential sale to upgrade the country's fleet of Lockheed Martin (NYSE:LMT) F-16 fighter aircraft. That deal, boasting an estimated value of $2.4 billion, was approved by the U.S. State Department on Monday and Trump said it would create "thousands of American jobs."
According to the Defense Security Cooperation Agency, Greece is seeking to upgrade its F-16s to the Block V configuration and Lockheed would be the principal contractor on the deal.
"We appreciate the trust the Hellenic Air Force has placed in the F-16 and we remain fully committed to supporting the U.S. government and the government of Greece in ongoing government-to-government discussions regarding this proposed F-16V upgrade program," a Lockheed Martin spokesperson said in a statement on Wednesday.
Greece has struggled to upgrade its defense systems since suffering a severe economic crash in 2009.