Trump Expected to Name Mnuchin as Treasury Secretary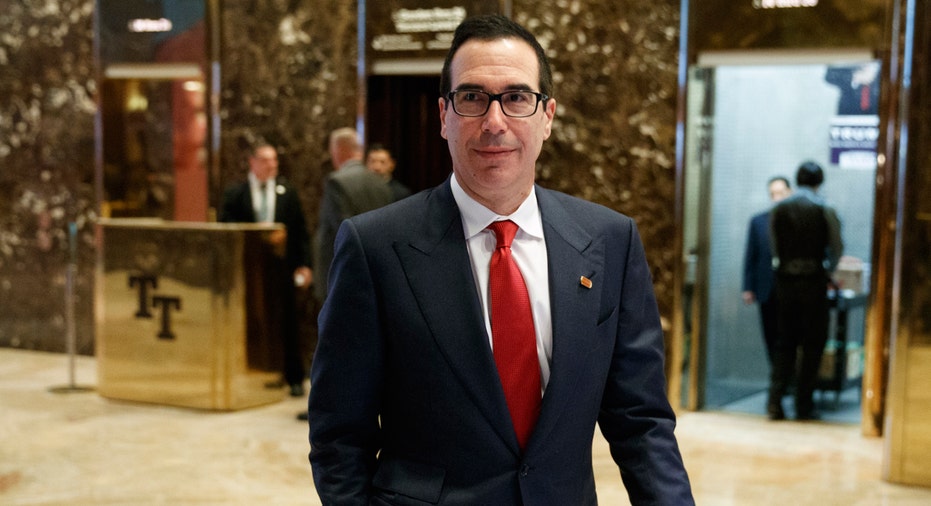 President-elect Donald Trump is expected to name former Goldman Sachs executive, and Hollywood producer, Steve Mnuchin as the next Treasury Secretary. An announcement is imminent, according to sources close to the decision making.
Prior to the election, FOX Business was first to report that the Yale graduate, who also ran a hedge fund and served as Trump's campaign finance chief, was the frontrunner for what is one of the president's top cabinet positions. Along with a deep background in finance, Mnuchin has produced films including "American Sniper" and "Batman vs. Superman," according to the Internet Movie Database. He also acts most recently playing the role of a Merrill Lynch executive in "Rules Don't Apply."
Mnuchin, if selected, would follow other Wall Street titans who have held the Treasury role including former New York Federal Reserve President Timothy Geithner and former Goldman Sachs Chairman and CEO Henry "Hank" Paulson. Both played a role in navigating the U.S. through the financial crisis that began in 2008.
Wall Street is likely to applaud Trump's pick on the view he will pursue his economic agenda which promises less regulation and lower corporate taxes. Earlier this month billionaire investor Carl Icahn predicted President-elect Donald Trump would likely select Mnuchin.
"I think Steve is a very smart guy. I think Steve at that job would do better than I would and I think he will do a very capable job. I think he is a real loyalist for Donald. He wants to do the same program that Donald wants to do," said Icahn during an interview on the FOX Business Network's The Intelligence Report.
Early in Trump's campaign he said Icahn would make a great Treasury Secretary. Icahn said he didn't want the job but would prefer to advise Trump on economic policies if needed.
"I think my giving advice can help somewhat, I hope, and I tend to do it if Donald wants to listen," he said earlier this month during an appearance on the FOX Business Network.