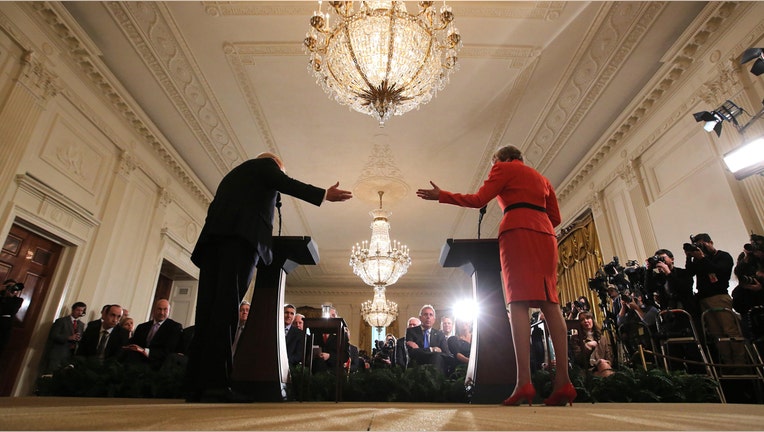 President Donald Trump emphasized America's close ties with the U.K. and said he had made no decisions regarding Russian sanctions, in remarks at a joint press conference with British Prime Minister Theresa May.
Mr. Trump said the "special relationship between our two countries has been one of the great forces in history for justice and for peace." In a nod to Britain's vote to exit from the European Union, he said the U.S. "respects the sovereignty of the British" population, adding a "free and independent Britain is a blessing to the world."
Mr. Trump said the U.K.'s move to leave the EU was a "fantastic thing" that would help the country with trade and security. The vote split many in the U.K. and was opposed by the Obama administration, but Mr. Trump has been supportive of the outcome.
"I think Brexit is going to be a wonderful thing for your country," Mr. Trump said, adding the U.K. would be able to reach "free trade deals without somebody watching you and what you are doing."
At the top of the U.S.-U.K. agenda is trade, as the two leaders try to navigate their relationship while Britain prepares for Brexit. Mrs. May said she spoke with Mr. Trump about how their countries can start high-level talks to lay the groundwork for a U.S.-U.K. trade agreement.
"We are at a moment now when we can build an even stronger special relationship," she said.
Mrs. May, who came to office after the U.K.'s June vote to leave the EU, was the first foreign leader to meet Mr. Trump since he took office. Any commitments to delivering a trade deal between the U.S. and the U.K. would likely be beneficial for both leaders, who are eager to show results from their strategy of forging bilateral trade deals.
Some trade experts say the U.S., a much bigger economy, would have the upper hand in trade talks with the U.K.
Mrs. May said Mr. Trump and his wife, Melania, have accepted an invitation from Queen Elizabeth II to visit the U.K. later this year.
The two leaders discussed working more closely together to counter extremism, address the situation in Syria and strengthen security cooperation. Mrs. May said they both reaffirmed their commitment to the North Atlantic Treaty Organization, which Mr. Trump has previously called obsolete.
"On defense and security cooperation, we are united in our recognition of NATO as the bulwark of our collective defense and today we have reaffirmed our unshakable commitment to this alliance," she said, turning to add: "Mr. President, I think you said, you confirmed, you are 100% behind NATO."
Mr. Trump also touched on other topics in the press conference. Asked about lifting Russian sanctions, Mr. Trump said he would "see what happens" during a phone call scheduled for Saturday with President Vladimir Putin .
"Very early to be talking about that," Mr. Trump said, speaking about sanctions in response to Russia's alleged cyberattacks aimed at influencing the 2016 election and those adopted by the U.S. and Europe after Mr. Putin's military intervention in Ukraine.
"We look to have a great relationship with all countries," Mr. Trump said.
The president also said he believed torture "does work" against detainees but said he would defer to Defense Secretary Jim Mattis on whether to use the tactic.
During an earlier photo-op with Mrs. May, Mr. Trump made a point of highlighting his decision to return a bust of Winston Churchill to the Oval Office. Former President Barack Obama's choice to move the bust to a different location was taken as a slight by some in the U.K.
Moving a lamp out of the way so cameras could get a better view, Mr. Trump stood alongside Mrs. May in front of the bust. "It is a great honor to have Winston Churchill back," Mr. Trump said.
Mr. Trump and Mrs. May, both of whom rode into office on a wave of antiestablishment sentiment, have said they would dramatically reshape their countries.
Mrs. May's visit caps a week in which Mr. Trump's confrontational approach to a different ally led to the largest diplomatic rift between the U.S. and Mexico in decades. Mr. Trump has said he plans to renegotiate the North American Free Trade Agreement, or perhaps withdraw the U.S. from the pact.
Mexican President Enrique Peña Nieto canceled his visit to the White House next week after Mr. Trump continued to insist Mexico pay for building a wall along the length of the U.S. border. The White House later suggested a 20% import tax to pay for a wall.
Mr. Trump said he spoke with Mr. Peña Nieto on Friday about renegotiating trade deals and "working on a fair relationship, a new relationship."
Mrs. May, who became prime minister in July after the U.K. voted to leave the EU, is seeking to drum up support for free-trade deals around the world and to show that her plan to leave the EU's single market for goods and services won't dent economic growth.
She has said the U.K. would prosper outside the bloc by strengthening relationships with allies such as the U.S. and by building economic links with fast-growing economies, like India. In contrast to Mr. Trump, she has repeatedly advocated free trade and internationalism.
A fifth of British exports of goods and services, some $124 billion in 2015, went to the U.S. Around half were services, including financial and business services, telecommunications and travel. Americans also bought British-made drugs, electrical equipment and machinery.
On Thursday, Mrs. May warned the U.S. against withdrawing from the world stage and said the two countries couldn't afford to stand idly by when it is in their interests to intervene. She spoke of the so-called special relationship between the U.S. and U.K., saying the two countries have a responsibility to lead together as they redefine their roles in the world.
"We can either be passive bystanders, or we can take the opportunity once more to lead," she told Republican lawmakers in Philadelphia.