Trump, Eagles quarterback, oil tycoon triggered Senate bid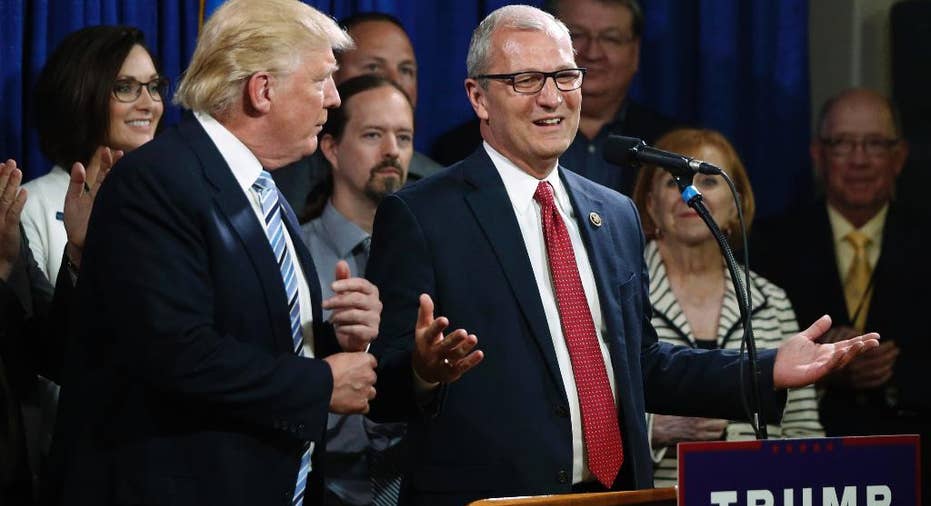 An oil tycoon, the commander-in-chief, a member of the U.S. Senate Republican leadership, a star National Football League quarterback and a senior White House adviser: All of them prevailed on Rep. Kevin Cramer, R-North Dakota, to run for Senate and take on incumbent Democrat Heidi Heitkamp.
In a phone interview on Tuesday, Cramer gave FOX Business exclusive insight into how he made his decision to drop efforts to be re-elected to the House and switch to running in the Senate race.
For Cramer, it started with a phone call at the beginning of 2018 with a close friend, Harold Hamm, the CEO of Continental Resources, an oil and natural gas company. Hamm, an outside adviser to Donald Trump, got word from the president, according to Cramer, that he wanted him to go ahead with a Senate bid.
"I was getting calls from Harold Hamm, saying, 'Kevin, you set yourself up perfectly for this circumstance,' " Cramer said. " 'The president would like you to reconsider.' "
A spokeswoman for Continental Resources did not return requests for comment.
That was the beginning of a push to get Cramer to try to win for the Republican Party a seat that Heitkamp has held for five years. The seat may be vulnerable because Trump won North Dakota 63% to 27% over Hillary Clinton during the 2016 presidential election.
Cramer acknowledged that people in Washington, D.C., and North Dakota were convinced that he was the only chance to flip the seat.
While Cramer has only been in the House for five years, he's well respected among Republicans in both chambers of Congress. One of his top allies is Sen. Cory Gardner of Colorado, the chairman of the National Republican Senatorial Committee, a key GOP fundraiser.
On Feb. 7, Cramer sat down with Gardner, who affirmed that he believed the only way the Republicans could pull off an upset of Heitkamp is if he was the nominee. At the meeting, Gardner looked him in the eye and, according to Cramer, said bluntly: "'If you run, we probably will win. If you don't, we likely won't win."
A spokeswoman for Gardner did not return requests for comment.
The day turned into a whirlwind for the North Dakota lawmaker. After the meeting with Gardner, he got a phone call from Trump, who explained why Cramer should run for the Senate seat, citing support from Gardner as well as Senate Majority Leader Mitch McConnell of Kentucky.
"Trump said, 'Kevin I really want you to run. Mitch wants you run, Cory wants you to run,' " Cramer said. " 'You represent our best chance.' He ended the conversation telling me, 'Think about your country and stop thinking so much about yourself.' "
For the House member, the conversation with the president left him humbled. But nothing may compare to the next day, when Philadelphia Eagles quarterback Carson Wentz gave the keynote address for a National Prayer Breakfast dinner.
Wentz, a graduate of North Dakota State University, was prodded by Cramer to give the address after Vice President Mike Pence dropped out to represent the U.S. at the Olympic Games in South Korea. The Super Bowl champion agreed to lead the event, and it turns out that White House counselor Kellyanne Conway, a New Jersey native, is a fan of the team.
At the dinner Conway, met the star quarterback and advised the North Dakota Republican and his wife, Kris, about running for political office, which turned out to be the last push to persuade him to run.
"The tipping point for me was when Kellyanne told Kris how tough it is to go through all of this," Cramer said. "Kellyanne said attacks from the media and other critics happened to her everyday on the campaign trail and told my wife, it's all worth it," he added.
The White House did not return requests for comment.
Since his announcement on Friday, Cramer has put together a formidable campaign team, appointing Hamm as his campaign finance chairman; Chris Marston, the founder of political consulting firm Election CFO, as his treasurer; and Pat Finken, president of Odney Advertising, a media consulting company, as the campaign manager.
Republican mega-donors from within and outside the state  have been lining up to back his candidacy.
"There has been a great deal of national interest from the big donors," Cramer said, declining to give out the names of some of his financial backers. "It's going to be a very fast and furious March in terms of national fundraising as we plan to have fundraisers in New York, Houston and Oklahoma City."Cramer is currently lagging behind Heitkamp, having raised $854,000, compared with her more than $7 million.