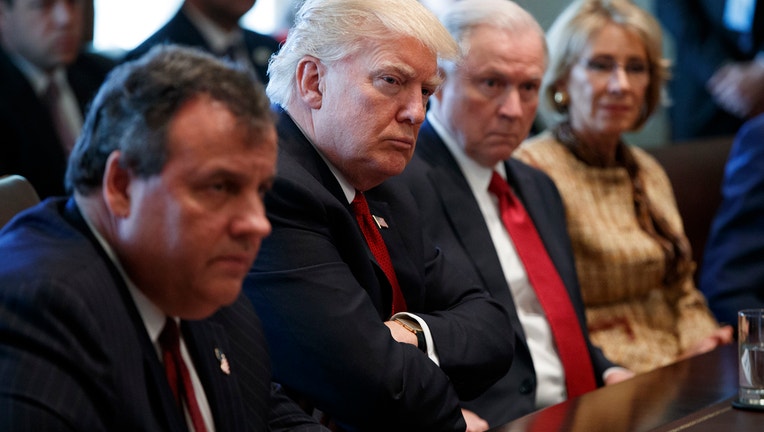 President Donald Trump declared the nation's opioid epidemic a public health emergency on Thursday afternoon, not a national emergency as the president pledged earlier this year.
This announcement will allow the government to shift around resources and expand access to medicine services in order to combat the crisis.
Senior administration officials told reporters Thursday morning that budget negotiations were still ongoing in Congress, but as of now, most of the funding would be shifted from other health-related programs. The White House noted, however, that since the president took office more than $1 billion had been allocated or spent directly addressing drug addiction and the opioid crisis.
In August, the president said he would declare the opioid epidemic a national emergency, which would have allowed the government to have more flexibility to work past regulations and other potential barriers. On Thursday, the White House said it decided on a public health emergency instead because national emergencies are generally reserved for short-term incidents, isolated to specific geographic regions, whereas public health emergencies are extended over longer periods of time. Senior administration officials also said that by declaring a national emergency, funds may have been taken from the Federal Emergency Management Agency's (FEMA) ongoing efforts to provide hurricane relief to affected regions.
In August, the President's Commission on Combating Drug Addiction and the Opioid Crisis urged Trump to declare the nation's opioid epidemic a public health emergency, likening the death toll related to drug overdoses to experiencing a "September 11th every three weeks."
According to the latest data from the Centers for Disease Control, in the third quarter of 2016 an estimated 19.9 out of every 100,000 people in the U.S. died from drug overdoses, compared with 16.7 in the prior year—distinguished as a significant increase by the agency. Between the third quarter of 2015 and the same period in 2016, the drug overdose death rate registered at 18.5 out of every 100,000 people. Overdose-related deaths climbed higher throughout the first nine months of 2016, according to the CDC, and an estimated 142 individuals die every day.
According to the White House, more than two million Americans had an opioid addiction to prescription or illegal substances in 2016, while more than 300,000 individuals have died from an opioid overdose since 2000.