Trump brings Saudis American deals amid a royal welcome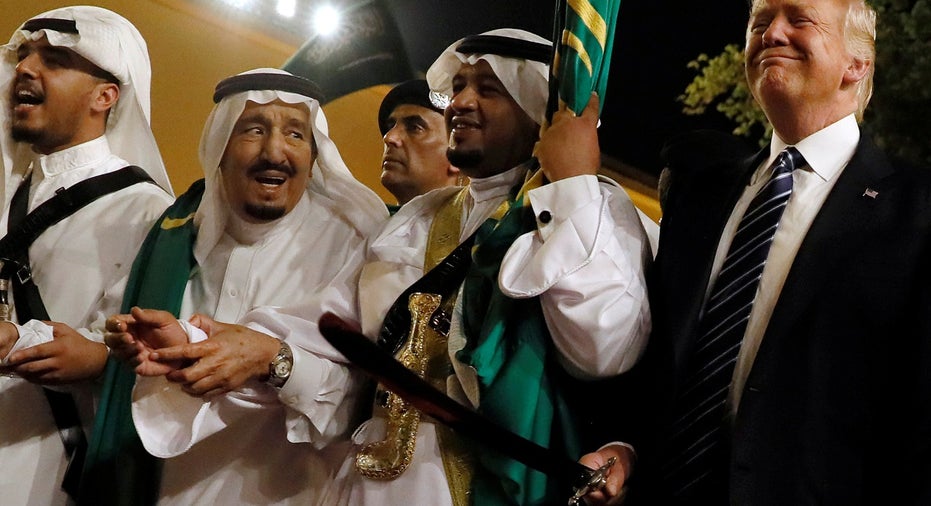 President Donald Trump may be having a rough go in the United States these days, but in Saudi Arabia, on his first foreign trip as President of the United States, he is getting a royal welcome layered with pomp and circumstance. The Saudis are doing this because they are ecstatic about the prospects of change in U.S. foreign policy after what they view as a disastrous Middle East policy under President Obama. The President is also expected to carry a message favoring moderate Islam at the historic Arab Islamic American summit.
President Trump's critics seem a little miffed that Saudi Arabia is granting such adulation to a guy that once said that Saudi Arabia "wouldn't exist" without U.S. assistance. They are shocked that a man that dared to call out radical Islamic terror for what it is and has been openly critical of Saudi Arabia, could be held at such high esteem by the new Saudi King, Salman bin Abdulaziz Al Saud.
President Barrack Obama, who bowed to the former Saudi King, saw U.S. relations sour with the kingdom. The Saudis were tired of his endless chatter and lack of action. Obama's policy of not following through on red lines in Syria, and the lifting of sanctions on Iran, made the kingdom feel like the U.S. had been abandoned by its long term ally.  The Saudi's even went after the U.S. shale oil industry in part to get back at President Obama. So even after President Trump's provocative statements on Saudi Arabia, the kingdom is happy that he is now the man in charge.
Donald Trump once warned he could halt oil imports from Saudi Arabia and now he is cutting oil deals with them. Many thought that the President's moves to empower the U.S. energy industry and bring back oil energy jobs would hurt relations with the Saudis but in fact, it has turned out to be the opposite. Instead of a production war, Trump's pro-energy agenda has warmed the Saudis' heart. The state oil major Saudi Aramco, which is planning the biggest initial public offering in history, is also expected to sign contracts with a dozen U.S. energy firms including Schlumberger (NYSE:SLB), Halliburton (NYSE:HAL), Baker Hughes (NYSE:BHI), and Weatherford (NYSE:WFT) worth a reported $50 billion. Deals which will help Saudi Arabia develop local production. They also cut deals with General Electric (NYSE:GE) valued at $15 billion with more expected from drilling companies National Oilwell Varco (NYSE:NOV), Nabors Industries (NYSE:NBR) and Rowan Companies (NYSE:RDC) and others according to Reuters. So instead of oil production wars with U.S. companies like we had during the last administration, President Trump is getting Saudi Arabia to cut deals with them.
The Saudis, along with other moderate Arab countries, know they need the U.S. to defeat their enemies. In Trump they see a President that will be strong against terror states like Iran and groups like ISIS. At the same time, the Saudis are aware that Trump has been very critical of the country. They view this meeting with the new President as a very important starting point and want to show that despite Trump's criticisms, change can come and they can be more open.
The Saudis are even going as far as allowing country music superstar Toby Keith to perform his pro-U.S. military songs and even his drinking songs, in Riyadh. Oh sure, only men can show up but it is a step in the right direction. Maybe the Saudis are sending an even deeper message, that when it comes to the war on terror, as Toby Keith belts us his Americana tunes, it is time for "a little less talk and a lot more action," they believe that President Donald Trump and the U.S. military will help them defeat our common enemies. The Saudis want Uncle Sam's name on the top of its list with the Statue of Liberty shaking her fist, all brought to you courtesy of the Red White and Blue.